Venezuela slams pro-Clinton ad that compares Trump to Chavez, Hitler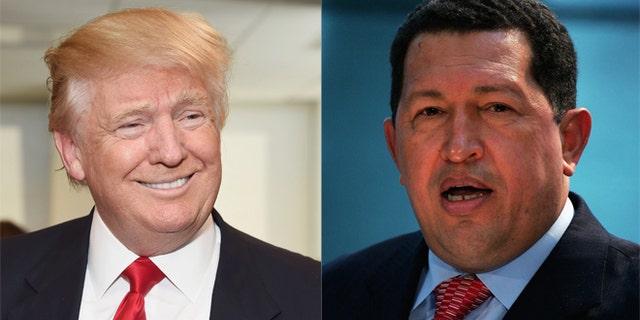 NEWYou can now listen to Fox News articles!
It's unclear whether the Venezuelan government is more upset that a new Democratic Party campaign ad for Hillary Clinton compared late President Hugo Chávez to Republican presidential nominee Donald Trump or that they lumped the socialist leader together with fascist strongmen Adolf Hitler and Benito Mussolini.
What is clear is authorities from the South American nation slammed the so-called "racist arrogance" of U.S. Democrats.
The ad that's caused the international furor is a Spanish-language spot that features comments by Trump saying that Clinton should be jailed and his vow to sue media organizations that spread "purposely negative, horrible and false" articles about the real estate mogul.
"Remind you of anyone?" the video say in Spanish, before showing images of Chávez dressed in military fatigues and a red beret while he ordered the closure of radio and television stations in Venezuela.
The ad, which was paid for by the Democratic National Committee in support of Clinton, goes on to compare Trump to 20th century dictators Mussolini and Hitler before urging voters to "protect" democracy.
"It is an expression of racist arrogance and irrationality from a party that does not serve its constituents," Venezuela's Foreign Minister Delcy Rodríguez said in a statement obtained by Reuters. "Chávez is a leader who transcended our time for his democratic nature, his fight for the poor and universal feeling for humanity."
The former socialist leader's image has taken a major hit since his death in 2013, as Venezuela suffers through crippling inflation, acute food shortages and widespread unrest, with many people – both inside and outside Venezuela – blaming the country's economic woes on the state-controlled system pushed by Chávez and continued under current President Nicolás Maduro.
Trump has been a harsh critic of the Maduro government and, in July, said that if Clinton wins the White House the United States would "end up being Venezuela."
For his part, Maduro labelled Trump a "bandit" and "thief" after the Republican candidate made his comments about Mexico sending criminals to enter the United States illegally when announcing his candidacy in 2015.
Like us on Facebook
Follow us on Twitter & Instagram