US reportedly supplying Ukraine military with obsolete equipment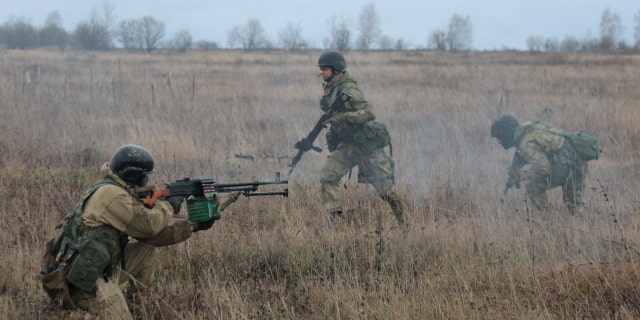 NEWYou can now listen to Fox News articles!
The U.S. has been supplying Ukrainian forces with obsolete equipment, some of which dates back almost thirty years, according to a published report.
The Washington Post reported that Ukrainian government forces battling Russia-supported rebels in the east of that country have called into question Washington's commitment to them based on the shoddy gear. The paper also reported that the lack of sufficient equipment has bred distrust and lowered Ukrainian morale.
The Pentagon has provided Kiev with more than $260 million in non-lethal military equipment since the start of the conflict last year. However, the Post report says that some of the gear is "secondhand stuff", in the words of one Ukrainian special forces commander.
Among the outdated supplies are Humvees dating from the late 1980s and early 1990s, according to the Post, which cited the vehicles' serial numbers in its report. In another case, an infantry unit of 120 soldiers received a single bulletproof vest, of a type that U.S. forces stopped using in the mid-2000s.
The Post reported that the Pentagon had no official comment on the condition of the equipment. However, one anonymous U.S. defense official told the paper that because the U.S. was unprepared for Russia to get involved in the conflict, they had to respond to Ukraine's requests for aid "as fast as possible."
"We had no money appropriated for this crisis," the official said, according to the Post. "Does that means everything was perfect? Of course not."
Another Pentagon official described a second shipment of Humvees authorized to be sent to Ukraine as "the stuff that's sitting around somewhere that no service can use ... They're not good enough to drive, but you can tear them apart [for spare parts]."
The report comes as the war in eastern Ukraine grinds on with no end in sight.
Russia's annexation of Crimea from Ukraine in March 2014 and its support for the rebels has brought relations between the two countries to a post-Soviet low. Ukraine has since been trying to cut its dependence on Russian gas.
Last week, Ukraine announced that it would stop buying Russian natural gas — hoping to rely on supplies from other countries — and closed its airspace to its eastern neighbor. Ukraine last month banned all Russian airlines from flying into Ukraine but Russian planes have been allowed to fly over its territory.
The Associated Press contributed to this report.