Union Opposes Pennsylvania's Plan to Privatize Liquor Stores, Citing 5,000 Job Losses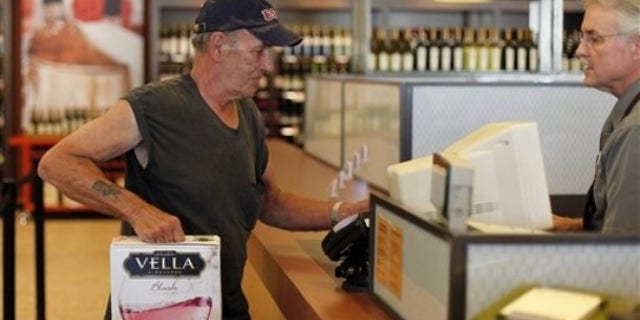 NEWYou can now listen to Fox News articles!
Union leaders are campaigning against legislation in Pennsylvania that would privatize the state's ownership and management of liquor stores and overhaul the tax system -- a move that they say could result in the loss of 5,000 jobs.
But proponents of the legislation say privatization would provide better customer service, double the number of retail outlets and boost the state's economy.
The plan, from Republican Majority Leader Mike Turzai, would eliminate the state's 18-percent levy on bottles known as the Johnstown Flood tax and the Pennsylvania Liquor Control Board's 30 percent markup in exchange for a per-gallon tax like those in 26 states for liquor and 35 states for wine.
"The 30-percent markup of the product allows us to return a profit to the general fund," said Stacey Witalec, press secretary for the liquor control board. That profit, she said, "supports services and programs that benefit all Pennsylvanians."
Turzai's office provided a fact sheet on his legislation -- expected to be formally introduced in the next week -- saying it would lead to the auctioning of 1,250 retail licenses: 750 for larger outlets and 500 for smaller businesses, typically independently owned. There are about 620 state-owned stores in Pennsylvania.
Turzai said selling retail and wholesale licenses could generate up to $2 billion, and the annual tax revenues to the state would remain the same or increase.
He called the plan "an idea whose time has come."
"It is about moving from a public-sector dinosaur into the 21st century," he said at a Capitol news conference.
Liquor Control Board workers who would lose their jobs as a result would be given preference in hiring for other state jobs and education grants to retrain them. Employers who hire them would be eligible for tax credits.
But the United Food and Commercial Workers Local 1776, which represents about 3,500 state-store employees, say the legislation would leave Pennsylvania with an economic hangover.
"Turzai and his fellow privateers are forging ahead even though his bill would eliminate more than 5,000 family-sustaining jobs -- at a time when our state and this economy can least afford such a loss," the union wrote in a blog posted on its website.
"Don't be fooled by Turzai's spin that new private stores would hire our members," the union continued. "Most of the licenses under Turzai's plan would go to Walmart, Costco, Target, and other big box and chain stores that would reallocate current shelf space and use their current employees to stock the shelves. That's just what happened in other states, and it would happen here."
Republican Gov. Tom Corbett is awaiting results of a study on the topic and said this week he expects to see in-depth work on privatization occur once the Legislature reconvenes this fall.
Turzai said moving the bill this fall is a major priority and could affect other issues, such funding the state's looming pension-cost explosion.
The liquor board announced last week record sales of nearly $2 billion for the fiscal year ending June 30.
Under Turzai's bill, only the 6 percent sales tax would remain unchanged. The tax rates would range from $8.25 to $12 per gallon based on type of liquor and alcohol content. This tax would be indexed to an inflation rate after the first five years.
Other provisions would grant local police more power to enforce liquor laws and mandate identification scanners with age-verification software. A scaled-down Liquor Control Board would remain in place to issue licenses, regulate the industry, enforce state laws and perform education functions.
Turzai's proposal would sell off wholesale licenses under a complicated formula, and includes measures to prevent bid-rigging or monopolies, he said.
He envisions a system where the state is covered geographically by retail outlets, with a mix of large retailers and more narrow purveyors such as specialty wine shops.
"I think what you'll see is it will be much more competitive, because you'll have a variety of places to go," Turzai said. "I think the market will dictate it, and by and large you're going to see lower prices."
The Associated Press contributed to this report.