Undocumented Immigrant Activists Elicit Divisions Among Advocates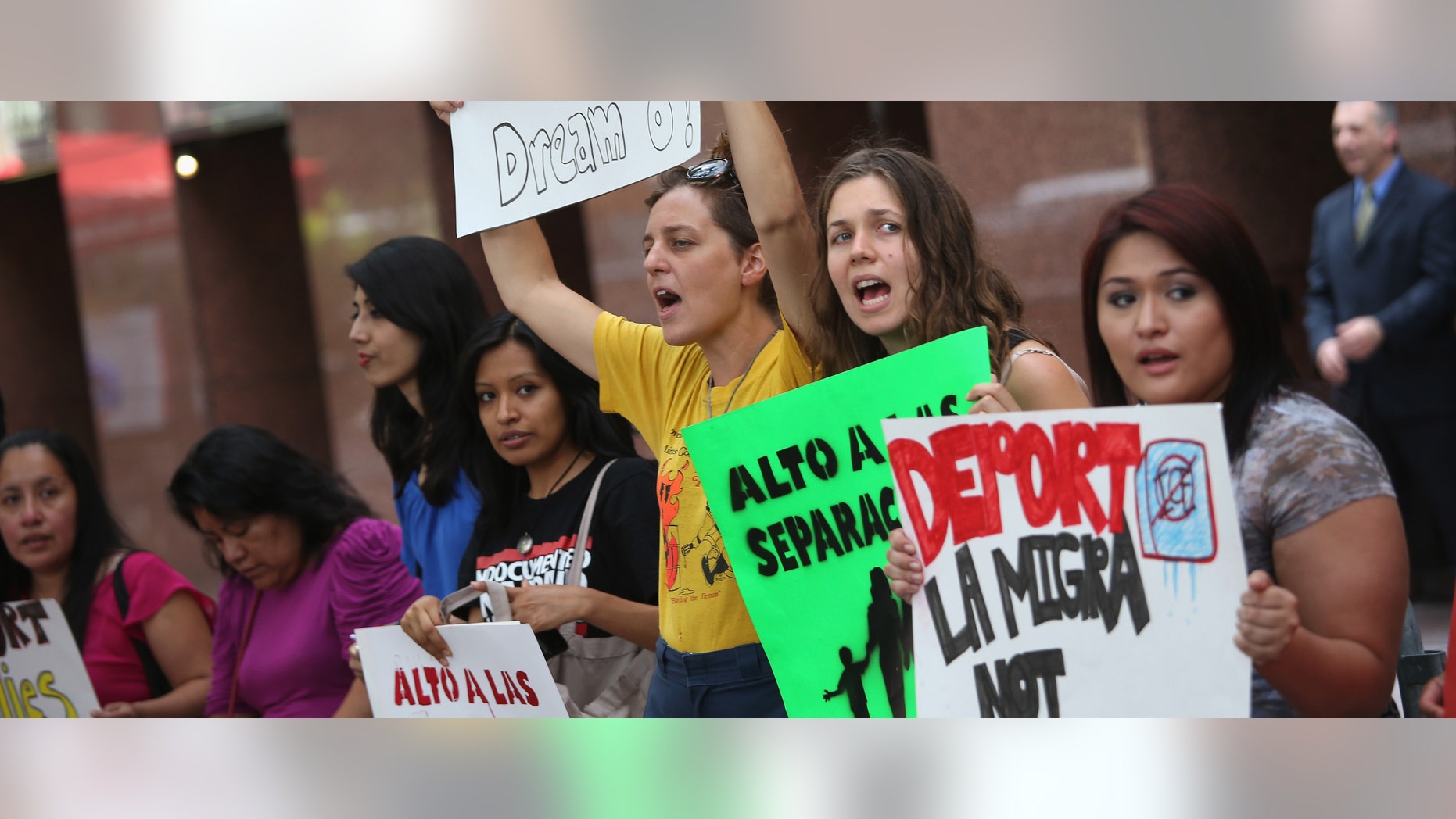 Some see them as heroes.
Others see them as misguided.
Immigration advocates are divided over nine undocumented immigrant activists who are in federal custody after their widely publicized attempt to cross into the United States from Mexico as a form of protest against the record number of deportations and to push for immigration reform.
The former president of the American Immigration Lawyers Association, David Leopold, took to social media Saturday to express his misgivings over the immigrants' decision to risk arrest and to challenge U.S. immigration laws.
Leopold views the move of the activists – three of whom lived in the United States until they left for the protest crossing about week ago, and six others who left this country in recent years – as a publicity stunt that may backfire. The immigrants are seeking to be released and allowed into the United States through humanitarian grounds or political asylum.
"It's very serious to cross out of the United States," said Leopold to Fox News Latino. "I've handled many cases where people who were DREAMers were so frustrated, they left voluntarily. They couldn't get a job, they couldn't get a license, but then they fought to get back in, but we did it within the system."
Supporters of the immigrants, who were brought to the United States illegally as minors, say they are a courageous group who are engaging in civil disobedience in order to focus attention on the record number of deportations that have occurred under the Obama Administration and to fuel the urgency for immigration reform laws.
They have established a Twitter hashtag: #BringThemHome.
"Members of the group hope the Obama administration will create a process for those deported from the U.S. to be able to return to America,"  said a statement by the Dream Action Coalition, "and for the 11 million undocumented immigrants currently residing in the U.S. to be granted a pathway to citizenship."
Authorities took the immigrants, known as DREAM 9, into custody after they crossed the U.S.-Mexico border into Nogales, Ariz. on July 22. They have held them at the Eloy Detention Center, where they have staged hunger strikes to protest restricted telephone privileges and their detention.
Some members of Congress have told reporters that the DREAM 9 activists could complicate their efforts to get more support from their fellow lawmakers for the passage of a comprehensive immigration reform measure.
"I've heard some people say that it's a publicity stunt," said Razeen Zaman, campaign organizer for the New York State Youth Leadership Council, which advocates for DREAMers. "It's an awful and outrageous way to describe it. Our community has learned from watching our parents. To get good legislation passed, education is important. We know how to shape our stories. People have an image of who undocumented immigrants are, but they should know the nuances of our story."
Margo Cowan, a Tucson-based lawyer who works for the Pima County public defender's office, said she is asking the U.S. government to allow the detainees to remain in the United States on humanitarian parole, essentially to permit admission to the country, because "their presence in America will serve an important public interest."
"It's shameful that they're holding them," said Cowan, who is representing the detainees as a private attorney and not in her capacity as a county employee.
DREAMers, estimated to number more than 1 million, have been a pivotal part of the push for immigration reform, particularly for a change in the law that would provide undocumented immigrants a path to legalization.
In recent years, DREAMEers reshaped the push for reform by adding a largely unprecedented visibility to the cause of undocumented immigrants.
They have held press conferences and been active on social media, identifying themselves by their full names. At times, to be sure, they have rattled the nerves of the elders in the immigration reform movement.
Three years ago, they pushed for a measure just for DREAMers, arguing that it was more likely to get support than a sweeping immigration reform law. This led to some clashes with lawmakers who favored a comprehensive approach, but many finally went along with them.
In 2010, the DREAM Act passed the House, but died in the Senate.
Leopold said despite his disagreement with the approach of the DREAM 9, he doesn't doubt their passion for and commitment to immigration reform.
"We wouldn't be where we are today without DREAMers," he said. "They have brought this movement to the forefront. They are not like other immigrants. They are Americans who don't happen to have papers."
But, he said, DREAM 9 "are creating a diversion" from important issues relating to immigration reform.