UN declares renewed war on peacekeeping sex abuse as the number of victims rises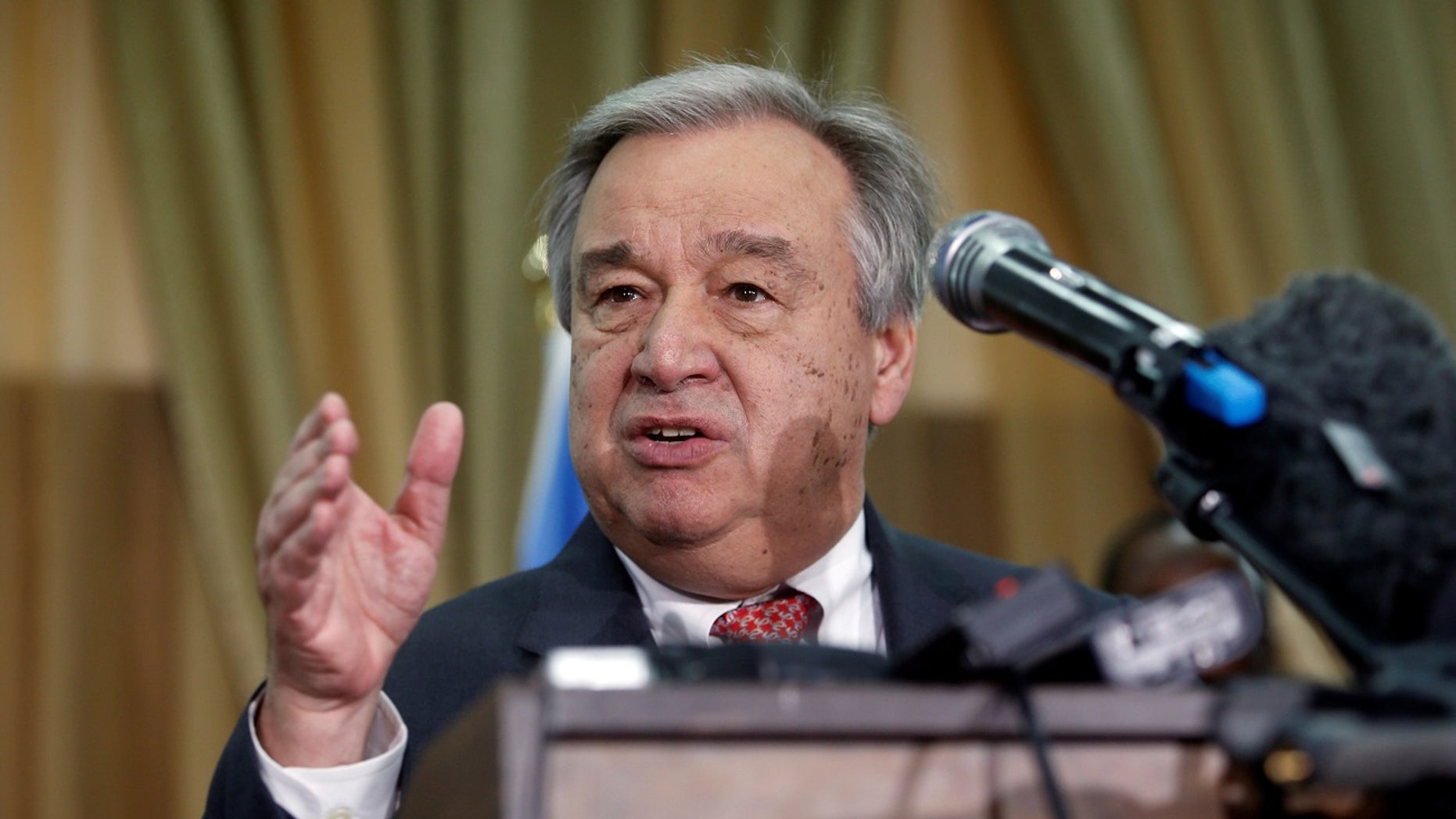 United Nations Secretary General Antonio Guterres –-just like his predecessor Ban Ki-moon-- is launching all-out war against sexual exploitation and abuse "in all its forms," especially on U.N peacekeeping and political missions.
For certain the effort is needed.  Last year—Ban's final year as Secretary General—there were 165 incidents of alleged sexual abuse involving U.N. civilians, peacekeepers, and non-U.N. personnel on U.N.-sponsored missions, according to a report published this week by Guterres.
The specifically U.N. allegations totaled 145—up from 99 the previous year, or a 46 per cent increase.
The number of known victims  for the alleged U.N. offenses hiked even more dramatically, to 311 in 2016 from 99 in 2015, according to the same database—a 214 per cent rise.
The U.N. put much of the increase down to the new attention being given to sexual abuse issues—which of course, implies that totals in previous years could have been substantially understated.
"The vast majority" of victims of the U.N. alleged offenses were women and girls, the same report noted. But in fact, children made up more than half of last year's victims specifically attributed to peacekeeping personnel, according to a U.N. database.
Thus for Ban, the war on sexual abuse ended in relative disaster. It was accompanied not only by the rising numbers of sexual abuse revelations  and victims but by an independent panel report that charged some top U.N. officials with inaction, suppression of evidence and cover-up in connections with sex crimes against young children by non-U.N. peacekeepers in the Central African Republic.
Indeed, under Ban, reports on the issue  had evolved into a kind of ritual, where an annual U.N. tally of the number of alleged sexual abuse crimes and victims was paired with lengthy lists of measures proposed  by the incumbent Secretary General—usually requiring cooperation from countries that provide peacekeeping forces, and more money to boot.
In fact, the efforts at reform go back to 2003. A 2005 report by Jordan's Prince Zeid Ra'ad Zeid Al-Hussein—currently the U.N.'s High Commissioner for Human Rights—laid out the first master strategy for eliminating sexual exploitation and abuse (known familiarly in U.N. terms as SEA). Some of its recommendations still have not been implemented.
Guterres, however, claims that the battle this time will be different.
Why? The new Secretary General—in office little more than two months—says he will be following a new approach. Its main elements: a "relentless" effort to end impunity for perpetrators of sex crimes, greater focus on the "rights and dignity" of sex crime victims, more openness and publicity surrounding such offenses and their investigation, and—not least—a sustained effort by the U.N. to "put its own house in order."
How well he will do that definitely remains to be seen. Among other things, critics have long pointed to the fact that U.N. efforts to combat SEA have foundered on procedures that gave the benefit of the doubt to peacekeepers rather than victims; a closed-ranks mentality among military and police personnel that hindered investigations; and a lack of training of peacekeepers and others in awareness of SEA and the responsibility to report it.
Some critics, notably the reform campaign Code Blue, promoted by the organization AIDS-Free World, have underlined that the U.N. is involved in an inherent conflict of interest in such cases, because the investigators come from the organization's own Office of Internal Oversight Services (OIOS), and have called for such investigations to be taken out of U.N. hands entirely.
Critics have also underlined that the U.N. has no right to discipline or punish—or even try—offenders who have committed sexual crimes—responsibilities that fall back on the troop contributors, and that this helps to foster impunity. Only last year, after Ban belatedly made a decision amid the outcry over sex abuse, were the nationalities of alleged abusers even made public.
In 2016, the nation with the largest number of alleged offenders was the Democratic Republic of Congo (DRC)—itself the scene of massive violence and human rights abuse. DRC offenders also lead the roster in 2015.
What will change all that? Guterres says in his report on the U.N.'s new methods that he will start, as the U.N. often does, with more bureaucracy: at the top, with a new Assistant Secretary General who will advocate for victim's rights.
The new bureaucrat's task will be to "ensure that reliable, gender-sensitive pathways exist for every victim or witness to file complaints and that assistance is rapidly and sensitively delivered."
Guterres will install similar officials in the four U.N. peacekeeping missions with the most alleged SEA cases: in Central African Republic, Democratic Republic of the Congo, Haiti, and South Sudan. He also wants top officials of U.N. agencies to make unannounced spot checks to see whether policies are being followed.
To guarantee speedier action on investigations, he says he will ask U.N. member states "to consider procedures" to hold back payments to troop contributing countries "in the event that investigations are not undertaken, reported on and concluded in a timely manner." He also says he will ask the same member states to allow victims to claim reparations for the crimes against them.
To deal with impunity, he says he will work harder on speeding up the U.N.'s own investigations—a standardized incident reporting form was one of the not-very-inspiring ideas he mentioned—and use a reinforced policy on whistleblowing to encourage staffers to report incidents.
He "expects" to have his new reporting policy together by the end of the year.
More dramatically, Guterres wants member states to create a new compact between themselves and the U.N., which would strengthen training and awareness of sexual abuse, build cooperation with the new victims' rights advocate, impose penalties on those who fail to report abuse, and agree to hold members of their respective chains of command responsible for failure to establish "appropriate conditions to prevent SEA.
The new compact would also involve regular reports on how well the nations were faring in their efforts.
The catch is that, as with Ban Ki-moon before him, Guterres must depend on the U.N.'s member states to both endorse his proposals and implement them. The new Secretary General hopes to generate some of the momentum for that at a proposed high-level meeting –a favorite U.N. device—on combating SEA. Of course, member states also have to agree to that.
CLICK HERE FOR GUTERRES' PROPOSALS
For critics such as Code Blue, however, Guterres' reform efforts don't go far enough, especially in creating truly disinterested investigations of alleged U.N. sexual crimes.
His proposed policy "maintains the decades-old conflict of interest that puts the UN on the side of both the accused and accuser whenever women or children report that they've been sexually abused by personnel 'working under the UN flag,'" says Paula Donovan, a prominent spokesperson for the Code Blue campaign.
Guterres gets his strongest backing for his reform efforts—as Ban did—from the U.S. in particular, as the largest financial contributor to U.N. peacekeeping.
"The new Secretary General is very clear about his views on SEA," a U.S. government official approvingly told Fox News, noting that Guterres "had only been in office a couple of weeks" before he appointed a task force to push reform on the SEA issue.
But the same official observed that "everything at the U.N. moves at a difference pace than anywhere else." The official said the biggest difference in Guterres' proposals was the "new transparency" of reporting on SEA progress, and the public naming of the nationality of alleged offenders, which could help propel improvements."
On Guterres proposals for more enforcement muscle, however, such as withholding money from troop contributors whose investigation efforts lagged, the official said "we are still reviewing it in more detail.
The U.S., noted the official, "also follows up" with other countries to see how well allegations are investigated and, when required, prosecuted.