U.S. Threatens Iran With Sanctions Over Nuclear Program, Though Effectiveness in Doubt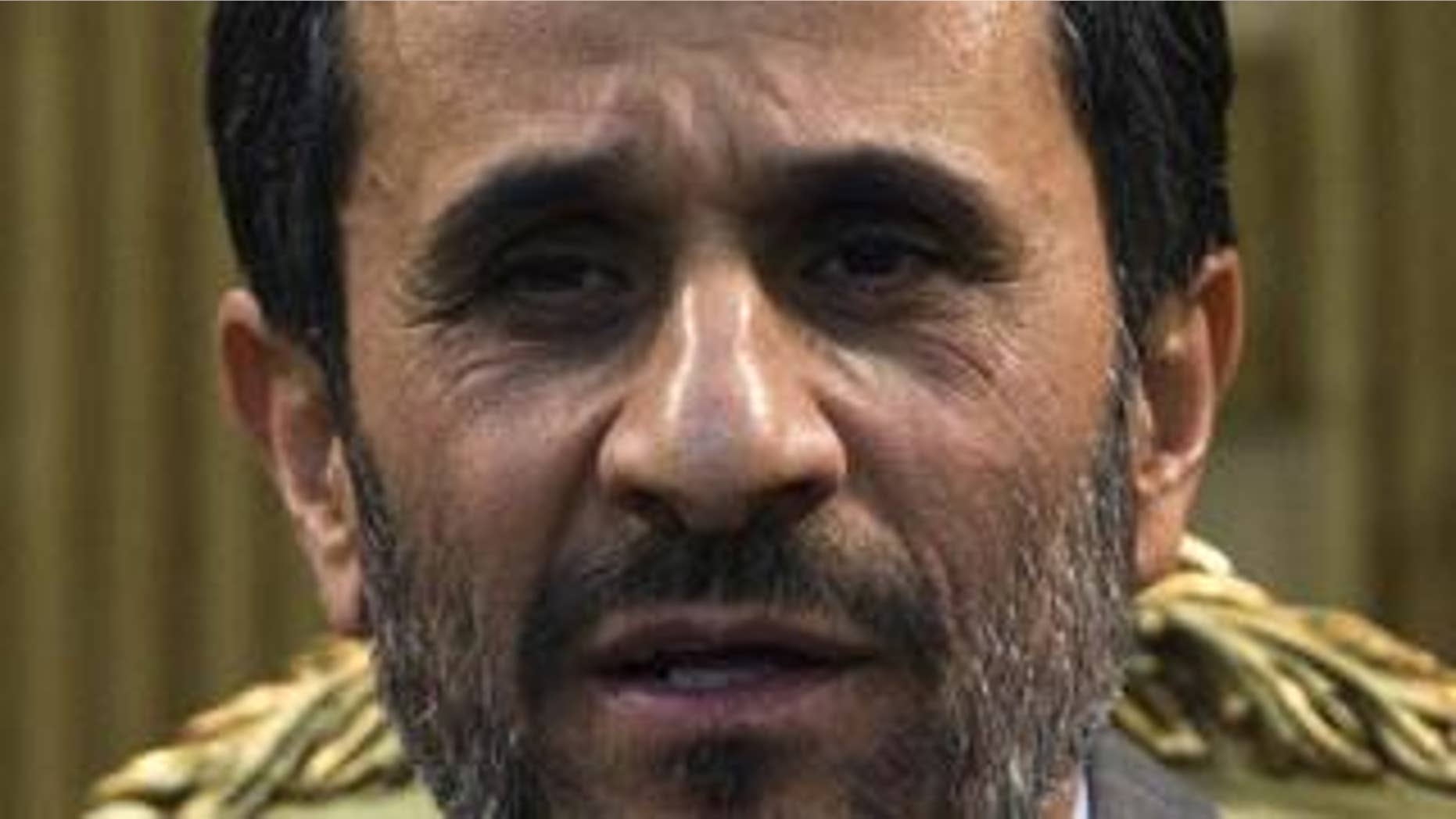 President Obama has let Iran know that it faces an arsenal of sanctions if it fails to completely disclose the nature of its nuclear program and ambitions.
But with three rounds of U.N. sanctions already in place -- and Iran's defiant refusal Tuesday to put its nuclear program on the table when it meets Thursday with representatives of the five permanent Security Council members and Germany -- some officials question whether yet another round of sanctions, especially ones dependent on Russia and China, would have any teeth.
If Iran does not cooperate Thursday, the Obama administration has been working up plans to target Iran's energy, financial and telecommunications sectors, U.S. officials said Monday. A Congressional Research Service report released in early September examined the use of such possible penalties, as follows. Some contain apparent loopholes or would be virtually impossible to pass, while others are considered potentially effective:
-- Ban on exporting refined petroleum to Iran.
Iran, which suffers from a lack of refining infrastructure, imports between 30 and 40 percent of its gasoline needs, so a ban on oil exports is considered a potentially devastating penalty. A similar measure is also being considered in Congress.
"A gasoline quarantine is the sanction that would actually work," Rep. Mark Kirk, R-Ill., a co-sponsor, told FOX News Radio. Rep. Howard Berman, D-Calif., chairman of the House Foreign Affairs Committee, said Friday that he wants to bring the bill, which has hundreds of co-sponsors, before his panel in October.
The CRS report, though, noted that Iran could get around the sanctions by offering high prices to suppliers willing to defy the sanction or raising its own prices to discourage Iranian drivers from consuming gas. John Bolton, former U.S. ambassador to the United Nations, told FOXNews.com that Iran is in the process of expanding its refining capability anyway. "This was a good idea six or seven years ago," Bolton said. "Unfortunately, it's not going to squeeze them now."
-- Ban on international investment in Iran's energy sector.
According to the CRS report, this would essentially take the United States' Iran Sanctions Act worldwide. It could prevent companies of U.N. states from shipping to Iran the technology it needs to build oil refineries and other infrastructure. Some analysts consider this to be potentially effective. Nile Gardiner, with the Heritage Foundation, said a complete European freeze on Iran investment would have a "devastating impact" on the country's economy. The CRS report, though, noted that since the U.S. started penalizing foreign and U.S. investment in Iran's energy sector, no projects have been sanctioned and Iran has made agreements to "slow deterioration" of its energy sector. Bolton also expressed skepticism that Russia and China would ever support such a sanction.
-- Ban on international flights in and out of Iran.
The CRS report noted that a similar ban was imposed on Libya after the bombing of PanAm Flight 103. Another option is to expand the list of Iranian officials restricted from travel.
-- More financial and trade sanctions.
The option could impose a broad freeze on all Iranian assets abroad, or ban all transactions with Iranian banks. Another potential sanction could ban international finance institutions from lending to Iran. Some European nations, though, have already started to do this.
-- Insurance ban.
This option would ban insurance for Iran's tanker fleet, potentially making it more difficult and more expensive for Iran to ship oil. The CRS report noted that Iran claims to be able to "circumvent" this sanction.
-- Ban on Iranian oil imports and other trade.
This would ban countries from purchasing oil from and conducting other trade with Iran. The CRS report said this is the most sweeping possibility and the most unlikely, considering the impact a cutoff of Iranian oil would have on global energy prices and the fact that almost every U.S. ally conducts trade with Iran.
Iran is already subject to three rounds of U.N. sanctions, most of which restrict Iran's ability to import or export weapons and weapons material.
The U.S. officials said Monday that the U.S. would expand its own penalties against Iranian companies and press for greater international sanctions against foreign firms, largely European, that do business in the country unless Iran can prove that its nuclear activities are not aimed at developing an atomic weapon.
They said that the asset freezes and travel bans against Iranian and foreign businesses and individuals who do business in those areas are also being considered.
The options are on the table as diplomats from the five permanent members of the U.N. Security Council -- Britain, China, France, Russia and the United States -- and Germany prepare to meet with Iran's top nuclear negotiator on Thursday.
But U.S. officials familiar with the process that dates back to the Bush administration are skeptical that Iran will agree to demands to fully disclose its intentions. Iran repeatedly has denied it wants the bomb and maintains that its nuclear program is for peaceful purposes only.
A top Iranian official told Reuters that his country will not abandon its nuclear activities, "even for a second."
Bolton told FOX News on Monday that he's concerned another round of Security Council sanctions will be "just as watered down as the first three."
"I don't think sanctions are going to work," Bolton said. He said some increase in banking sanctions and tightening of trade restrictions might have some effect. But ultimately, he said they will likely be too incremental to deter Iran from pursuing its nuclear program.
Sen. John McCain, R-Ariz., said he's not "optimistic" about Thursday's talks, but that sanctions -- while worth trying - should not be the only tool available.
McCain told FOX News that he has "serious doubts" that Russia and China will cooperate and said the United States, in the long-term, needs to do more to advocate for "regime change" by encouraging dissenting elements inside the country. He also said a naval blockade of Iranian shipments, as conducted with Cuba under President Kennedy, should be "seriously considered." And he said the military option needs to stay on the table.
"There's no good options," McCain said, adding: "I think we have to try the sanctions."
Previous meetings -- the last in July 2008 -- have not made progress, and the officials said they did not think Thursday's talks in Geneva would produce any significant developments on the nuclear front.
Instead, the officials said they expected Iran to raise a broad range of global political concerns while the other participants focused on Iran's nuclear program, including the disclosure last week of a new uranium enrichment facility.
The officials, who spoke on condition of anonymity due to the sensitive nature of the talks, said they believed another round of talks would be scheduled before mid-November, at which Iran would face demands to address the international community's concerns.
If they refuse, the officials said the U.S. and its partners would move ahead with new penalties.
The Associated Press contributed to this report.