U.S. politicians say arrests of Venezuelans expose Maduro's government corruption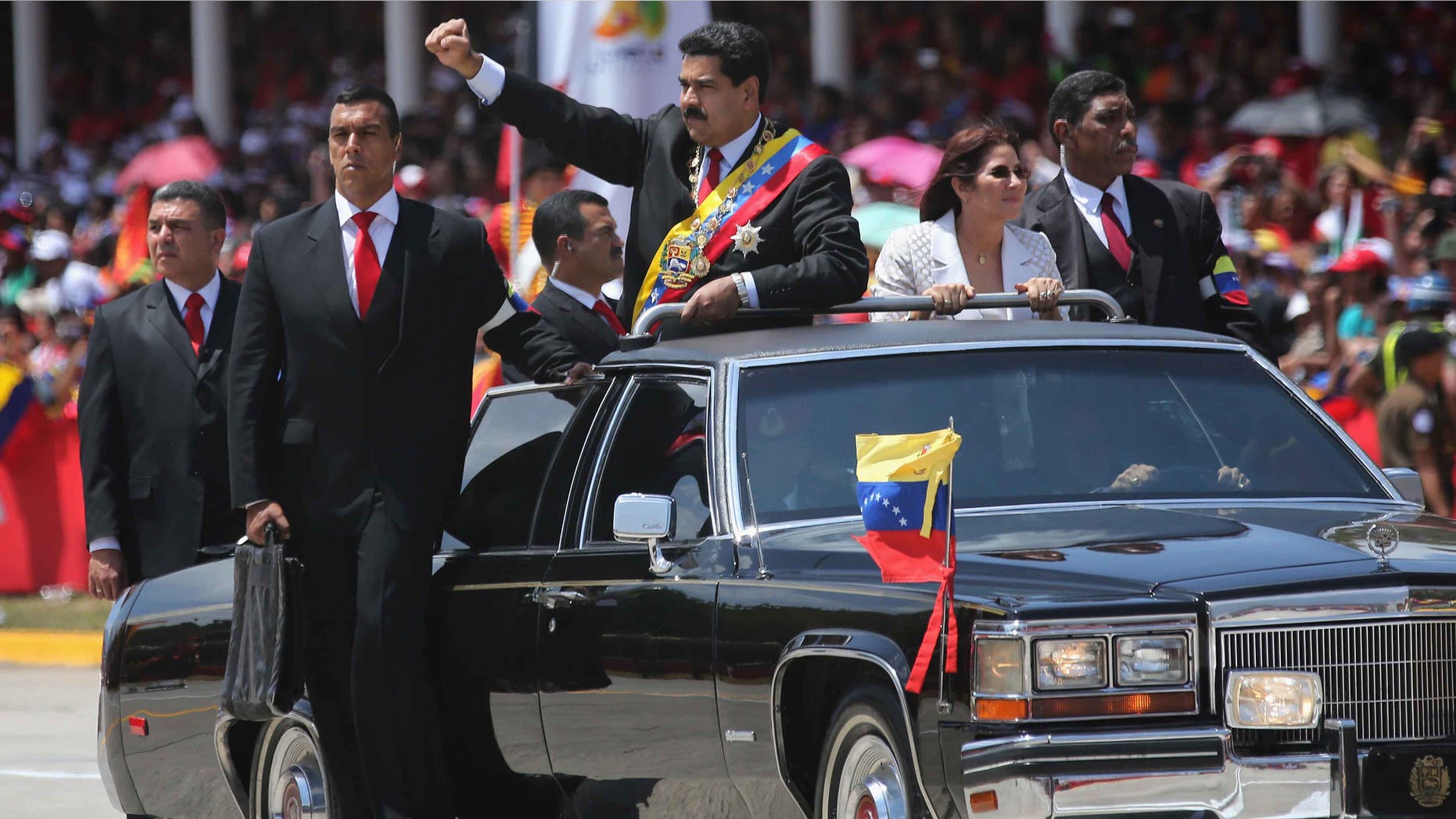 Two members of Congress who long have pushed for a tougher U.S. approach toward Venezuela's socialist government said that this week's drug smuggling arrests by U.S. authorities of two nephews of the South American president further points to corruption in his administration.
"If reports are accurate, few who have observed the declining situation in Venezuela should be surprised by this most recent news," said Sen. Robert Menendez, D-N.J., a member of the Senate Foreign Relations Committee, in a statement to Fox News Latino. "The level of corruption and impunity has reached the highest circles of power there and I'm pleased it is now getting international scrutiny."
The nephews, Efrain Antonio Campos Flores and Francisco Flores de Freites, were indicted on conspiring to import cocaine, through Honduras, into the United States. They are the biological nephews of Venezuela's first lady, Cilia Flores, and at least one of the two men was raised by Flores and President Nicolas Maduro.
According to an unsealed federal indictment, both men participated in meetings in Venezuela to ship cocaine to the U.S. They were arrested in Haiti on Tuesday night as part of a sting operation coordinated by the U.S. Drug Enforcement Administration.
The young men reportedly told the DEA that they were acting in connection with Diosdado Cabello, speaker of the National Assembly, as well as with a governor, Tarck el Aissami, who is the former Venezuelan Minister of the Interior. They said that the high-ranking officials had helped with the drug shipment.
In past Senate hearings on Venezuela, Menendez has raised concerns about suspected drug trafficking by high-ranking officials in that nation.
"For years, I have pursued legislative and administrative efforts to ensure the U.S. government takes an active role in supporting Venezuelans who want better for their country, with its decimated Rule of Law and widespread narco-trafficking," Menendez said. "It's not only a matter of fundamental human rights for Venezuelans but also a national security threat to the United States and the hemisphere. I hope justice is served and that more is to come."
Cabello, Venezuela's second most powerful figure, has been a focus of U.S. drug-trafficking investigation involving top members of the Venezuelan government.
The arrest of Campos and Flores is likely to exacerbate already tense relations between the U.S. and Venezuela and cast a hard look at U.S. accusations of drug trafficking at the highest levels of Maduro's administration.
Rep. Ileana Ros-Lehtinen, a Florida Republican who is chairwoman of the House Committee on Foreign Affairs, echoed Menendez in saying that for some time there has been suspicion of drug-trafficking linked to officials, or associates of officials, at the highest levels of Venezuela's government.
"This is not the first time that relatives of the corrupt Maduro regime have been in legal trouble due to their close connections to the illicit drug trade," Ros-Lehtinen said in a statement. "I congratulate our DEA and the U.S. Attorney of New York for continuing their investigation into the drug transactions of the Venezuelan regime. I'm also pleased that the U.S. rejected the bogus plea of these two relatives for diplomatic immunity."
The Associated Press contributed to this report.