Trump survives media firestorm and rough debate, but Ryan undercuts him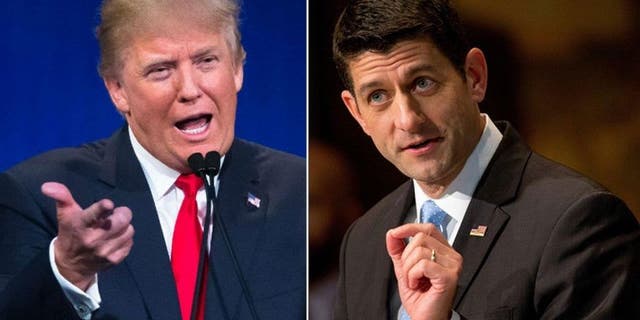 After 48 hours of sheer media hell, Donald Trump lived to fight another day.
And all of the pundits and news organizations that filled the airwaves and websites with speculative chatter about whether he might drop out are looking a little silly today. That was never going to happen.
Nor, as it turned out, was Mike Pence leaving the ticket or Kellyanne Conway quitting the campaign.
Conway, in fact, tweeted this in response to CNN reported that Pence never considered bowing out: "So, this actually ISN'T #BreakingNews unless you'd convinced yourself rumor, innuendo, conspiracy & the telephone game are news."
Sitting there in St. Louis about 20 minutes into the ugly opening of the debate, I didn't think things looked good for Trump. Having endured virtually nonstop covering of the decade-old "Access Hollywood" tape in which he boasted of being a celebrity who could grope women's genitals at will, the Republican nominee staged a bizarre, dimly lit news conference with Paula Jones, Kathleen Willey and Juanita Broaddrick, and then brought Broaddrick to the debate. The message to Hillary Clinton—your husband's sexual misconduct is worse than my sexual embarrassments—seemed to accomplish little more than dragging the evening into the gutter.
Sure, Trump's supporters must have cheered at seeing him try to pivot from apologizing for what he called "locker room talk" to an attack on the Clintons' character—but it's not clear how that approach would attract new voters to Trump's cause.
Still, he battled his way to a strong performance in the rest of the debate, and Clinton spent much time on the defensive as the focus shifted to her record. Plus, she had used most of her ammunition in the first debate, so her attacks sounded a bit more rehearsed.
Even an over-the-top verbal assault—Trump not only vowing to name a special prosecutor to pursue Clinton but snapping that if he won she would be in jail—did little to derail him, except among critics in the media.
But Trump's off-the-mat performance failed to stem the tide of criticism from big-name Republicans who had been abandoning him in droves over the weekend. Word quickly leaked when Paul Ryan held a GOP conference call that he would no longer defend Trump but would concentrate on saving the party's House majority. The P-word tape had finally pushed the speaker, with his tepid backing of Trump, to cancel a weekend appearance and bail on the standard-bearer.
Trump fired back on Twitter: "Paul Ryan should spend more time on balancing the budget, jobs and illegal immigration and not waste his time on fighting Republican nominee."
Such intramural sniping took the gloss off what should have been a good morning-after for Trump. Some Republicans are furious at Ryan for making the story about him and undercutting the only nominee the party has. Others say the party is smart to try to contain the down-ballot damage and wonder how many lawmakers will follow Ryan. A Wall Street Journal/NBC poll taken after the "Access Hollywood" flap—but before Sunday's debate—gives Clinton a 46-35 lead over Trump.
Trump, of course, is here because he ran against the entire Republican establishment and beat 16 contenders. Now he may finish the race the way he started it, on his own.