Trump says 'disaster' Snipes should be removed as election head, calls her 'very competent but in a bad way'
As officials race to complete a legally mandated recount in Florida's pivotal Senate and gubernatorial contests, President Trump on Wednesday called embattled Broward County Supervisor of Elections Brenda Snipes a "disaster" who should be fired, and suggested she is intentionally trying to throw elections to Democrats.
"When they call this woman incompetent, they're wrong," Trump told The Daily Caller, referring to Snipes. "She's very competent but in a bad way."
Asked whether Snipes should be removed from her oversight role in the Democratic stronghold amid mounting vote-count irregularities, Trump replied, "Oh, she should have been removed — I think she should have been removed in the middle of this mixup. ..."First thing you do is fire her and her cronies. You get 'em out."
The president also criticized Democrats for opposing stringent voter identification laws and characterizing them as tools to impede minority voters. (Sen. Sherrod Brown, D-Ohio, said Wednesday if Republican Brian Kemp prevails over Democrat Stacey Abrams in the race for Georgia governor, Republicans "stole it" using "voter suppression" tactics.)
"If you buy a box of cereal — you have a voter ID," Trump told the site. "They try to shame everybody by calling them racist, or calling them something, anything they can think of, when you say you want voter ID. But voter ID is a very important thing."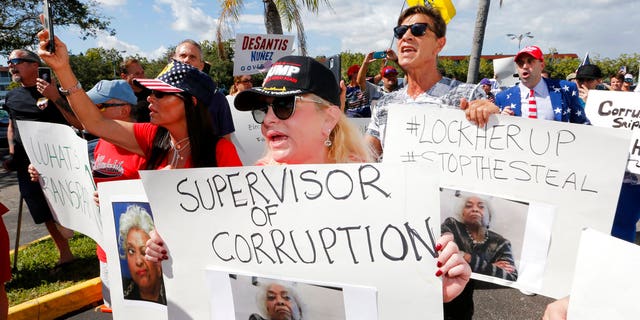 A flurry of litigation has gripped Florida in recent days. In an emergency court hearing on Friday, state Judge Carol-Lisa Phillips ruled there has "been a violation of the Florida constitution," as well as the state's public records act, by Broward County officials who refused to turn over key voting information. Republicans are continuing
A different judge has since denied Republicans' request for an injunction to safeguard voting equipment as the recount proceeds, as other legal challenges  pending.
In a separate lawsuit, GOP Senate candidate Rick Scott's team is asking a judge to throw out votes tallied by the Broward County Canvassing Board after Saturday's noon deadline, in apparent violation of state law, which requires that "[t]he canvassing board shall submit ... unofficial returns to the Department of State for each federal, statewide, state, or multicounty office or ballot measure no later than ... noon on the fourth day after any general or other election."
FLORIDA RECOUNT: WHERE DO THINGS STAND AS 3 PM THURSDAY DEADLINE APPROACHES?
Florida officially declared a recount Saturday and since then, the state's 67 county election offices have been racing against time running their ballots through the tallying machine. Some counties only have a few thousand votes, but the likes of Miami-Dade has more than 800,000 and Broward clocks in around 700,000.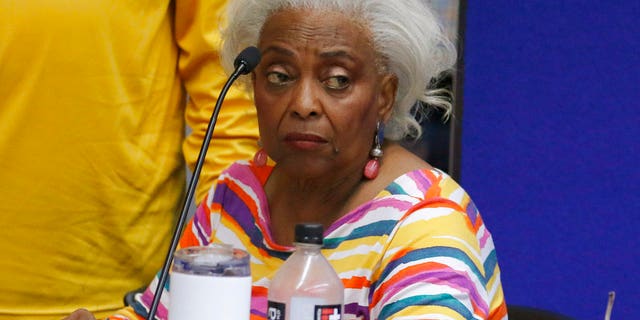 The deadline for all votes to be counted in the state is Thursday. But lawyers returned to court Wednesday after machines in Palm Beach County overheated, causing mismatched results with the recount of 174,000 early voting ballots. Officials are seeking a five-day extension to November 20.
"We're disappointed by the mechanical problems that are going to cause a further delay in the recount," Palm Beach elections supervisor Susan Bucher told reporters. "It became evident through the vigorous pace of counting that the machines used for the recount were starting to get stressed."
"First thing you do is fire her and her cronies. You get 'em out."
Trump specifically criticized Snipes' office for mixing in 20 invalid ballots in a batch of 205 provisional ballots and reporting those votes, making it impossible to correct the mistake. Although Snipes attorney Eugene Pettis confirmed the blunder earlier this week, Snipes on Tuesday contradicted him and claimed on CNN that she had not, in fact, included 20 invalid ballots in Broward County's vote totals.
"They mixed the votes up and now you can't find the ones that were put in, they just put 'em in to a batch," Trump said.
Trump's comments added to a chorus of public officials who have suggested it's time for Snipes to go -- including Snipes herself.
Former Florida Gov. Jeb Bush, who appointed Snipes to supervise Broward County's elections in 2003, called for her to resign this week, saying she had "failed to comply with Florida law on multiple counts." Snipes has
Snipes, 75, later acknowleged that "it is time to move on" from her role, according to the Florida Sun-Sentinel.
"Jeb Bush did put me in this position, and that was following the removal of another black woman," Snipes said, referring to her predecessor Miriam Oliphant.
Asked whether Bush was motivated by racism, Snipes was equivocal.
"I don't know," Snipes said. "I try to look at all factors and it's sort of hard to rule out race."
Snipes has a troubled record that has drawn scrutiny from both Republicans and Democrats. Earlier this year, a judge found that she had illegally destroyed ballots in a 2016 congressional contest, leading the secretary of state's office to assign election monitors to supervise her.
'DAILY SHOW' HOST TREVOR NOAH RIPS SNIPES FOR 'SCREWING UP' PEOPLE'S VOTES
"I think the problems are blown out of proportion," Snipes said in October, in an interview with The Miami Herald. "Broward is nitpicked to the bone. Other places have the same problems, different problems. It's just that they are not spotlighted like we are."
Florida GOP Senate candidate Rick Scott, who currently serves as the state's governor, has filed two lawsuits against Snipes, as well as the elections superviser in Palm Beach County, accusing Democrats of engaging in potentially "rampant fraud."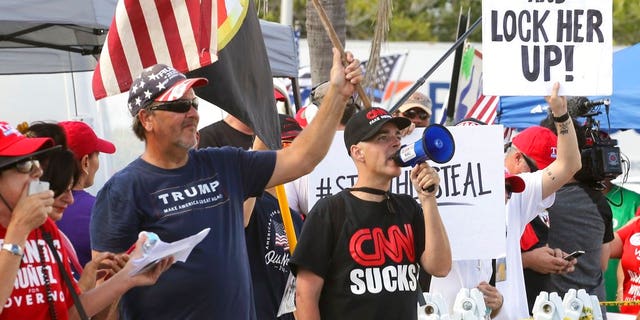 At a press conference last week, Scott outlined some of Snipes' history.
WATCH: 'TUCKER CARLSON TONIGHT' INVESTIGATES BRENDA SNIPES
"In 2016, Brenda Snipes' office posted election results half an hour before polls closed – a violation of election law," Scott said. "That same year, her office was sued for leaving amendments off of ballots. In 2014, Brenda Snipes' fellow Democrats accused her of individual and systemic breakdowns that made it difficult for voters to cast regular ballots. All Floridians should be concerned about that."
Meanwhile, lawyers for Nelson filed a federal lawsuit claiming Florida is disenfranchising voters by not counting mail-in ballots it received after Election Day. State law requires all mail ballots to be received when the polls close—which was 7 p.m. on Nov. 6.
On Wednesday, Scott announced he will recuse himself from certifying the results of his own election. Nelson, as well as other prominent Democrats, had called on Scott to pull out of his role on the canvassing commission- a three-member board that signs off on the state's election results.
Once the machine recount is complete, a hand recount will be ordered in any race where the difference is 0.25 percentage points or less, meaning it could take even longer to complete the review of the Senate race if the difference remains tight. If the Senate race does go to a hand recount, the deadline for counties to finish is Sunday.
Fox News' Barnini Chakraborty, Nicole Darrah, and Brooke Singman contributed to this report.