Judge sides with Florida's Rick Scott, cites 'violation' of state constitution by election officials
A state judge on Friday sided with Florida Republican Rick Scott in ordering that Republicans be granted "immediate" access to requested information about ballots in Broward County, amid explosive lawsuits against the county's top election official.
In their lawsuit against Broward, Scott – the Republican gubernatorial incumbent narrowly leading in the state's race for a U.S. Senate seat -- and the National Republican Senatorial Committee (NRSC) allege that officials there are hiding critical information about the number of votes cast and counted.
In an emergency court hearing on Friday afternoon, state Judge Carol-Lisa Phillips ruled there has "been a violation of the Florida constitution," as well as the state's public records act, by not turning over requested records.
Phillips ordered Broward County Supervisor of Elections Brenda Snipes to allow for the "immediate inspection" and "photocopying" of the requested records no later than 7 p.m. Friday.
"We are glad that the Broward Supervisor of Elections is being held accountable for this unethical failure," said Chris Hartline, a spokesman for Scott. "Bill Nelson and his rag tag group of liberal lawyers from D.C. keep trying to steal this election, but they won't get away with it."
Scott is running against longtime incumbent Democratic Sen. Bill Nelson. On Thursday, a Nelson spokesperson tersely dismissed Scott's effort: "The goal here is to see that all the votes in Florida are counted and counted accurately. Rick Scott's action appears to be politically motivated and borne out of desperation."
It comes as Scott has warned of possibly "rampant fraud," two heavily Democratic counties continue to report new votes, and three top races in the state appear headed for recounts. Fox News confirmed Friday that an unknown number of "bags" of uncounted early vote ballots have been found in Broward County. It is less than 100 ballots total, but officials did not give a precise number.
Scott's emergency complaint accused Snipes, the Broward County supervisor of elections, of being "unwilling to disclose records revealing how many electors voted, how many ballots have been canvassed, and how many ballots remain to be canvassed," and charges that the uncertainty "raises substantial concerns about the validity of the election process."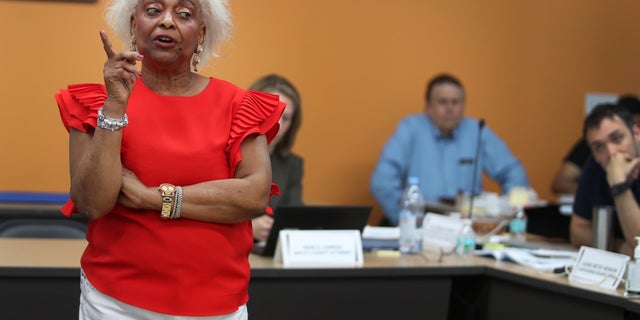 President Trump himself has gone after Snipes, telling reporters Friday, "She has had a horrible history … and all of a sudden they're finding votes out of nowhere."
And one conservative congressman in Florida has taken matters a step further, calling for Snipes' removal.
"The outrageous ballot-counting issues in Broward County are un-American and unacceptable," Rep. Matt Gaetz said in a statement. "I call on Governor Scott to immediately suspend Brenda Snipes, Supervisor of Elections for Broward County. She has failed to follow state transparency laws during this election, and has a long history of misconduct, including preemptively destroying ballots.
Scott, speaking with Fox News' Dana Perino on "The Daily Briefing," said Friday "there's no transparency" to the vote count.
"You have to assume the worst here," Scott said, vowing to press ahead in the courts. "We already won it once. We have to win it twice now in the courts."
Referring to himself as the state's senator-elect, he voiced disbelief at the sheer number of votes discovered in Broward County since election night: "How do you come up with 78,000 more votes in one county? … The Democrats are trying to steal this seat."
In a parallel suit against Palm Beach County, Scott and the NRSC charge that the election supervisor there illegally used her own judgment to determine voter intent when reviewing damaged or incorrectly filled-out absentee ballots, while refusing to allow impartial witnesses to monitor the process.
Scott's complaint against Palm Beach County Supervisor of Elections Susan Bucher alleges first that officials there illegally refused to allow Republicans, or any witnesses, to monitor the county's handling of damaged absentee ballots.
"Even more alarmingly," Scott claims, Bucher "failed to allow the Palm Beach County Canvassing Board" to determine, as required by law, which damaged or improperly filled-out absentee ballots were valid and how the voters of those ballots had intended to vote. Instead, Scott and the NRSC argue, Bucher and her staff simply used their own judgment when determining voters' intent.
The suit against Bucher demands an injunction requiring Bucher to make and compare duplicate copies of all damaged absentee ballots in the presence of Scott's representatives, and to allow the Palm Beach County Canvassing Board to determine voters' intent when counting those ballots.
Democrats are being represented in Florida by lawyer Marc Elias – known for his role in the Trump dossier controversy – who also announced a lawsuit Friday on behalf of Nelson over vote-by-mail ballots. Trump took aim at Elias in a tweet Friday.
"As soon as Democrats sent their best Election stealing lawyer, Marc Elias, to Broward County they miraculously started finding Democrat votes. Don't worry, Florida - I am sending much better lawyers to expose the FRAUD!" Trump said.
Fox News' Ivonne Amor and Gregg Re contributed to this report.