Trump ridicules adults in the media on Take Your Child to Work Day
President Trump seemed to seize the moment a bit on Thursday, taking jabs at some of the press corps members whose kids joined them at the White House for "Take Your Child to Work Day."
Trump was first seen with the youngsters signing their press credentials and a few "Make America Great Again" hats in the White House Rose Garden.
He said only "friendly questions" should be asked, adding that the kids were "very aggressive" and "ask me better questions."
TRUMP REBUKES 'STUPID QUESTION' FROM ABC NEWS STAR REPORTER
"You know, your parents are being very nice right now, I can't believe it," Trump said. "You know why? Because they don't want to embarrass themselves in front of you."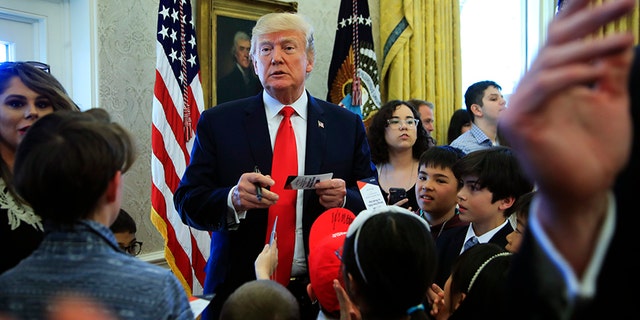 And to one kid, the president said they had "a nice father about 80 percent of the time."
Trump then asked the kids if they wanted to go inside the Oval Office, to which they responded with an overwhelming "yes!" And when asked whether their parents should be allowed to join them inside, the kids chanted "out!" in unison.
"Out! I agree," Trump said. "C'mon let's go, we'll go to the oval office."
TRUMP SLAMS NBC'S 'SLEEPY EYES' CHUCK TODD FOR 'FAKE NEWS' COMMENTS ABOUT NORTH KOREA
The group entered the famed office as the president continued to sign credentials before crowding around his desk for a photo op, which he said the kids would have to remember for years.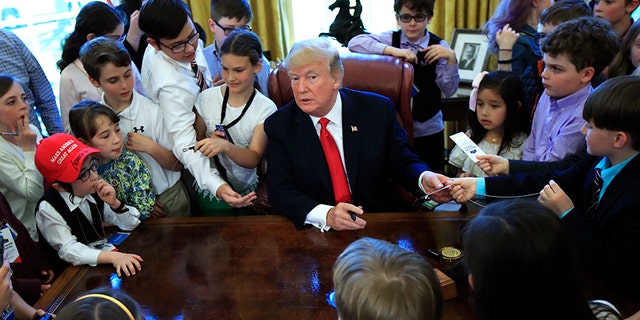 "Look how nice your parents are behaving, I can't believe it," Trump said. "They're not screaming and they're not going wild."