Trump, Putin hold historic summit at Finland's presidential palace
President Trump met behind closed doors for more than two hours Monday with Vladimir Putin, as the two leaders tackled weighty issues amid political pressure back home for Trump to get tough with the Russian president.
Rebuffing calls for him to cancel the summit in the wake of new indictments against Russian intelligence officers, Trump predicted their two countries "will end up having an extraordinary relationship."
While both leaders maintained a reserved presence and tone for the cameras -- with Putin's expression characteristically inscrutable -- Trump began their highly anticipated summit in Helsinki by congratulating the Russian president on hosting a "really great World Cup."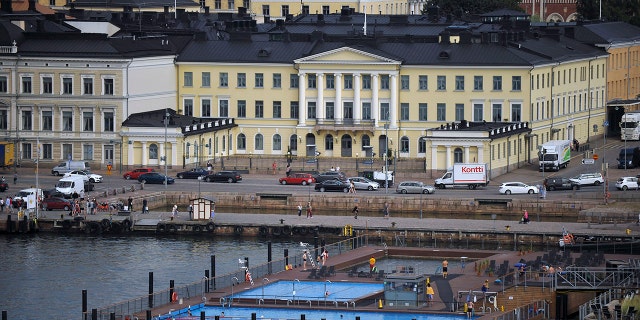 He said their agenda would include trade, missile defense and China. A host of other thorny issues ranging from Crimea to Syria to election meddling tied to those indictments were also expected to come up.
Their one-on-one meeting ran long, and after more than two hours they moved into an expanded meeting involving key advisers. In between the two sessions, the U.S. president said they were off to a "very good start."
"I think we will end up having an extraordinary relationship," Trump said, sitting next to Putin at the presidential palace in Helsinki. "Getting along with Russia is a good thing, not a bad thing."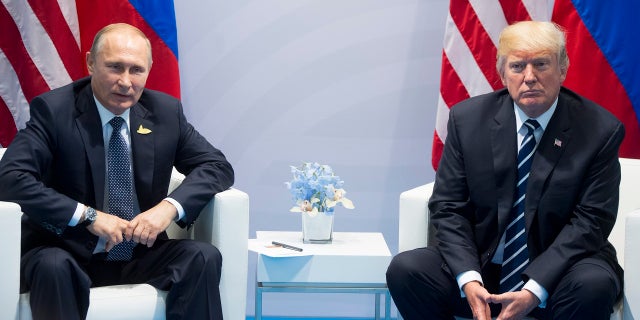 The president met with Putin after sparring for the better part of the past week with traditional U.S. allies -- first with NATO nations over their levels of defense spending, and later with British Prime Minister Theresa May over her 'Brexit' strategy, though he seemed to patch things up before leaving London. The tensions created a contrast with his efforts to improve ties with Moscow, leading to bipartisan concerns about Monday's summit.
Back home, Democrats and some Republicans called for Trump to cancel the summit after the Department of Justice announced the indictments of a dozen Russian intelligence operatives for allegedly hacking Democratic targets in the 2016 U.S. presidential election. Putin has previously told Trump Russia did not meddle in the 2016 U.S. presidential election.
"Certainly I'll be asking about it," Trump told CBS News on Saturday.
Senate Minority Leader Chuck Schumer, during a phone call with Secretary of State Mike Pompeo, urged Trump to press the issue, saying: "For President Trump to meet with President Putin without expressing the outrage of the American people and securing real progress would be terrible for the United States and the security of our election system."
Trump arrived in Finland's capital a day early, while the jet carrying Putin, who wrapped up his nation's hosting of the World Cup Sunday, touched down Monday afternoon local time and the Russian president's motorcade whisked him straight to the neo-classical palace a dozen miles from the airport.
Election meddling by Moscow, the annexation of Crimea and Russia's involvement in Syria were all expected to come up in the first one-on-one talks between the nations' leaders since 2010.
Facing pressure to get tough on Putin, Trump on Monday blamed past U.S. policies for soured relations. "Our relationship with Russia has NEVER been worse thanks to many years of U.S. foolishness and stupidity and now, the Rigged Witch Hunt!" he tweeted.
On Sunday, Trump sought to lower expectations for any major breakthrough.
"… no matter how well I do at the Summit, if I was given the great city of Moscow as retribution for all of the sins and evils committed by Russia over the years, I would return to criticism that it wasn't good enough – that I should have gotten Saint Petersburg in addition!" Trump tweeted.
While the election hacking issue was thrust into the spotlight on the eve of the summit, other issues awaited the leaders.
Speaking on "Fox News Sunday," U.S. Ambassador to Russia Jon Huntsman said Trump was "highly unlikely" to recognize Putin's 2014 annexation of Crimea, but refused to rule out the possibility.
Trump himself has been noncommittal on the issue, saying Friday during a press conference with British Prime Minister May that "we're going to see what happens" at the Helsinki summit.
The president claimed ahead of his summit with Putin that the Russian president would not have invaded Crimea had he been in office, calling the globally condemned annexation an "Obama disaster."
Putin has signaled he would like Trump to soften sanctions that Washington imposed over the annexation of Crimea and support for separatists in eastern Ukraine, involvement in the Syrian civil war and allegations of Russian meddling.
Trump signed an August 2017 law imposing additional sanctions on Russia. The law bars Trump from easing many sanctions without Congress' approval, but he can offer some relief without a nod from Congress.
Almost 700 Russian people and companies are under U.S. sanctions. Individuals face limits on their travel and freezes on at least some of their assets, while some top Russian state banks and companies, including oil and gas giants, are effectively barred from getting financing through U.S. banks and markets.
The two leaders also are expected to discuss a tentative deal to move Iranian troops farther from Israel's border with Syria and Jordan, in exchange for allowing access there to Syrian President Bashar al-Assad's forces.
U.S. officials have worried about the danger of new conflict in Syria between Israel and Iran or Iran-backed forces. The White House also seeks increased Russian oil production—a move on which Russia and the Organization of the Petroleum Exporting Countries (OPEC) have already agreed—to restrict Iranian export earnings.
A National Security Council official told Fox News that Trump spoke to Israeli Prime Minister Benjamin Netanyahu over the weekend to prepare for the Putin meeting.
"Yesterday I spoke with U.S. President Donald Trump," Netanyahu said in Israel on Sunday. "We discussed security and diplomatic issues arising from regional developments, chief most among them, of course, Syria and Iran.
"I thanked President Trump for his tough policy against Iran because since this policy has been taken, we have seen a great effect on Iran and inside Iran," he added.
Putting constraints on Iran could be the top Helsinki priority of Trump and his advisers. U.S. and Russian officials have agreed on a tentative proposal that would keep Iranian forces in Syria 27 miles from the Israeli border.
Fox News' Gregg Re and The Associated Press contributed to this report.