Trump facing GOP pressure to counter Russia's Arctic fleet
As Donald Trump becomes the latest U.S. president to attempt a 'reset' with Russia, a key Republican ally is pressing the White House not to lose sight of an emerging battle for influence that Moscow is currently winning – in the Arctic.
Russia has aggressively built up its fleet of ships cruising Arctic waters, while the U.S. has fallen far behind. Rep. Duncan Hunter, R-Calif., is now urging Trump to counter that influence by funding additional so-called "icebreakers" for the U.S. Coast Guard, as well as drones to help the U.S. patrol.
In a Feb. 21 letter to the White House, the chairman the House Subcommittee on Coast Guard and Maritime Transportation argued the U.S. needs to project power in the region, and not let Russia roam unmatched.
"Not only have we not built a new icebreaker since the late 1970s, the Coast Guard is being forced to order parts online and cannibalize older vessels to maintain a minimum level of operability – just to operate a single heavy icebreaker," he said.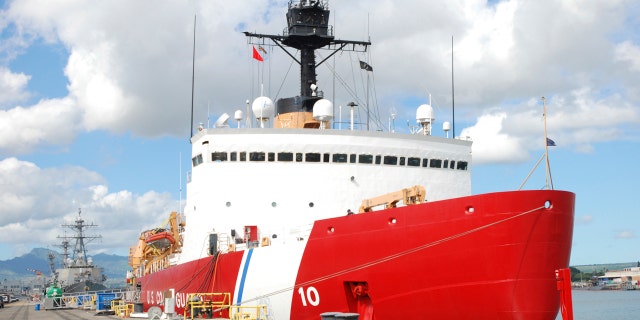 Currently, the U.S. has two ice-breaking ships – only one is operational. Russia boasts more than 40, with 11 others in the pipeline including what would be the largest-ever such vessel constructed. It is aptly named, "Leader."
The rush to construct new vessels follows the expansive thaw of Arctic ice which has enabled countries like Russia and China to break new passageways through those waters.
During a 2015 visit to the Arctic, former President Barack Obama called for the U.S. to expand its fleet. He reasoned that the U.S. risked losing control of shipping routes and fishing grounds if it didn't keep up with the competition.
About 40 percent of the world's oil and natural gas reserve also lies under the Arctic.
With so much at stake, Russia has reestablished Soviet-style military bases across the Arctic. It's also begun building a string of search-and-rescue stations along its Arctic shores.
In June, Russia launched its biggest icebreaker to date. Named Arktika, the 567-foot vessel is unmatched in raw power and can smash a path through the ice of the Northern Sea Route. The mammoth, 33,000-ton ship is easily the world's largest nuclear-powered icebreaker.
"There are no icebreakers equivalent to Arktika anywhere in the world," Sergey Kirienko, former Rosatom State Atomic Energy Corporation CEO said in unveiling the ship last fall.
Duncan agrees and says such a disparity should be of "tremendous concern."
"Russia is not just exceeding the U.S. in icebreaker production and Arctic presence, they're in a class by themselves and setting a standard, supported by enhanced capability, that is unmatched," the lawmaker wrote. "We must act with the same sense of urgency."
The pressure on the Trump administration to counter Russia's influence here marks the latest test of how far the new president may go in provoking Vladimir Putin, with whom he's sought warmer ties. Trump's approach has drawn bipartisan criticism -- and skepticism, as Russia continues to needle the U.S., mostly recently by sending a spy ship off the coast of Norfolk, Va.
Earlier this month, Sen. Dan Sullivan, R-Alaska, a member of the Senate Armed Services Committee, also pushed the Pentagon to renew its efforts to boost U.S. influence in the Arctic.
"We're late to the game," Sullivan told The Washington Free Beacon.
Hunter specifically wants funding for six more U.S. icebreakers, as the Coast Guard starts planning.
On Wednesday, the Coast Guard announced it awarded five contracts worth about $20 million to study heavy polar icebreaker design and analysis. The Coast Guard says it wants to expedite design for a new class of ships to be delivered between 2023 and 2026. The design studies would be completed over the next year while the contract for the first vessel is expected to be awarded in the third quarter of fiscal year 2019.
"Our nation has an urgent need for heavy polar icebreaking capability," Rear Adm. Michael Haycock, the Coast Guard's director of acquisition programs, said Wednesday.
They want to exceed the Arktika's power, a tall task.
Arktika can break ice up to 2.9 meters (9.5 feet) thick and reach speeds of 22 knots. It's fitted with a hangar capable of accommodating two choppers -- one for ice reconnaissance and another for transportation. The Arktika was also built to be armed in wartime.
Arktika might be mammoth in size but it doesn't hold a candle to Russia's newest design. Named, "Leader," the super-ship will be unveiled in 2019 and is three times the size of Arktika.