Trump calls North Korea 'dangerous' and 'great threat' after overnight nuclear test
President Trump on Sunday responded to North Korea's nuclear test, calling it "very hostile and dangerous" to the United States.
The rogue nation claimed it detonated a hydrogen bomb with "perfect success," carrying out its sixth nuclear test, which drew immediate condemnation from its neighbors.
"North Korea has conducted a major nuclear test," Trump said in a series of tweet. "Their words and actions continue to be very hostile and dangerous to the United States."
The president said, "We'll see," when asked upon leaving morning services at  St. John's Episcopal Church, near the White House, about whether he would attack North Korea.
White House Press Secretary Sarah Sanders said about an hour after Trump's tweets that the president and his national security team are closely monitoring the North Korea situation and will meet later today.
"We will provide updates as necessary," she also said.
Those scheduled to attend the meeting include Vice President Pence, Chief of Staff Gen. John Kelly, Secretary of Defense retired-Gen. James Mattis and Secretary of State Rex Tillerson, who will join via video-conference.
State Department spokeswoman Heather Nauert said earlier Sunday that Tillerson was "making calls to counterparts in the region" after the purported nuclear test.
North Korea in recent months has escalated its pursuit of a nuclear weapon and a long-range missile that would land such a warhead on foreign soil.
KIM JONG UN'S NORTH KOREA: BRINGING THE WORLD TO THE BRINK
Such efforts have also sparked a war of words between Trump and North Korean leader Kim Jong Un that has created global concerns about either side taking military action in response.
"North Korea is a rogue nation which has become a great threat and embarrassment to China, which is trying to help but with little success," Trump also tweeted Sunday.
The president also commented on South Korea's "appeasement" toward North Korea.
"South Korea is finding, as I have told them, that their talk of appeasement with North Korea will not work, they only understand one thing!" Trump wrote on Twitter.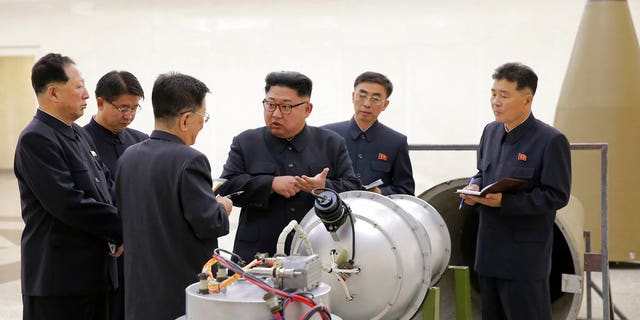 The test was carried out at 12:29 p.m. local time at Punggye-ri site, where North Korea often conducted past nuclear tests. The detonation triggered an magnitude 6.3 artificial earthquake, U.S. Geological Survey said, though South Korea officials placed the magnitude at 5.7.
Just hours before, North Korean newspaper published photos of Kim appearing to examine what it said was a nuclear warhead being fitted onto the nose of an intercontinental ballistic missile.
Japan's Prime Minister Shinzo Abe immediately condemned the test, calling it "absolutely unacceptable."
South Korea's National Security Director Chung Eui-yong said Sunday President Moon Jae-in is looking to respond to the test with the strongest measures possible. He said Moon will seek every available diplomatic measure, including new sanctions from the United Nations Security Council.
South Korea will also talk with the U.S. in deploying the "strongest strategic assets," though he did not specify what that specifically meant.
Nebraska GOP Sen. Ben Sasse said: "If North Korea has in fact successfully tested a nuclear warhead that can be loaded onto an intercontinental ballistic missile, Kim Jong Un is clearly threatening the American people. He must be confronted."
In July, North Korea conducted its first ever ICBM tests, a stunning jump in progress for the country's nuclear and missile program since Kim took power in 2011. The volatile regime launched a missile that flew over Japan before it splashed down into the sea last week.
Trump issued a stern response to the tests early August and vowed to unleash "fire and fiery."
In return, North Korea said it intended to attack Guam, a U.S. territory and the home to key U.S. military bases. The North eventually pulled back its "plan" to launch missiles toward Guam, though Kim eerily said last week's missile launch was a "meaningful prelude" to eventually containing the U.S. territory.
David Albright, President of the Washington-based Institute for Science and International Security, wrote in a report last month "developing thermonuclear weapons was declared priority of North Korea."
"It appears capable of developing thermonuclear weapons. It is far more likely to be working on one-stage thermonuclear weapons rather than traditional two-stage thermonuclear weapons, or 'H-Bombs,'" Albright wrote.
Sunday's test was estimated to have a yield of 100 kilotons, meaning a blast that was four to five times more powerful than the explosion in Nagasaki, Japan, in 1945, a South Korean defense official told the country's Yonhap News Agency.
The Associated Press contributed to this report.