Top White House adviser compares GOP to suicide bombers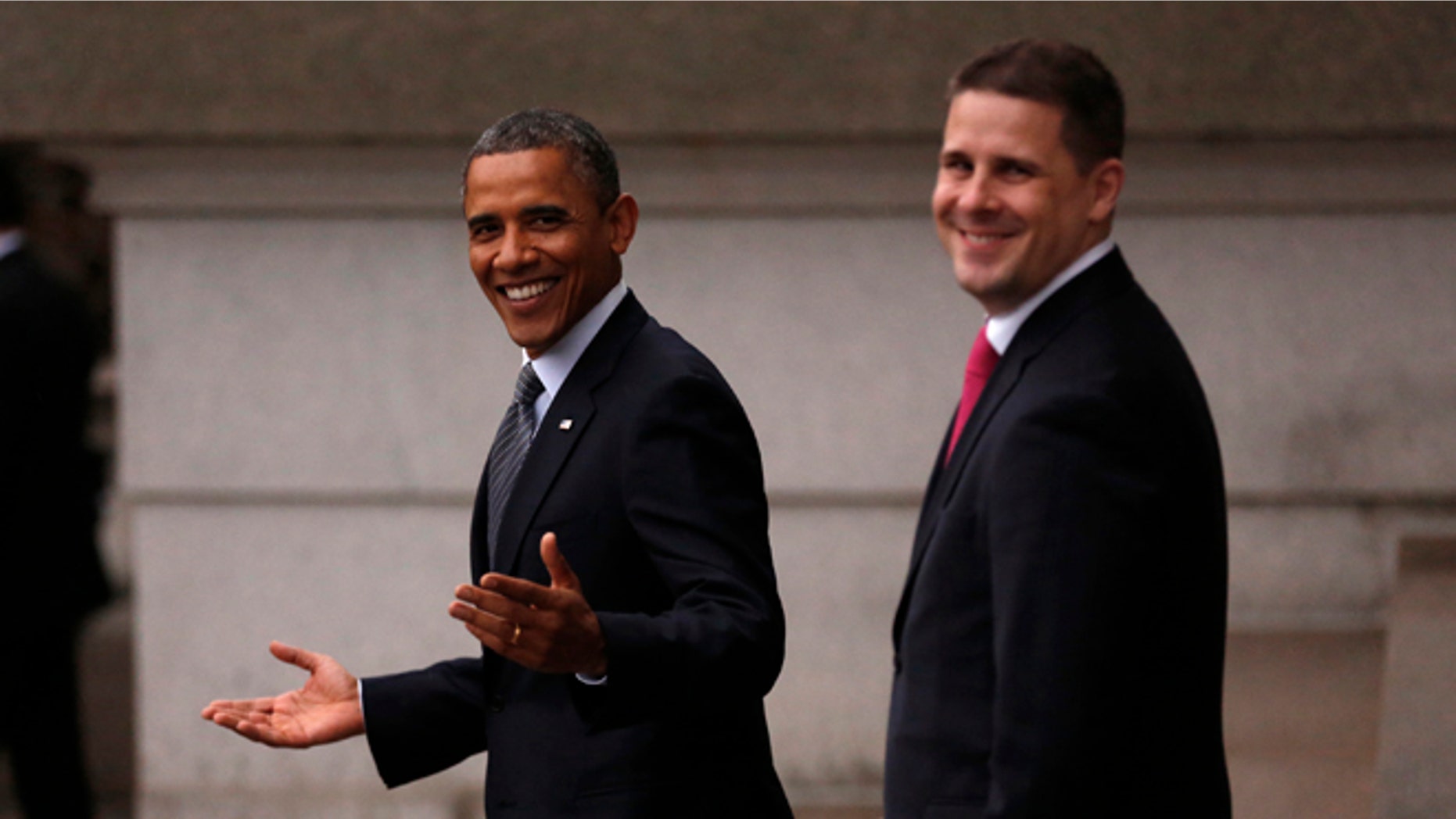 **Want FOX News First in your inbox every day? Sign up here.**
Buzz Cut:
• Top White House adviser compares GOP to suicide bombers
• High noon in Senate
• Dishing out to Detroit
• Kerry sets stage for lifting Iran sanctions
• A celebration, by George
TOP WHITE HOUSE ADVISER COMPARES GOP TO SUICIDE BOMBERS
Senior White House Adviser Dan Pfeiffer compared House Republicans to suicide bombers, kidnappers and arsonists in an interview with CNN. Pfeiffer, the former White House communications director who was promoted to the senior spot after the 2012 election, explained President Obama's unwillingness to compromise on his call for an unconditional increase in the federal debt limit: "What we're not for is negotiating with people with a bomb strapped to their chest." He also called Republican counterproposals "ransom demands" adding, "It's not a negotiation if I show up at your house and say, 'Give me everything inside or I'm going to burn it down.'"
Overreach - No prominent Republican has advocated default on federal debts, with even the most aggressive conservatives proposing only a partial shutdown in the event of a debt-ceiling impasse. Similarly, even Sen. Ted Cruz, R-Texas, has said that a shutdown over the current spending fight was undesirable but a necessary risk to try to force the president to the negotiating table over his 2010 health law. The president, meanwhile, has declared his health law and his debt bump demand off the table for negotiations.
Obama's hot words - During a Thursday speech attacking Republicans for their opposition to ObamaCare, President Obama focused part of his furor against a New Hampshire state lawmaker who said the law was as destructive to individual liberty as the Fugitive Slave Act, mischaracterizing the Republican's position for his largely black audience in Prince George's County, Md. thusly: "Affordable health care is wose than a law that lets slave owners get their runaway slaves back."
The takeaway - The White House had a marvelous press narrative going with exhaustive coverage across the board of Republican infighting over which tactics to employ to block all or part of Obama's health law. Why, then, would the president and his top adviser for communications try so hard to get into the firefight? Surely not a fear that Cruz was not getting enough air time or attention. Is it what Democrats are whispering about: A weak second-term White House team? Or has Obama lost his cool completely?
MANCHIN BREAKS RANKS ON OBAMACARE - Fox News: Sen. Joe Manchin, D-W.Va., is the first Democrat to support delaying ObamaCare's individual mandate. Manchin emphasized that while he supports the delay he does not feel it should be tied to current funding and debt negotiations.
[Kimberly Strassel: "Nobody is even talking about Democrats. Nobody has put an iota of pressure on them for months. Every camera, every microphone has been trained on the GOP."]
HIGH NOON IN SENATE - The key vote on an emergency spending bill will likely come just after noon ET today, as Senate Democrats look for at least six Republicans to join them in advancing a House-passed bill for the purpose of stripping out a provision defunding ObamaCare. Senate Minority Leader Mitch McConnell, Senate Minority Whip John Cornyn and Sens. Lindsey Graham, R-S.C., and John McCain, R-Ariz., are already on board. Blocking the bill would mean moving much closer to a possible government shutdown on Tuesday, but there is now little doubt that Sen. Ted Cruz, R-Texas and other conservatives have lost the fight for a last stand on ObamaCare in the Senate.
Flake out - AZ Republic: Sen. Jeff Flake, R-Ariz., will not be on hand today to vote on the short-term spending bill. Flake will be attending the wedding of his 20- year-old son, Austin, his office said late Thursday.
Next steps -  The Republican-controlled House is set to take up the Senate-passed measure on Saturday. When asked about passing a defanged spending bill expected to return from the Senate without the ObamaCare defunding measure, House Speaker John Boehner told reporters, "I do not see that happening."  House leaders are mulling multiple options for what to put in a counter counteroffer to the Senate. Provisions may include multiple changes to the health law or other, unrelated, demands.  A message from House Majority Leader Eric Cantor's, R-Va., office indicated the House will be in session Friday, Saturday and Sunday.
Vitter's exemption exasperation - Sen. David Vitter's, R-La., is demanding a floor vote on his bill to end an ObamaCare exemption for members of Congress and their staffs. The exemption, granted last month, makes them the only participants in the new ObamaCare exchanges to receive generous subsidies from their employer to pay for their health insurance.
'FOX NEWS SUNDAY WITH CHRIS WALLACE' - Sens. Mike Lee, R-Utah, and Tim Kaine, D-Va., will discuss the battle over ObamaCare. House Majority Whip Rep. Kevin McCarthy, R-Calif., will tackle budget impasses in the House. Check local listings for air times in your area.
BACK AND FORTH -"I'm understanding the reason we're waiting is that y'all have sent out releases and emails and you want everybody to be able to watch. It just doesn't seem to me that's in our nation's interests." – Sen. Bob Corker, R-Tenn., in a Senate speech denouncing the refusal by conservatives to speed up a vote on an emergency spending measure.
"A lot of Republicans, they have been here a long time.  And they are beaten down.  And they're scared that if we stand together on this and if a government shutdown results that Republicans will be blamed and it is too the politically risky." – Sen. Ted Cruz , R-Texas, on "Hannity"
#MEDIABUZZ - Howard Kurtz and guests left, right and center will examine why the media loves to hate Sen. Ted Cruz, R-Texas, and President Obama's latest swipe at Fox News, Sunday 11 a.m. ET.
"If you've talked to somebody who said, 'Well, I don't know, I was watching Fox News and they said this is horrible,' you can say, 'You know what? Don't take my word for it! Go on the [administration's] Web site.'" – President Obama at a rally encouraging people to sign up for ObamaCare.
UN PANEL WALKS BACK CLIMATE CLAIMS - A report from the Intergovernmental Panel on Climate Change released this morning claims it is "extremely likely" humans are responsible for climate change. Forbes points out the "admission that global warming has occurred much slower than IPCC previously forecast" and that "IPCC is unable to explain the ongoing plateau in global temperatures." The Associated Press last week revealed leaked emails that showed the U.S. and other governments pressuring scientists to downplay or omit data undercutting environmentalists' claims.
[New at Fox News Opinion - Marlo Lewis of the Competitive Enterprise Institute, critiques the models used for today's Intergovernmental Panel on Climate Change in Models of Misinformation: "The real, observable evidence increasingly shows that the models… are way out of line with the changes that scientists are able to measure. And the gap is widening."]
BAIER TRACKS: TOUGH TIMING FOR OBAMA'S DETROIT AID - "As the White House gets ready to do battle over the continuing resolution to fund the government and then, in two weeks, the raising of the debt ceiling, the administration is offering aid to the bankrupt city of Detroit – they're not calling it a bailout – without help from Congress.
From the NYT: 'Two months after Detroit became the largest city ever to file for bankruptcy, top Obama administration officials will be there on Friday to propose nearly $300 million in combined federal and private aid...'

The piece talks about 'President Obama's fiscal and political limits,' but announcing the move two weeks before the debt-ceiling debate seems like interesting timing." – Bret Baier.
KERRY SETS STAGE FOR LIFTING IRAN SANCTIONS - Fox News: Following a historic meeting with Iranian Foreign MinisterJavad Zarif, Secretary of State John Kerry told reporters, there was still "a lot of work to be done" but added he welcomed the "change in tone." In an interview with CBS News, Kerry indicated the U.S. could soon lift sanctions, if the Islamic regime takes "concrete steps" to open its secret, underground uranium enrichment facility to inspection.
[Krauthammer's column: "I'm for negotiations. But only if it's to do something real, not to run out the clock as Iran goes nuclear. The administration says it wants actions not words. Fine. Demand one simple proof of good faith: Honor the U.N. resolutions. Suspend uranium enrichment and we will talk."]
Security Council set to vote on Syria - AP: The U.N. Security Council reached an agreement Thursday on a resolution to eliminate Syria's chemical weapons arsenal. A vote by the full, 15-member council could take place as soon as today. A draft decision of the influential Organization for the Prohibition of Chemical Weapons obtained by the AP, "calls for inspections to begin 'no later than 1 October 2013.'"
[On the White House sked: President Obama meets with Indian Prime Minister Manmohan Singh to discuss how to diffuse tensions and increase stability in the region.]
SENATE TO PRESERVE NSA POWERS - NYT: "The Senate Intelligence Committee appears to be moving toward swift passage of a bill that would 'change but preserve' the once-secret National Security Agency program that is keeping logs of every American's phone calls, Senator Dianne Feinstein, the California Democrat who leads the panel, said Thursday."
WITH YOUR SECOND CUP OF COFFEE...Matthew Continetti on "Why Ted Cruz drives them crazy" from the Washington Free Beacon: "The fact that Cruz is a product of elite institutions only makes his challenge more potent. Nothing quite annoys liberals more than an Ivy League conservative, especially when that conservative has populist tendencies. What a hypocrite, the liberals say. How can an Ivy Leaguer spout such nonsense? Doesn't he understand he's a member of the elite? Doesn't he know better?"
Got a TIP from the RIGHT or LEFT? Email FoxNewsFirst@FOXNEWS.COM

POLL CHECK - Real Clear Politics Averages
Obama Job Approval: Approve – 44.2  percent//Disapprove – 50.8 percent
Direction of Country: Right Direction – 27.3 percent//Wrong Track – 64.0 percent
OFF TO THE RACES -Late-term abortion defender seeks Texas governorship - Wendy Davis, the Democratic Texas state senator who made headlines with her nearly 13-hour filibuster against a state law banning late-term abortion and regulating abortion clinics will run for governor in 2014, sources confirm to Fox News. Davis will officially announce her candidacy next week.
Harassment scandal snares Senate Dem hopeful - The Louisville Courier- Journal reports that state lawmakers are urging an investigation of Democratic House Speaker Greg Stumbo, "after a legislative employee said Stumbo's office ordered her transfer to another job after she complained that a legislator was sexually harassing interns." Stumbo has played an integral role in Democrat Alison Lundergan Grimes' Senate bid, including emceeing her July campaign kickoff. Grimes is seeking the Senate seat currently held by Minority Leader Mitch McConnell.
McAuliffe gets chamber nod - Virginia Democratic gubernatorial candidate Terry McAuliffe won the endorsement of the Fairfax County Chamber of Commerce one day after the group's candidate debate featuring McAuliffe and his opponent, Republican Ken Cuccinelli.
NRA cash haul - The Daily Caller reports The National Rifle Association's Friends of NRA grassroots campaign raised a record $51 million in 2013. The group estimates a 30 percent increase in support by year's end.

A CELEBRATION, BY GEORGE - George Washington's presidential library opens today on the grounds of the first president's former plantation, Mount Vernon. The $104 million project, with substantial funding from Reynolds Foundation Chairman Fred W. Smith, features a special collection of Washington's books and manuscripts that give visitors insight into his early education, thoughts as a soldier and statesman.
[Watch Fox: Today's politics and some historical perspective on "Power Play with Chris Stirewalt" from Mount Vernon, 11:30 a.m. ET. Watch here.]
'YOU'RE UNDER ARREST.' 'NO, YOU'RE UNDER ARREST.' - According to the Pueblo (Colorado) Chieftain, an undercover detective was in a cell phone store speaking to a clerk when Roland Herra allegedly came in accusing him of being a drug dealer. Police say Herra identified himself as a "cop" and told the detective to "give him the drugs." The detective then turned the tables on the impersonator. He showed the man his own law enforcement credentials and placed the man under arrest for suspicion of impersonating a police officer.
AND NOW, A WORD FROM CHARLES…"You have 61 percent of Americans behind [Republicans] on the debt ceiling, where they want president to engage in negotiations, which will end up giving some things – spending restraint, etc. – to the GOP. Or you have the continuing resolution, where Americans are 4-to-1 opposed. So why would you stake everything on something where Americans are hugely against you rather than get something easy on the C.R. and get the hard stuff on the debt ceiling, where America is behind you?" – Charles Krauthammer on "Special Report with Bret Baier" Watch here
Chris Stirewalt is digital politics editor for Fox News. Want FOX News First in your inbox every day? Sign up here. To catch Chris live online daily at 11:30 a.m. ET, click here.