Texas Latino Senators Brace for Immigration Bill Debate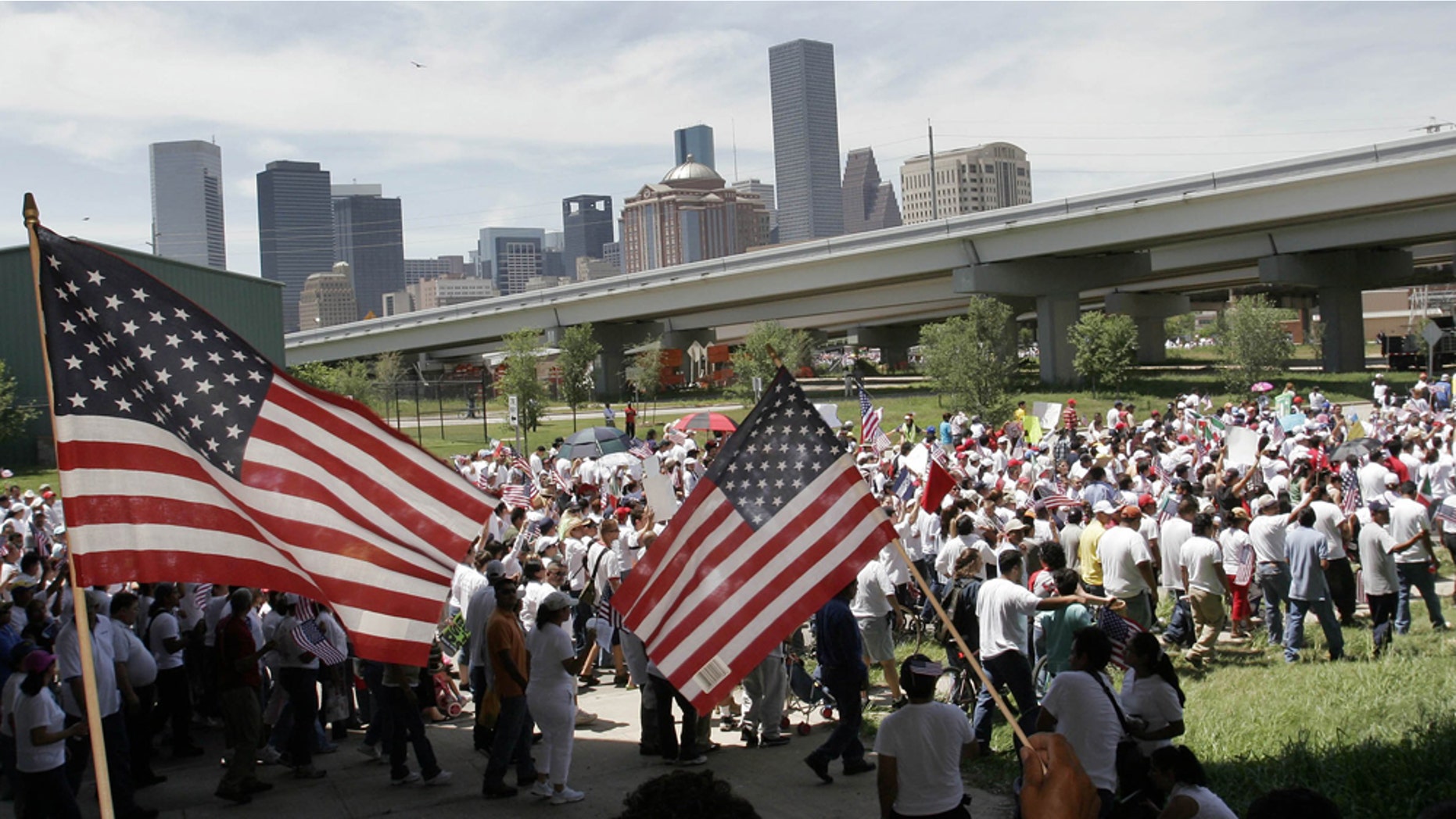 A new proposed immigration law is being called racist and "hate-mongering" by Latino lawmakers in the Texas senate who are bracing for a bitter fight over the so called sanctuary cities bill.
The bill would give most police officers the right to question detained people about their immigration status, and prohibit cities from adopting policies that ban the practice. None of Texas' major cities claim to be sanctuary cities, but many police departments discourage their officers from asking about immigration status.
Supporters, including Republican Gov. Rick Perry, say the bill is needed to stop crime committed by illegal immigrants. Critics say it would lead to racial profiling and allow police to harass Latinos.
A Senate hearing on the bill is scheduled Wednesday in the Committee on Transportation and Homeland Security.
Hispanic lawmakers in the Senate, all of them Democrats, predict that a floor vote sometime in the next few days could be one of the chamber's most divisive and emotional in recent memory.
"Why don't they just have a law to bring out the German Shepherds, bring out the fire hose," said Sen. Mario Gallegos of Houston. "Let's go back to the Jim Crow days. Why don't they just put that in there? Let's go. Let's get it on. That sanctuary cities bill is the most hate-mongering, racial bill that I've ever seen out there."
Perry spokeswoman Katherine Cesinger said the bill only gives police the option to ask about immigration status.
"Without that discretion, they don't have the tools to do their jobs effectively and to keep our communities safe from those who would do us harm," Cesinger said.
Sen. Leticia Van de Putte of San Antonio, leader of the Senate Democrats, says several Hispanic lawmakers have family histories that stir up strong emotions about the bill:
Van de Putte's grandmother fled a revolution in Mexico as a child and never became a U.S. citizen.
U.S.-born Sen. Juan "Chuy" Hinojosa was 5 when he and his mother, an illegal immigrant from Mexico, were picked up by the border patrol in a tomato field, driven across the border and left there. They lived in a small room off the back of a bar for a year in Reynosa, Mexico.
"It's something I'll never forget, being placed in the paddy wagon," Hinojosa said.
Sen. Jose Rodríguez of El Paso, worked alongside illegal immigrant farm workers while growing up and used to shout warnings when border patrol agents were spotted.
Rep. Ana Hernández Luna of Houston gave an emotional speech on the House floor this month about how she and her family lived in fear they would be found out and deported before she became a U.S. citizen at age 18.
Hinojosa said he could be a target for an immigration check if stopped by police.
"I was born and raised in this country. I pledge allegiance to this country. I graduated from school, law school, volunteered for the Marine Corps and fought in Vietnam," Hinojosa said. "This is such an insult to Hispanics, not only in this state but this country."
An estimated 1.6 million illegal immigrants are in Texas, according to the Pew Hispanic Center in Washington. Nationwide, their numbers declined between 2007 and 2009, from 12 million to 11.1 million, the first significant drop after two decades of growth. But their combined population in Texas, Oklahoma and Louisiana went up by a statistically significant 240,000.
In an early sign of just how heated the debate in the Senate could get, an amendment was introduced last week to prevent students who are illegal immigrants and who graduate from Texas high schools from paying cheaper in-state tuition rates to public universities.
Van de Putte and Sen. Eddie Lucio of Brownsville angrily argued against the measure. It was pulled down without a vote when it became clear it did not have the support of several key Republicans.
Gallegos and Van de Putte acknowledge they may not be able to stop the sanctuary cities bill, with Republicans holding a 19-11 Senate majority.
In the House, the bill passed after the Republican majority used a parliamentary maneuver to cut off racially charged debate.
Senate Democrats have a couple of rules working in their favor. Although outnumbered, they effectively have the votes to prevent the bill from coming to the floor for a vote under normal procedures.
But two weeks ago, Senate Republicans used a little-known rule to pass a House budget bill without getting the two-thirds support they normally need. Lt. Gov. David Dewhurst, a Republican, has said the rule could be used again.
Such a move on the sanctuary cities bill "will damage lifelong friendships" in the Senate, Van de Putte said.
With legislative deadlines looming before the May 30 end of the session, Democrats could try to filibuster the sanctuary cities bill, but that could take down hundreds of other bills as well. Van de Putte said Democrats haven't talked about a filibuster. And she said Democrats aren't considering leaving the state to break a quorum like they did in 2003 to stop a congressional redistricting bill.
But any debate on the sanctuary cities bill in the coming days is likely to be divisive.
"What you're going to see is that with Hispanics, it's personal," Van de Putte said.
Based on reporting by the Associated Press.
Follow us on twitter.com/foxnewslatino
Like us at facebook.com/foxnewslatino