Texas Could See Its First Latina First Lady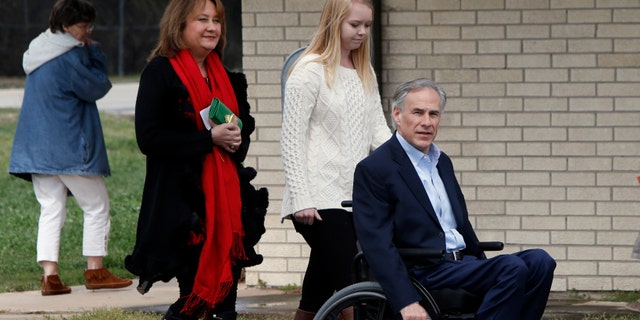 NEWYou can now listen to Fox News articles!
The Lone Star State appears poised to get its first Latina first lady – Cecilia Abbott.
Abbott, 54, is the wife of state Attorney General Greg Abbot, who announced his candidacy after Gov. Rick Perry said he was not seeking re-election after three four-year terms.
Greg Abbott, who is Republican and holds conservative views on issues such as abortion, gun rights and same-sex marriage, is considered the front-runner.
The candidate often speaks about his marriage of more than 30 years, and how his wife, the granddaughter of Mexican immigrants, has taught him a lot about the culture of the state's Latino population – at 38 percent, one of the nation's largest.
Local press describe her as something of a mystery to many Texans, although she is frequently at his side, especially during his political campaigns.
She was a school teacher, and is active in children advocacy projects, according to the Texas Tribune. She sits on the board of various educational groups, the newspaper said. Those who know her envision education being a priority for her if she becomes Texas's first lady.
She also is unequivocally conservative, firmly opposing abortion, including in the case of incest or rape, according to published reports.
"We just don't discriminate against a child because of its beginnings," she was quoted as saying in The San Antonio Express.
Her conservative views and deep religious practices influence – and are shared by – her husband, friends said.
"Our marriage wasn't just the joining of two families," Greg Abbott said during a campaign stop in San Antonio. "It was a uniting of cultures: My Anglo heritage and Cecilia's Irish and Hispanic heritage."
"We may have come from different cultures but we realized that we share the same foundation: 'Dos casas. Pero una fundacion,'" the candidate said. "The story of my family is as old as the story of Texas itself: the uniting of cultures to create one unique people, Texans."
Cecilia Abbott is a native of San Antonio who met her husband when both were students at the University of Texas at Austin. While they were still relatively newly married, a 75-foot-fall oak tree toppled on Greg Abbott while he was jogging, the Tribune reported, leaving him paralyzed.
Friends and acquaintances who knew the Abbotts at that time recalled how important Cecilia was to her husband's ability cope with what had happened and to make adjustments in his life.
"She was instrumental in supporting him in every way imaginable after the accident," said Kent Sullivan, a lawyer who worked with Greg Abbott at the time. "She was a pillar of strength for him. It sounds like a cliché, but it really is true."
With the Latino vote increasingly vital in Texas, some of the candidate's opponents have accused him of exploiting his marriage to a Latina to woo voters in the community.
A prominent Lubbock Democrat, City Councilman Victor Hernandez, recently created a brouhaha when he accused Greg Abbott of playing "piñata politics" after he held a campaign rally at a Mexican restaurant in the West Texas town. Further, Hernandez reportedly referred to Cecilia Abbott as a "prop" in the attorney general's courtship of Latino voters.
Hernandez denied calling Cecilia Abbott a prop, saying that he used the word in reference to the Mexican restaurant that the candidate visited.
Follow us on twitter.com/foxnewslatino
Like us at facebook.com/foxnewslatino