Ted Cruz to Hillary Clinton: Give the foreign government donations back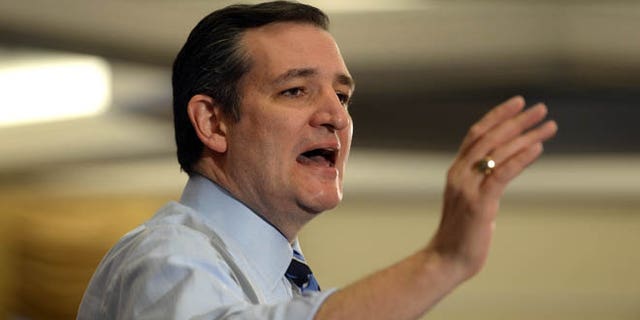 NEWYou can now listen to Fox News articles!
GOP presidential hopeful and Texas Sen. Ted Cruz has called on former Secretary of State Hillary Clinton to return all donations made by foreign governments to the Clinton Foundation amid the growing scandal engulfing the Democratic candidate's campaign following allegations made in a recent book.
"The Clinton Foundation collected tens of millions of dollars from foreign governments including donors who had business interests with the State Department while Clinton was Secretary," Cruz said in a statement released to the press on Friday. "She made decisions in that capacity that likely benefited the same people who were giving large donations to the foundation."
The statement went on, "At the very least, these revelations present a clear conflict of interest. I call on Hillary Clinton to return the donations from foreign governments. Until she does, how can the American people trust her with another position of power?"
Assertions that came to light in a soon-to-be-released book, "Clinton Cash: The Untold Story of How and Why Foreign Governments and Businesses Helped Make Bill and Hillary Clinton Rich," by Peter Schweizer, claim that foreign entities who made payments to the Clinton Foundation and to Bill Clinton in the form of high speaking fees were able to receive favors while Hillary headed up the U.S. State Department between 2009 and 2013.
One example in Schweizer's book is a free-trade agreement between the U.S. and Colombia that went into effect in 2012 and benefited a major Clinton Foundation donor's investments.
An Associated Press analysis of Clinton Foundation donations between 2001 and 2015 found that governments and agencies from 16 nations previously gave direct grants of between $55 million and $130 million. Now, however, donations will only be allowed from the governments of Australia, Canada, Germany, the Netherlands, Norway and the United Kingdom – leaving the Dominican Republic, Saudi Arabia, Qatar, Oman, the United Arab Emirates, Algeria, Kuwait, Italy, Brunei and Taiwan all excluded as possible donors.
In the same statement, Cruz also cites a recent Quinnipiac poll that said that the majority of Americans do not trust Clinton.
The poll found that while Clinton is the overwhelming favorite to win the Democratic nod with 60 percent of likely Democratic voters saying they would vote for her during the primary, 54 percent of all voters say that Clinton is not honest and trustworthy – a lower score than top Republicans.
"Recent polls indicate that a majority of the American people do not trust Hillary Clinton," Cruz said. "The recent revelations about previously undisclosed contributions to the Clinton Foundation only create more doubt about whether the former Secretary of State can be trusted.
For his part, only nine percent of Republican voters said they would vote for Cruz in the GOP primary and the Texas lawmaker would only garner 41 percent of the vote against Clinton's 48 percent in the general election, according to the early poll numbers.