Ted Cruz Called Snobby Ivy Leaguer, Wacko Bird from Texas In GQ Profile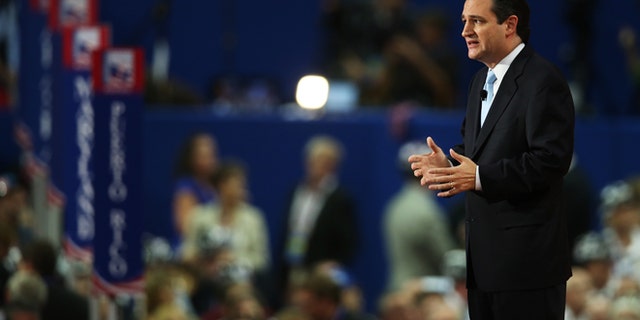 Freshman U.S. Sen. Ted Cruz of Texas has recently become a lightning rod on both sides of the political aisle for his adamant opposition to issues like Obamacare and illegal immigration.
But his strong policies and political beliefs are not the only thing he's getting needled about this week. GQ Magazine published a harsh profile of the Cuban-American that take a dig at the senator about everything from his at Harvard to his ego to his choose of footwear (ostrich cowboy boots).
"As a law student at Harvard, he refused to study with anyone who hadn't been an undergrad at Harvard, Princeton, or Yale," wrote Jason Zengerle in his article entitled 'Ted Cruz: This Distinguished Wacko Bird from Texas.' "Says Damon Watson, one of Cruz's law-school roommates: 'He said he didn't want anybody from 'minor Ivies' like Penn or Brown.'"
The 'wacko bird' line comes from Arizona Sen. John McCain, who used it to refer Cruz when the Tea Party senator joined Kentucky Rand Paul's filibuster of John Brennan's nomination to the head of the CIA as an act of protest against the drone program used by the Obama administration.
The profile paints a different picture from the one that Cruz is trying to publicly maintain – that of a down-home Texan. Instead, Zengerle portrays the Texas senator as a calculating "Tea Party intellectual" who has divided the Republican Party between those who see him a young politician who has overstepped his bounds and those conservative leaders who see him as a potential presidential candidate in 2016.
"For a party in the midst of some serious soul-searching, Cruz offers a simple, reassuring solution: Forget the blather about demographic tidal waves and pleas for modernization; all Republicans need to do is return to their small-government, anti-tax fundamentals," Zengerle wrote.
Cruz has been silent on the profile as he deals with the pending legislation surrounding a government shutdown.
Cruz said last week he was prepared to filibuster any legislation that restores money for the health care law, even if it meant a shutdown. In remarks on the Senate floor during the day, though, he appeared to soften his tone.
"We should not have a government shutdown and we should never, ever, ever even discuss a default on the debt," he said. The House is expected to approve legislation this week that permits the Treasury to borrow freely for a year — preventing a first-ever default — while delaying the health care law for a year.
Earlier in the day, Cruz's battle to deny funding for the nation's three-year-old health care law got off to a shaky start when he first blocked action on unrelated items on the agenda, then quickly backed off.
"There will be time" later in the week to debate the health care issue, he told reporters as he left the Senate floor.
Ted Cruz's press office did not immediately have a comment regarding the profile.
Follow us on twitter.com/foxnewslatino
Like us at facebook.com/foxnewslatino