Tammy Duckworth brings baby to work; first infant inside Senate chamber
A day after the U.S. Senate unanimously agreed to a rule change allowing infants on to the floor of the chamber during votes, new mom Sen. Tammy Duckworth made history by bringing in her 10-day-old baby girl.
Lawmakers and some reporters got a glimpse of newborn Maile Pearl, donning a pink hat and cradled in her beaming mother's arms, as Duckworth, D-Il., arrived to cast her vote on the nomination of Rep. James Bridenstine for NASA Administrator.
Maile, who was born on April 9, is the first infant to ever appear there.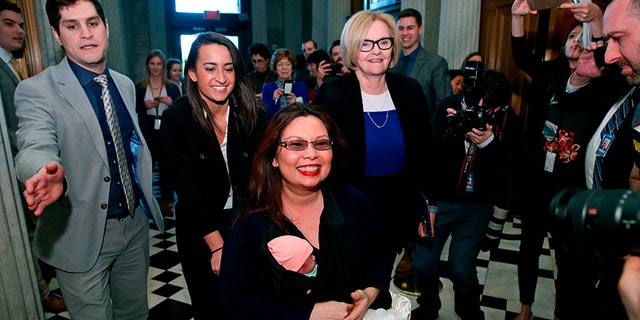 "It's about time," Duckworth, a double amputee, told reporters as she arrived to vote in a wheel chair.
Even though all voted in favor of the rule change, some feared that allowing infants in the chamber would disrupt Senate decorum.
SENATE BABY: DUCKWORTH FIRST SENATOR TO HAVE A BABY WHILE IN OFFICE
Duckworth, an Iraq War veteran, teased the appearance earlier Thursday with a tweet showing a baby outfit.
"I may have to vote today, so Maile's outfit is prepped," she said. "I made sure she has a jacket so she doesn't violate the Senate floor dress code (which requires blazers)."
"I'm not sure what the policy is on duckling onesies, but I think we're ready," she quipped.
The idea was for Duckworth to vote only if she was needed to break a tie. Vice President Pence was also present for the same reason. But it was ultimately unnecessary, as Bridenstine was confirmed. The mom and daughter duo was there briefly and Duckworth ultimately voted against the nomination.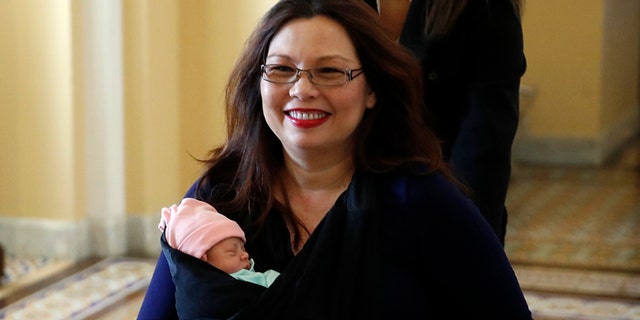 When Duckworth turned in her chair to leave, reporters in the press gallery gave a loud "aww" as they got a peak of the baby. The senators on the floor laughed and Schumer called up to the gallery: "The press is finally interested in something worthwhile."
SEN. TAMMY DUCKWORTH PREGNANT, WOULD BE FIRST SITTING SENATOR TO GIVE BIRTH
Duckworth praised lawmakers Wednesday "for helping bring the Senate into the 21st Century by recognizing that sometimes new parents also have responsibilities at work."
"By ensuring that no Senator will be prevented from performing their constitutional responsibilities simply because they have a young child, the Senate is leading by example & sending the important message that working parents everywhere deserve family-friendly workplace polices," Duckworth tweeted. "Family-friendly workplace policies aren't just a women's issue, they are a common-sense economic issue."
Duckworth announced in January that she was pregnant with her second child. She is the first sitting senator to give birth while in office and is one of only 10 women in the nation's history to have a baby while serving in Congress. The other babies were born to mothers serving in the House of Representatives.
Fox News' Chad Pergram, Robert Gearty and The Associated Press contributed to this report.