Supreme Court gay marriage case highlights sharp partisan divide among top officials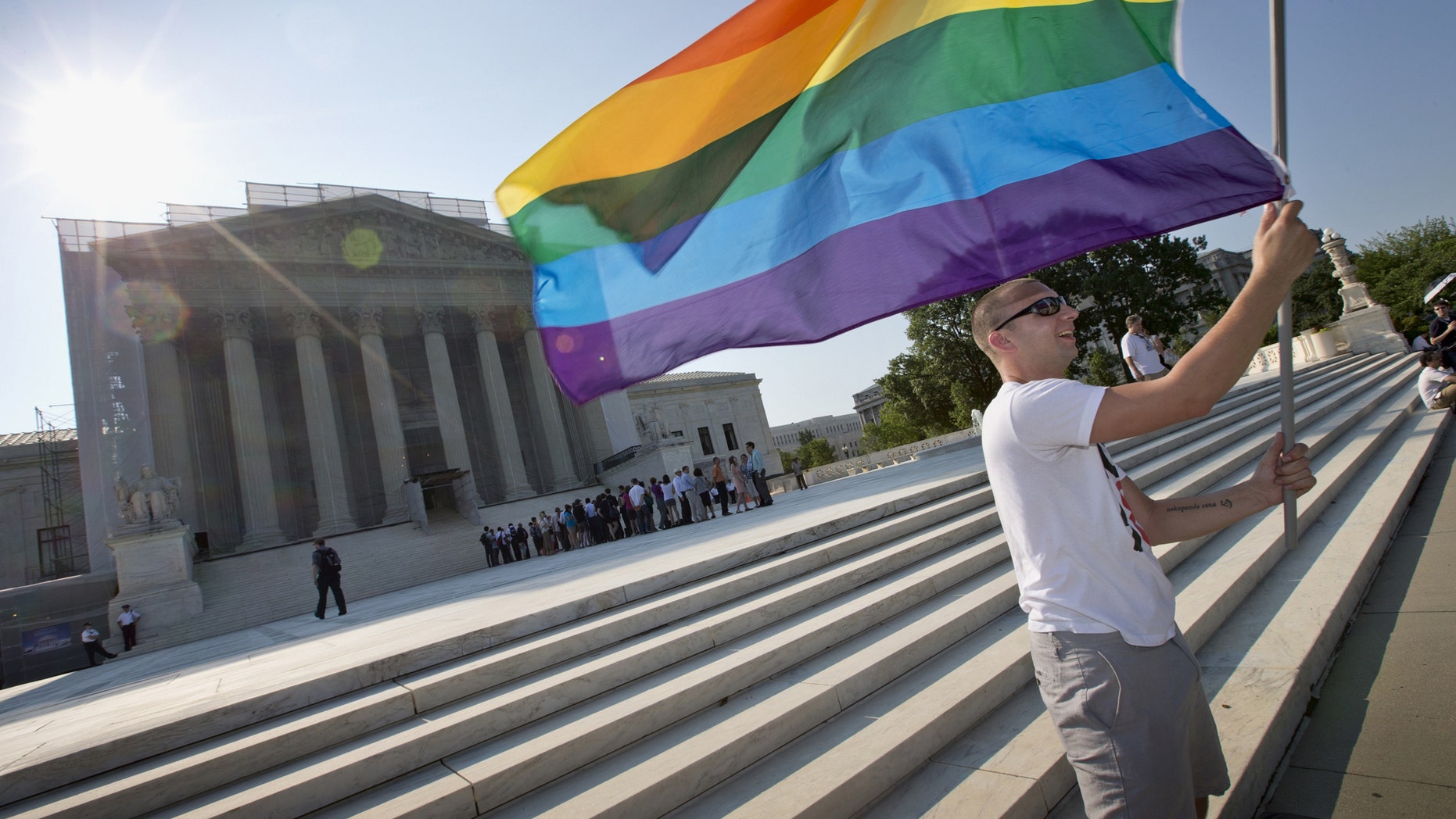 WASHINGTON – The list of Republicans who support same-sex marriage, in a case set for arguments April 28 at the Supreme Court, is longer than it was two years ago, but it still remains conspicuously short of sitting members of Congress and governors.
Republican Reps. Carlos Curbelo and Ileana Ros-Lehtinen of Florida are two of the seven sitting members of Congress to sign an amicus brief to the high court in early March, joining President Barack Obama and more than 211 Democrats and independents on calling the Supreme Court to extend same-sex marriage nationwide.
The Supreme Court is considering state marriage bans from Ohio, Kentucky, Michigan and Tennessee.
The only GOP governor to sign the brief was Charlie Baker of Massachusetts.
Baker put his support in personal terms. "My view on this is pretty simple. I have a brother who's gay. He lives in Massachusetts. He's married," Baker said when the Republicans' brief was filed in early March. "There simply wasn't a moral justification" for denying same-sex couples the right to marry, Baker said.
Ros-Lehtinen, whose daughter came out as a transgendered man, has long been a LGBT rights activist. In 2011, the congresswoman became the first Republican to co-sponsor the attempt to repeal DOMA.
Curbelo spoke out about his support for same-sex marriage throughout his campaign, including during a debate in Key West.
"I support the freedom to marry and have done so even in a Republican primary where some were in disagreement with me," he said back in September, as quoted by the Miami Herald. "On this issue: Live and let live."
Other Republican Senators who signed the brief are Susan Collins of Maine and Mark Kirk of Illinois. The House members are also Reps. Bob Dold of Illinois, Chris Gibson of New York, and Richard Hanna of New York.
Sen. Rob Portman of Ohio, who announced his support for same-sex marriage in 2013 after Portman's son told him he is gay, is not among the signers.
Meanwhile, Justice Sonia Sotomayor says the Supreme Court has too many law professors, too many Ivy Leaguers, too many East Coasters and a lack of diverse life experience.
"It's a real problem," Sotomayor said last week at North Carolina's Davidson College.
The outcome of cases might be no different if experiences on the court were more varied, yet diversity is very important, Sotomayor said during a 45-minute question-and-answer session marked by her signature stroll through the audience and picture-taking with the questioners.
"The breadth of experience ensures that in every single case, people are going to ignore an approach, an argument, a point of view simply because they don't understand it. It ensures that every argument is aired," Sotomayor said. Sotomayor is one of three women on the current court, as well as the first Latina justice.
The justices have sparse experience in civil rights, state law and smaller legal practices, Sotomayor said.
"My colleagues think it doesn't make a difference, but I think the absence of life experience generally on the court is a bad thing," she said. Also on her list: the lack of anything other than Catholics and Jews.
Sotomayor said that Justice Ruth Bader Ginsburg is her only colleague with civil rights experience, while Anthony Kennedy is the only member of the court who was in a small, varied legal practice before becoming a judge. Sotomayor is the only justice with a state law background.
Based on reporting by the Associated Press.