Students Line Up Early to Attend O'Donnell-Coons Debate in Delaware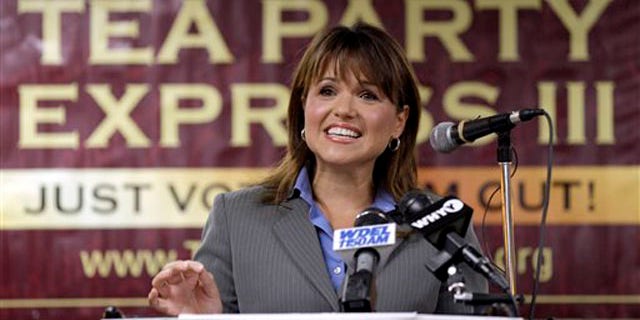 What does it take to get a college student out of bed at 7 a.m.?
Students at the University of Delaware lined up at the crack of dawn two days early for tickets to Wednesday night's debate between Republican Senate hopeful Christine O'Donnell and her Democrat rival, Chris Coons.
When the box office opened at 10 a.m. Monday, it took less than 10 minutes to sell out the roughly 80 tickets available to students. Those who chose to get an extra half hour of sleep wound up at the very end of the line, which extended down the hall and into the street.
"We're really thrilled that our students are so excited about this," said university spokeswoman Andrea Boyle, adding that the university's response to the event "has been overwhelming."
The candidates are in competition for Vice President Joe Biden's former seat, but most observers believed the rush for seats was due to the controversy surrounding O'Donnell, who was catapulted into the spotlight by the Tea Party movement and her defeat of veteran Mike Castle in the primary.
"Nobody had expected O'Donnell to win, so the upset received national attention, and up until today it continues to receive that attention," said Dan Boselli, President of the College Republicans at the university. "I certainly think that it's the combination, but primarily it's the national spotlight," he said.
The debate will take place at Mitchell Hall, which has seating for 600 people, and Delaware officials expect a sellout -- unlike last week's debate between John Carney and Glen Urquhart for the state's lone seat in the House of Representatives.
"This is one of the most exciting events on campus," said Garrett Jenkins, co-chairman of the Delaware Federation of College Republicans.
"I have heard Biden's name once, maybe. Right now people are so focused on Christine O'Donnell's personality." He predicted that at the end of the debate, "O'Donnell will not have to worry about saying 'I am not a witch' and be able to take down her opponent."
But for others, it was about seeing a candidate who has limited her appearances before the general public.
"Christine O'Donnell is a colorful candidate," said Bill Humphrey, president of the College Democrats at the university.
He said that Coons met with the group and talked in detail about his policies, something O'Donnell has yet to do.
"A lot of people want to find out who she is," he said.
"When I was a freshmen, the university was called one of the most apathetic campuses in the country," said Paul Ruiz, vice president of the College Democrats. "Excitement about politics, regardless of what side it comes from, is good for the political atmosphere."
"You have to be out on campuses talking to people," he said, adding that jokes have been circulating about O'Donnell's absence from the public.
But Brad Headly, chairman of the Delaware Federation of College Republicans, said he believes "that there is a lot of misunderstanding about Christine O'Donnell and I think that unfortunately there are too many people that believe that she doesn't represent them." He predicted the debate will be good because "people will get to hear her message and not so much the media's opinion of her."
Associate Professor of Political Science and Undergraduate Director Jason Mycoff said, "I think that the national interest in[O'Donnell's] background certainly has propelled interest" on campus.
He said that if O'Donnell were not controversial, the interest among students might not have been as high. "I think we have a perfect case study," Mycoff said.
The College Republicans will be hosting a viewing party for the overflow of students unable to get into the auditorium. "We expect about 50 students," said Boselli.