Strzok hearing interrupted by Dem bid to hold Steve Bannon in contempt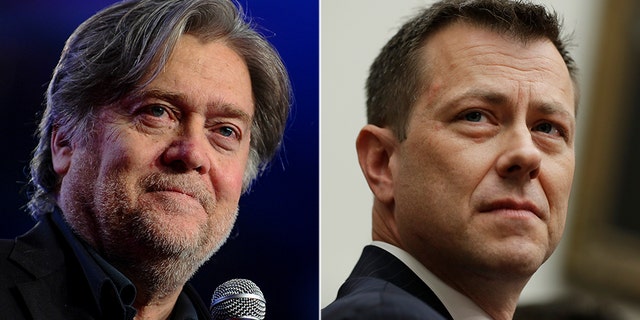 The explosive hearing on Capitol Hill with disgraced FBI agent Peter Strzok came to a brief halt on Thursday as Democrats unsuccessfully tried to change the subject to a discussion about holding ex-White House aide Steve Bannon in contempt for not answering questions from lawmakers earlier this year.
California Democratic Rep. Eric Swalwell made the motion to subpoena President Trump's former adviser after House Judiciary Chairman Bob Goodlatte, R-Va., threatened to proceed with a contempt citation for Strzok if he continued to refuse to answer questions Thursday about the FBI's Russia investigation.
"I move to subpoena Steve Bannon," Swalwell interjected, amid a heated back-and-forth between Republicans on the House Judiciary and Oversight Committees and Strzok over his refusal to address certain questions from South Carolina Rep. Trey Gowdy.
Swalwell seemed to argue that if Republicans want to hold Strzok in contempt, they should also consider contempt proceedings for Bannon. Bannon invoked executive privilege during closed-door testimony on Capitol Hill earlier this year.
STRZOK TESTIFIES ANTI-TRUMP TEXTS ROOTED IN 'DEEP PATRIOTISM'
"In our House Intelligence investigation, he was under subpoena," Swalwell said of Bannon. "He refused a number of times to answer questions of Mr. Gowdy. Mr. Gowdy appears to have a sincere interest in getting to the bottom of what happened. And so I move under Rule 11 to bring Mr. Bannon to this committee."
Swalwell called for subpoenaing Bannon, saying "contempt proceedings" should occur if he declines.
After Swalwell moved to subpoena Bannon, Goodlatte ruled that the motion was not germane. Swalwell tried to overrule, but the Republican-majority committee voted to table that.
On Thursday, Strzok testified that his political opinions including anti-Trump texts exchanged in 2016 were rooted in "deep patriotism."
He said those opinions did not affect his work.
Fox News' Brooke Singman contributed to this report.