Sources: Reservist Suspected in Military Shootings Self-Radicalized Through Internet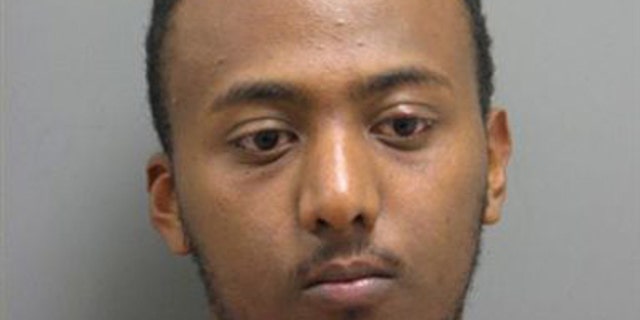 The 22-year-old Marine reservist charged Thursday with shooting at military buildings near the nation's capital radicalized himself through the Internet, but there is no indication he was planning to harm individuals, sources told Fox News.
After laying low for months, Yonathan Melaku of Alexandria, Va., was arrested early Friday morning at Arlington National Cemetery, which was closed at the time.
He allegedly possessed a backpack containing bomb-making materials, spray paint, and a notebook with references to Usama bin Laden, Al Qaeda and other "jihadist" materials, according to Neil MacBride, the U.S. Attorney for the Eastern District of Virginia. The incident shut down major highways around the Pentagon for much of Friday.
Melaku was charged Thursday with two counts of willfully injuring property of the United States, and two counts of knowingly carrying and discharging a firearm. MacBride wouldn't say whether prosecutors plan to file terrorism-related charges against Melaku, but he said such charges "are possible."
Melaku is currently in state custody on unrelated charges in Virginia, though he is expected to be transferred to federal custody.
Melaku allegedly frequented sites such as YouTube, where he watched videos outlining atrocities in the Muslim world and accusing the United States of victimizing Muslims, according to the sources familiar with the case who spoke on condition of anonymity. After arresting Melaku Friday, authorities specifically asked him whether he was inspired by the radical, U.S.-born cleric Anwar al-Awlaki, who has been linked to several recent attacks on the United States, but Melaku denied any such inspiration.
Authorities believe Melaku wanted to launch "symbolic" strikes, and there is no evidence he intended to harm individuals, according to a source familiar with the investigation. In addition, there is no evidence his alleged actions Friday had anything to do with the death of bin Laden, which has put U.S. officials on alert for possible retaliatory attacks.
At a press conference Thursday in Washington, the head of the FBI's Washington Field Office, James McJunkin, said "the evidence suggests" Melaku's intentions at Arlington National Cemetery were "at least vandalism, but we don't know exactly what his intent is, and we can't really speculate on that."
One U.S. official familiar with the matter said he was "not sure how much of a full deck this guy has," referring to Melaku.
When FBI agents and others raided Melaku's home Friday afternoon, they allegedly found documents on his computer related to bomb-making and explosives, and they found several homemade videos. Those who have seen the videos describe them as "weird and childish," according to a U.S. official.
Nevertheless, MacBride said Melaku exhibited "a pattern of violent behavior," intended to "continue these attacks," and posed a "danger ... to the greater community."
"Anybody who would shoot a semi-automatic weapon at four different military installations over the course of five separate instances is very serious," MacBride said. "These were not junior high (students) shooting BB guns at a local school, and the contents of Mr. Melaku's backpack and the evidence recovered at his residence is of great concern and alarm."
MacBride noted that ammonium nitrate, found in Melaku's backpack Friday in four separate Ziploc bags, was "one of the components used in the 1995 Oklahoma City bombing incident," the largest and most deadly homegrown terrorist attack on U.S. soil.
McJunkin acknowledged Melaku had not been on the FBI's radar until Friday. For months, authorities had been trying to identify who fired shots at the Pentagon, the National Museum of the Marine Corps in Triangle, Va., and Marine Corps recruiting centers in Chantilly, Va., and Woodbridge, Va. All of the shootings occurred in early morning hours in late October and early November, causing more than $100,000 in damage.
McJunkin insisted the case reflected the challenges of thwarting so-called "lone wolves" and was not "in any kind of way a failure."
"We can't always predict and aren't always in front of the violent actions of individuals that reside here in the United States," McJunkin said. Some individuals "set a course for themselves based upon lots of different events that are personal to them (but) aren't readily apparent to law enforcement officials, and sometimes they take violent action without warning. So these are the kinds of things we have to accept in a free society."
According to charging documents filed in federal court, one of the videos seized by authorities at Melaku's home shows him driving near the National Museum of the Marine Corps and "repeatedly" firing a handgun through the passenger-side window.
"Last time I hit them, they turned off the lights for like four or five days," Melaku allegedly said in the video. "This time I'm going to turn it off permanently. ... That's what they get. That's my target. That's the military building. It's going to be attacked."
After firing his weapon, Melaku allegedly yelled repeatedly, "Allah Akbar," or "God is great" in Arabic.
During interrogation by authorities, he initially denied that he is Muslim, but military sources say Melaku previously identified himself as such, and a picture has since emerged indicating that -- at the least -- he subscribes to extremist Muslim ideology.
But asked at Thursday's press conference about Melaku's religious convictions, McJunkin said, "Those facts and individual characteristics of the defendant are not yet readily apparent to us."
According to the FBI, Melaku, who has never been deployed overseas, joined the Marine Corps Reserve in September 2007 and has been awarded the National Defense Service Medal and the Selected Marine Corps Reserve Medal. The Marines Corps has initiated steps to remove Melaku from its ranks.
During its investigation, the FBI's Washington Field Office received assistance from the Pentagon Force Protection Agency, Arlington County Police Department, Fairfax County Police Department, Naval Criminal Investigative Service, U.S. Park Police and U.S. Marine Corps.
Fox News' Justin Fishel contributed to this report.