Significant Earthquake Cracks on Walls of Rayburn Hearing Rooms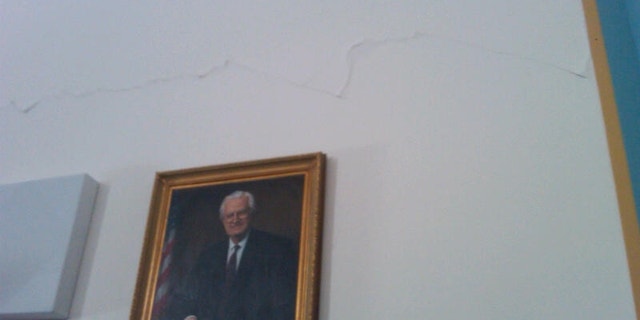 NEWYou can now listen to Fox News articles!
More damage is turning up on Capitol Hill from the 5.8 magnitude earthquake that struck southwest of Washington Tuesday.
There are two gigantic cracks running across separate walls in the House Oversight and Government Reform Committee room, which is 2154 Rayburn.
This is the panel that is chaired by Rep. Darrell Issa, R-Calif.
The two cracks run parallel to the ceiling about 15 feet off the floor and continue across side walls.
The room is now closed off with "Do Not Enter" signs posted at both sets of doors.
This may be the most significant damage discovered anywhere on the Capitol complex after Tuesday's earthquake.
The room was just painted and a Capitol worker was overheard saying to his colleagues, "We've got a lot of work to do in here."
There also appear to be some similar cracks in the House Judiciary Committee hearing room right next door in 2141 Rayburn.
The crack in the Judiciary hearing room cuts a jagged route across one wall, right above a portrait of late House Judiciary Committee Chairman Henry Hyde, R-Ill.
There are also double cracks in walls of Financial Services Committee room. It is also located in Rayburn in Rayburn.
These big hearing rooms the largest rooms in Rayburn, taking up more than two floors, which may have made them vulnerable to damage.