Senate still has key votes on presidential nominees, tax extenders, terror insurance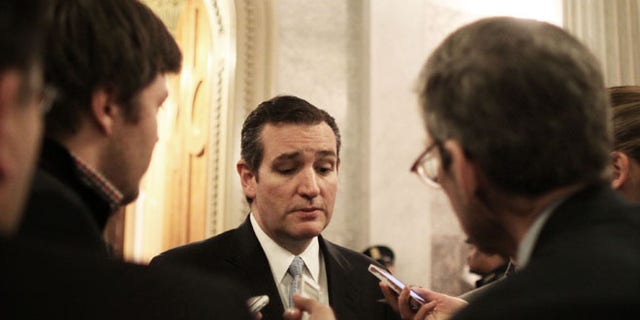 The Senate has several key policy and political issues to resolve in the final hours of this Congress -- including votes on two dozen pending presidential nominations and on extending tax breaks and so-called terrorism risk insurance.
The upper chamber finished its big task over the weekend, passing a $1.1 trillion budget that funds the federal government, with the exception of the Department of Homeland Security, through September 2015.
However, senators still must vote on 13 judicial and 11 administrative-post nominations, among them such controversial nominees as Carolyn Colvin to run the Social Security Administration.
Another controversial nomination, Vivek Murthy to be surgeon general, was confirmed 51-43 Monday night despite opposition from Republicans and some Democrats over his support for gun control and past statements that gun violence is a public health issue.
Murthy, 37, is a physician at Boston's Brigham and Women's Hospital and instructor at Harvard Medical School.
On Monday, Senate Majority Leader Harry Reid vowed he'd keep the chamber open as long as needed to plow through the nomination process, even if that means another weekend lame duck session.
A nominee needs only 51 votes to be confirmed, compared to 60 before Reid changed the rule, a move known as the "nuclear option."
The Senate also must reauthorize the Terrorism Risk Insurance Act, which helps insurance companies cover Americans in the event of terrorist attacks, and extend a package of roughly 50 tax breaks, which expired in 2013 and have since been renewed.
The Republican-controlled House has already passed the insurance and tax-extender legislation.
The Senate, which Democrats lose control of next month, is the only chamber that conducts the nominee-approval process.
Some Senate Republicans say that the eleventh-hour nomination push by Reid, D-Nevada, was his farewell shot, considering he cedes control of the chamber at month's end to Republicans.
They also say first-term Sen. Ted Cruz, R-Texas, in fact helped Reid find more time to schedule votes for the nominees amid the fast-approaching deadline.
Their argument is that Cruz broke an informal agreement between Senate Democrats and Republicans not to work this past weekend by insisting Friday that they return the next day to vote on the constitutionality of President Obama's executive action to suspend deportation for roughly four million illegal immigrants.
After Cruz's actions, Reid said the Senate would be in full session Saturday, which gave him time to work on the nomination process.
Asked if Cruz had created an opening for the Democrats, Sen. Orrin Hatch, R-Utah said, "I wish you hadn't pointed that out."
Hatch added, "You should have an end goal in sight if you're going to do these types of things, and I don't see an end goal other than irritating a lot of people."
Reid appears willing to extend the tax breaks, but senators from both parties have problems with the insurance act.
Oklahoma GOP Sen. Tom Coburn opposes a provision that would result in more federal oversight on insurance companies. And some Democrats are against a provision that further weakens the Dodd-Frank financial reform law.
Some lawmakers argue, as they have in the past, that the tax extenders should be made permanent, but the legislation is expected to get a vote and pass.
Among the other Obama nominees facing a tough nomination vote are Tony Blinken, the president's pick for deputy secretary of State, and Sara Saldana, to run Customs and Immigration Enforcement.
Republicans might oppose Saldana's nomination to show their distaste for Obama's executive action on deportations. They don't like Bliken's comments lauding Iraq's stability, but he could be confirmed by Tuesday.
Fox News' Chad Pergram and Kara Rowland and The Associated Press contributed to this report.