Senate Hopeful Blasts Dodd for AIG Bonus Fiasco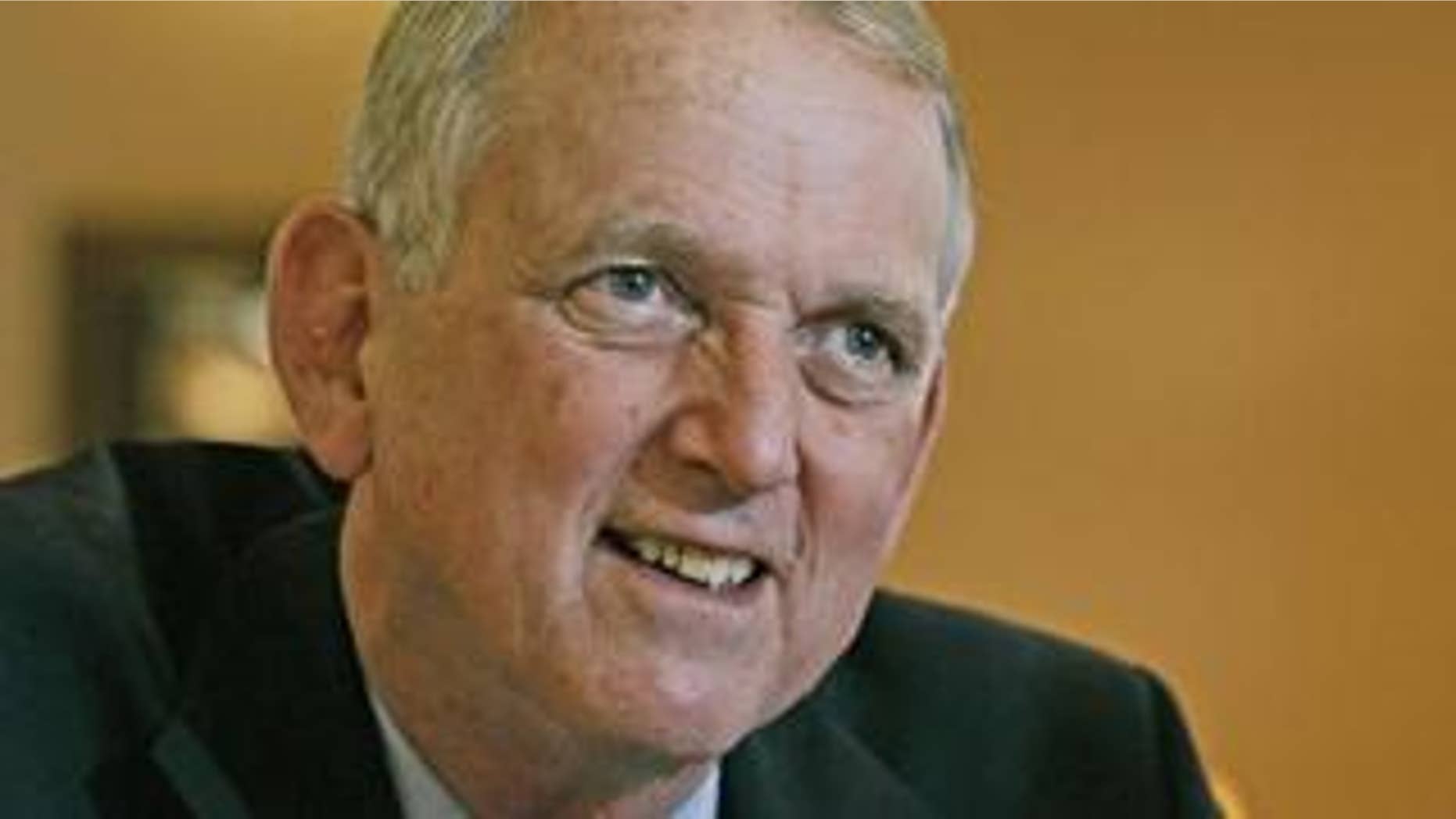 One of Sen. Christopher Dodd's potential Republican opponents, told FOXNews.com in an exclusive interview Saturday, that he expected the five-term Connecticut Democrat to be weighed down next year in his re-election bid by the AIG bonus controversy.
Rob Simmons is a Vietnam veteran and former congressman who represented a Democratic-leaning district in southeastern Connecticut from 2001 to 2007. He accused Dodd of failing to give a satisfactory accounting of his role in the AIG bonus fiasco.
"I don't understand why there was confusion about his amendment," Simmons told FOXNews.com, arguing that Dodd, who is chairman of the Senate Banking Committee, should have known about any changes made to legislation coming from that panel.
Dodd was caught up this week in a controversy about an amendment to last month's economic stimulus bill that exempted bonuses previously agreed to by bailed-out companies from certain pay restrictions. Dodd initially denied he had any role in crafting the language, though he changed his tune a day later, saying that Treasury officials pressured him to make the change to protect the government from potential lawsuits.
The controversy over AIG and past questions about Dodd's ties to the financial industry have raised the prospect of a tough re-election in 2010. Simmons has announced his interest taking Dodd on, and although he has yet to officially register as a candidate, Simmons isn't pulling any punches.
"I think it's an outrageous explanation and he's trying to use Washington, D.C., double speak to cover his tracks," Simmons said.
Dodd's office declined FOXNews.com's request for a response to Simmon, but Democratic consultant Roy Occhiogrosso fired back on his behalf, calling the comments "typical" of Simmons.
"This is one reason he's no longer in office," said Occhiogrosso, who worked on Dodd's re-election campaign in 2004. "He's a discredited former politician who's desperate to get back in the game. The only thing he knows how to do is attack his opponents.
"The other reason Rob Simmons is not in office is because his constituents voted him out," he added. "He voted for policies that are largely responsible for running this country into a ditch."
Simmons announced his plans to challenge Dodd this month. Although Dodd, D-Conn., trounced his last two opponents by 2-1 margins -- in a blue state that Obama won easily -- the senator suddenly finds himself in a statistical dead heat with Simmons, according to a recent poll by Quinnipiac University in Connecticut.
The GOP is seizing on the controversy, claiming Dodd is cozying up to Wall Street insiders, raking in bundles of campaign cash from them, shirking his banking panel duties and running for president as the economic crisis erupted in 2007.
Dodd is also under investigation by a Senate ethics panel for mortgages he got from Countrywide Financial Corp., the largest lending company at the center of the mortgage crisis.
Simmons said Washington has changed Dodd.
"This is not the Chris Dodd I voted for years ago or the Chris Dodd I remember," he said. "He's been in Washington too long."
Asked if he wished the election was being held this month, Simmons said, "I wish it was being held today. I'm ready to go and I think [Dodd's] ready to [leave.]
But Occhiogrosso said this controversy will blow over if Dodd "continues to do what he does best, which is constituent service and if he's helpful in fixing the credit market, which will right this economy."
A takedown of a national party figure like Dodd would be a coup for Republicans eager to rebound from their recent congressional losses.
Dodd has tried to downplay the effects on his chances for re-election.
"That's so far away," he told Connecticut reporters last week. "I can't sit here every day and wonder about the political ramifications."
Dodd's job approval numbers have been dropping consistently, poll after poll. His rating dropped from 60 percent job approval on May 10, 2007, to 49 percent approval on Feb. 10, 2009. His numbers jumped to 49 percent in a March 10 poll, but that was conducted before the AIG controversy surfaced in the news.
The Associated Press contributed to this report.