Sen. Lindsey Graham asks Horowitz if Strzok or McCabe misled investigators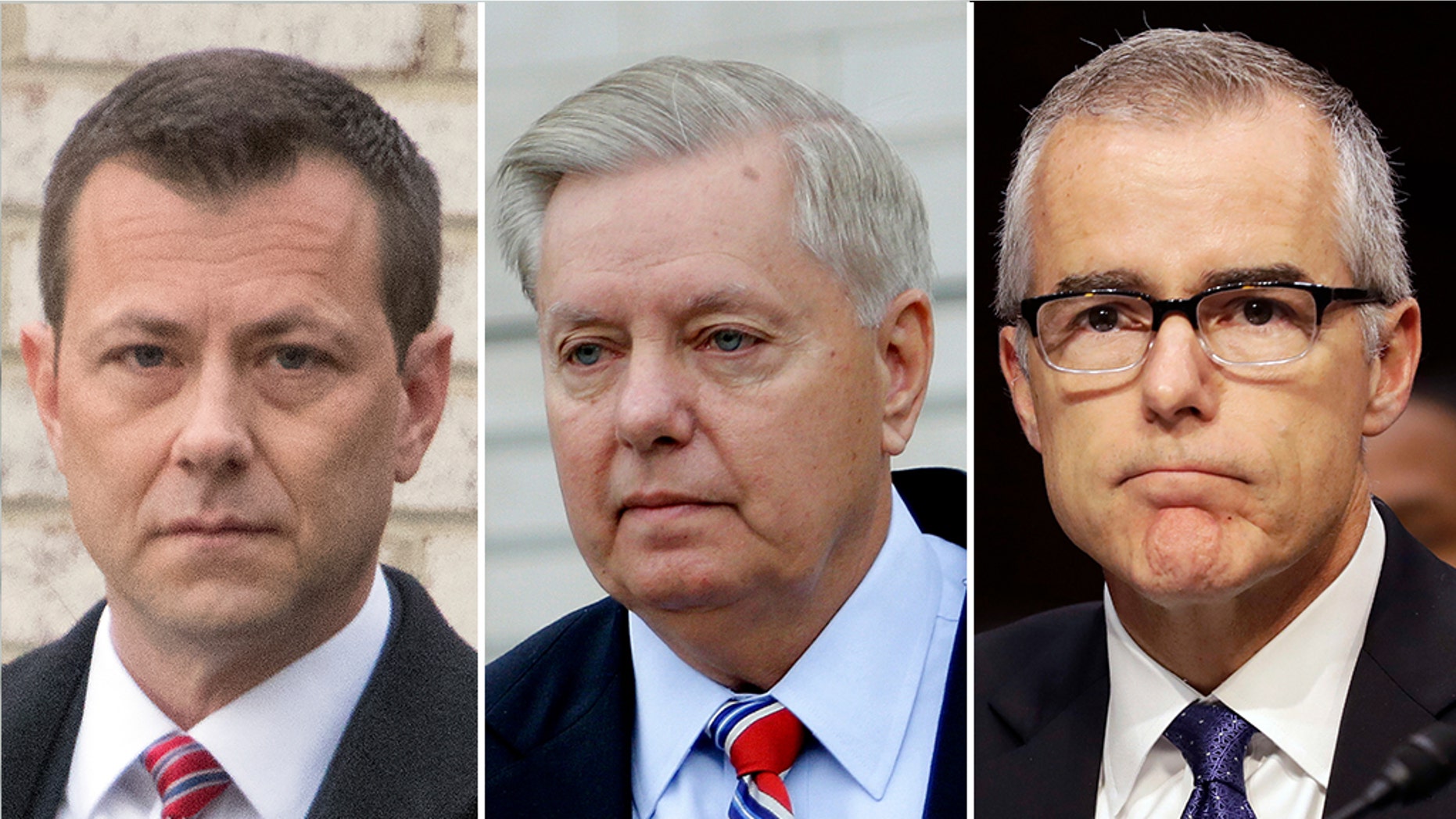 Sen. Lindsey Graham is calling on the Justice Department to set the record straight about an alleged meeting involving then-FBI Deputy Director Andrew McCabe, agent Peter Strzok and attorney Lisa Page, in which "an insurance policy" against a possible Trump victory in the 2016 election purportedly was discussed.
In a letter obtained by Fox News, Graham, R-S.C., formally asked Inspector General Michael Horowitz to resolve conflicting statements about a meeting discussed in text messages between Strzok and Page, his colleague and lover.
In a text from Strzok to Page dated Aug. 15, 2016, the pair discussed "an insurance policy" in the event that Donald Trump went on to win the presidential election.
"I want to believe the path you threw out for consideration in Andy's office – that there's no way he gets elected – but I'm afraid we can't take the risk. It's like an insurance policy in the unlikely event you die before you're 40," the text read.
FBI AGENT PETER STRZOK 'ESCORTED' FROM FBI BUILDING, LAWYER CONFIRMS
Horowitz confirmed in his testimony before the Senate Judiciary Committee on Monday that "Andy" referred to McCabe.
"Based on your answers, I have the impression Strzok told your office that McCabe, in fact, attended the meeting referenced in the text message," Graham wrote in his letter. "It is further my understanding that McCabe told your office he denied attending, or did not recall," the meeting that was referenced in the text.
If it is true that McCabe was present for such a discussion, it would "show bias and inappropriate behavior at the highest levels of the FBI," Graham said.
MCCABE ASKS FOR IMMUNITY AHEAD OF CONGRESSIONAL HEARING ON HANDLING OF CLINTON CASE
"I believe it would be of grave consequence if the deputy director of the FBI met with the lead investigator of the Clinton email and Russia investigations to talk about 'an insurance policy' against Donald Trump's victory in the 2016 election."
It was unclear whether Horowitz would respond, but the Republican senator asked for all documents, statements and transcripts that related to the text message in order to determine who was at the meeting in question.