Seattle business group clears hurdle in push to repeal $15 minimum wage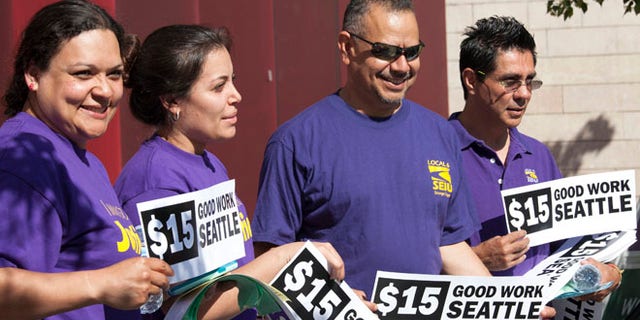 A coalition of Seattle businesses has cleared a major hurdle in its effort to repeal the city's newly enacted $15-an-hour minimum wage, gathering enough petition signatures to put the issue to voters on the November ballot if the signatures hold up.
Forward Seattle -- which represents restaurants, merchants and other businesses -- submitted roughly 19,500 signatures last Wednesday to City Hall.
The group needed 16,510 signatures. City officials could complete a preliminary count by as early as Monday, then send the signatures to the King County election office for final verification.
However, the effort also faces allegations of fraud that appear backed by well-funded groups intent on preserving the wage increase, Forward Seattle Co-Chair Angela Cough said.
She also told FoxNews.com the group's grassroots effort is under-funded in large part because members are being intimidated by opponents, who she said are compiling online boycott lists and going on members' Facebook pages and websites like Yelp to post negative comments.
"This is a principle-based fight for me," Cough said. "But others are simply too scared."
She also argued her group is not opposed to minimum wage increases. Rather, she said they are objecting to the process in Seattle that led to passage of the measure, to which members offered alternatives.
Democratic lawmakers have tried in recent months to raise the minimum wage across the country, in their effort to close the so-called income-inequality gap. But none has come close to Seattle raising its rate by 60 percent -- from $9.25 an hour.
The Democrat-controlled City Council in June unanimously approved the increase, which was then signed into law by Democratic Mayor Ed Murray.
While Democrats have pushed for the increases, critics say such hikes will burden businesses, forcing them to perhaps move, slow their growth or even close.
The Seattle increase is scheduled to be phased in over several years, depending on the size of the business.
Those with fewer than 500 workers must comply with the increase in the next seven years, while larger ones must do it within three years, or four if they offer health insurance, according to Reuters.
If the signatures on the Forward Seattle petition are validated, voters would be asked in November whether they want to repeal the increase.
Forward Seattle critics, though, say paid signature-gathers told potential signers the referendum would increase the minimum wage or that the measure had yet to be made law.
Cough acknowledges the validated signature count will be close, considering the typical margin of error could eliminate as many as 3,000 names.
"We'll keep a list of every challenged signature and fight," she said. "It's going to be very, very close."