Santorum Claims Iowa 'Spark' as Polls Show Candidacy Surging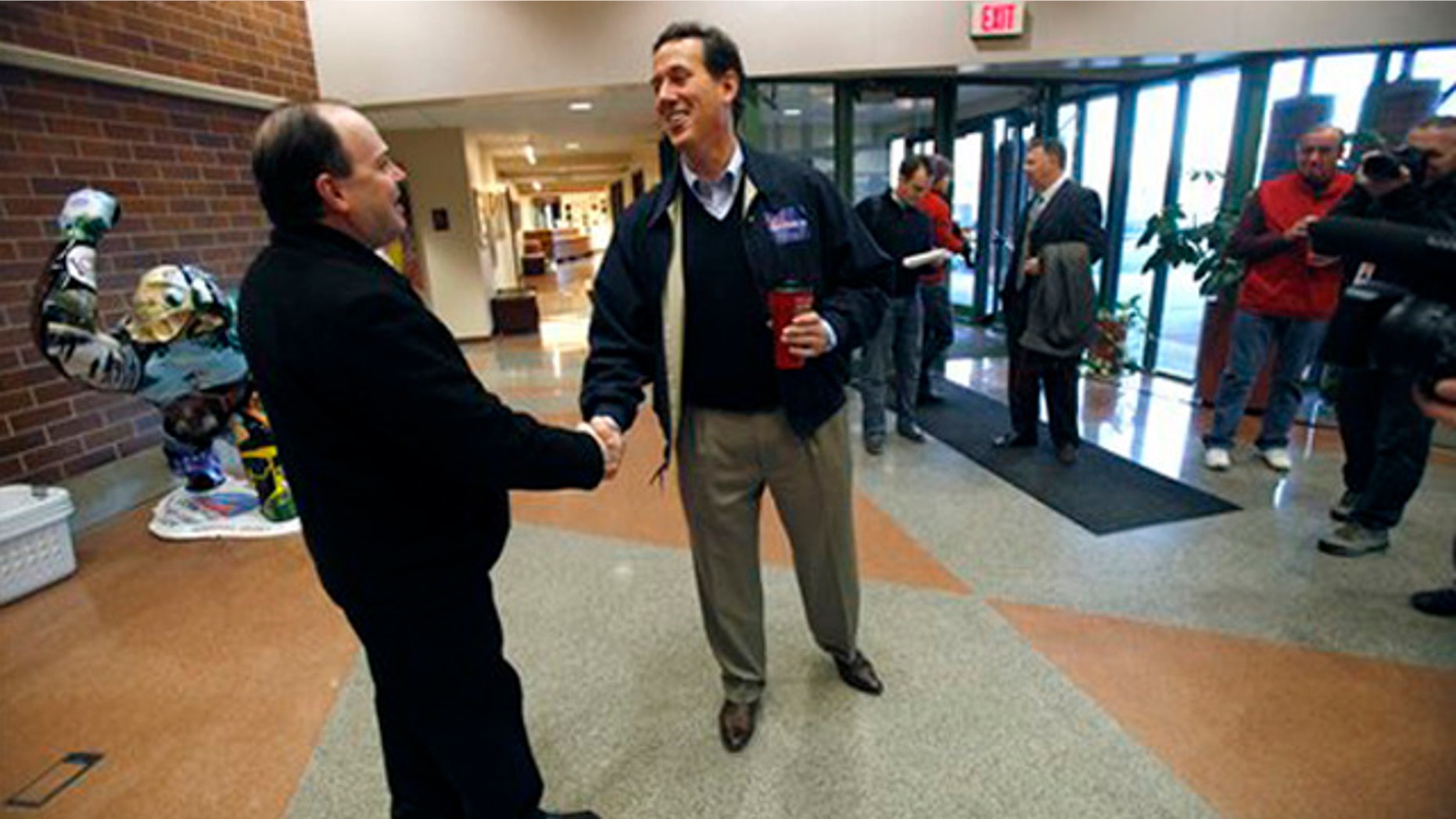 Rick Santorum is a contender in Iowa.
Following speculation that the former Pennsylvania senator was poised for a surge, a string of recent polls confirms Santorum is moving in the right direction at just the right time. The presidential candidate told Fox News on Thursday he's looking to defy expectations next week, and turn around a campaign that until now was practically tied for last place.
"I've always said that the people of Iowa are going to give me the spark, and that's what I believe is happening right now," Santorum told Fox News.
After a poll Wednesday showed Santorum suddenly moving into third position in Iowa, a Rasmussen Reports survey released Thursday showed the same line-up. The poll showed Mitt Romney and Ron Paul in a dead heat, with 23 and 22 percent respectively, and Santorum in third with 16 percent.
In a troubling sign for Newt Gingrich, the same survey showed the ex-House speaker tied for fourth with Rick Perry.
The polls nationally and in Iowa have been notoriously fickle this season, and the shape of the race just five days out is no guarantee of any particular outcome on caucus day. Also, national polling continues to show Santorum in the low single digits, leading only former Utah Gov. Jon Huntsman.
But Santorum hopes a strong showing in Iowa will give his campaign the buzz he needs to compete elsewhere. His standing in the state was underscored Thursday when Perry, the Texas governor, started hammering Santorum on his fiscal record, criticizing him for seeking earmarks when he was a senator. Until now, Santorum has been mostly ignored by his opponents.
"Rick Santorum is a friend and I've got great respect for him but when he talks about fiscal conservatism every now and then it kind of leaves me scratching my head," Perry said during a campaign stop in Washington, Iowa. "I love Iowa pork but I hate Washington pork, and Senator Santorum, he loaded up his bills with Pennsylvania pork."
Perry's campaign also released a 60-second radio ad labeling Santorum as a "congressional porker" who is "proud" of seeking earmarks.
Santorum defended his pursuit of earmarks. Using the same argument employed by Ron Paul, Santorum noted that earmarking is merely a way for congressional lawmakers to ensure that budgeted money is spent wisely -- or at least on projects they want.
"The Constitution gives the power of the purse to the Congress," Santorum said on Fox News.
The nature of Santorum's base could explain why Perry took a few shots at him Thursday.
Santorum is seen as competing for the social conservative vote along with Perry and Minnesota Rep. Michele Bachmann. Iowa pastor Cary Gordon even claimed he had asked Bachmann to consider withdrawing and getting behind Santorum out of concern the two candidates could split the evangelical vote. He said Santorum was also asked to consider withdrawing and uniting behind Bachmann.
Both candidates are claiming momentum in the final days of the Iowa race. Bachmann just completed a 99-county tour in Iowa -- though that's something Santorum already had accomplished as he poured his campaign resources and time into the state in hopes of a late surge.
While his social conservative streak is undoubtedly an asset in Iowa, it's an open question whether New Hampshire and other key states will be so receptive. The former senator, though, noted that he won statewide in Democrat-leaning Pennsylvania and claimed his appeal could travel beyond Iowa.
"I have no concern at all that we'll do exceptionally well in this Republican primary if we get the opportunity to get our spark out of Iowa," Santorum said.
Santorum, who has campaigned on national security as well as his social conservative positions, suggested the presidential race might not turn on the economy as much as candidates think. If the race turns to national security, Santorum said he'll be well-positioned.
Santorum and other candidates have warned that Paul in particular could harm America's interests by pursuing proposals to dramatically reduce the U.S. military presence around the world.
As Santorum rises, he's got a potent cheerleader at his back in Iowa.
Bob Vander Plaats, head of the conservative Family Leader group who recently endorsed Santorum, said in a statement Thursday that "the buzz I've been hearing and the pulse of the voters all indicate a come-from-behind surprise victory for Rick Santorum" in Iowa.
Meanwhile, every candidate except Huntsman is campaigning dutifully in Iowa. Gingrich on Thursday dismissed his recent slide in the polls and suggested the race is still wide open.
At a stop in Mason City, Iowa, Thursday, Romney also challenged the idea that he wasn't playing to win in the caucuses.
"Sure I want to win Iowa. Everybody wants to win Iowa," Romney said. "I'm not going to predict who's going to win. ... But I want to get the support of the people of Iowa, but I also want to make sure that I get the people in New Hampshire and South Carolina and Florida. I want to make sure that your vote backing me is a vote that leads me to become the nominee."