Gingrich Plays Down Slide in Iowa Polls, Says Race 'Up in the Air'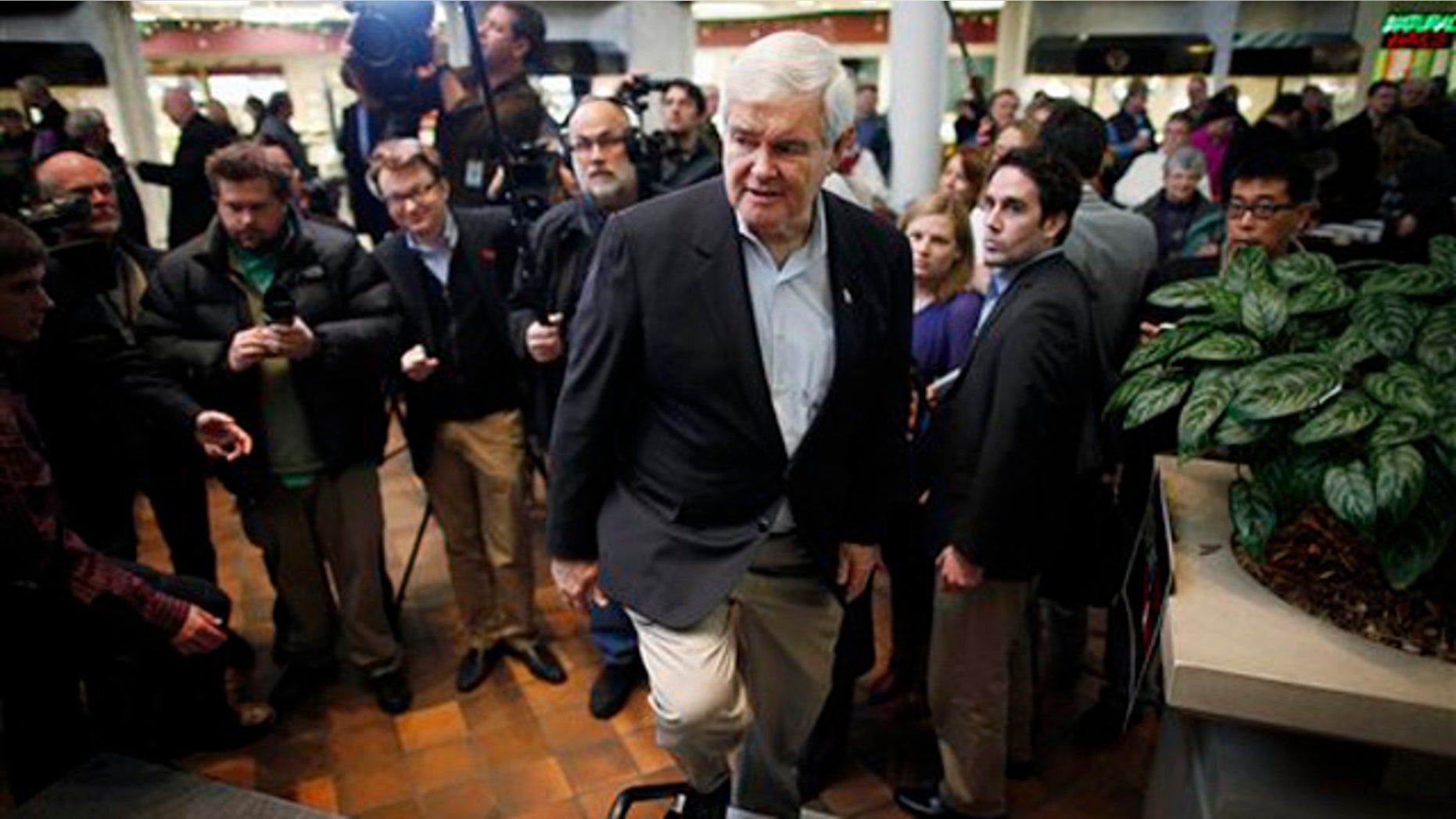 Newt Gingrich brushed off his slide in the polls Thursday, ascribing the shift to the negative ads against him and claiming his campaign still has the juice to attract a "tremendous response" in Iowa.
The former House speaker, in an interview with Fox News, vowed to stay positive despite falling off the wagon several times in recent days. He appealed to Iowans to make a statement against negative campaigning by supporting his "big solutions" candidacy next Tuesday.
"Anybody who has eight or nine million dollars of negative advertising, much of it false, thrown at them is going to slide for awhile," Gingrich said. "I'm frankly barnstorming Iowa making the case that they shouldn't vote for people that have been running the negative ads. This is a chance for Iowans to say to the country we are sick of consultant-driven negative politics. The stakes are too big."
Gingrich himself has strained to keep a strictly positive tone. After weathering repeated attacks from Ron Paul, he said in an interview earlier in the week that Paul's views are "totally outside the mainstream of virtually every decent American."
A group supporting Gingrich also circulated a direct mail piece in Iowa that declared Mitt Romney "the second most dangerous man in America."
Asked about the mailer Wednesday by Fox News, Gingrich said, "I would discourage them from doing that."
Gingrich is at a critical juncture in his campaign. After surging to the front of the field, both nationally and in Iowa -- around the time Herman Cain's campaign imploded -- Republican primary voters have started to peel away from his candidacy.
Gingrich is about even with Romney in most recent national polls, but has fallen back to third or fourth place in recent Iowa surveys. A Rasmussen Reports poll released Thursday showed Romney and Paul leading, with former Pennsylvania Sen. Rick Santorum in third place and Gingrich close behind in fourth, tied with Rick Perry. A CNN/Time poll released Wednesday reflected a similar line-up. However, an American Research Group poll showed Gingrich still in second place in Iowa. That poll showed Romney with 22 percent, Gingrich with 17 percent and Paul with 16 percent.
The changing dynamic has made it difficult for Gingrich to maintain an above-the-fray attitude toward his opponents. But Gingrich claimed Wednesday that it's not too late for another shake up in the polls.
"We'll see what happens," Gingrich said. "I think this is totally up in the air. And I think it's a little bit hard to know now."
The polls in Iowa have been among the most fluid in recent campaign history. Since August, Bachmann, Perry, Romney, Cain, Gingrich and most recently Paul have each held the lead.
Romney is in a dead heat with Paul at the front of the field in new polls, while Santorum enjoys a bump.
Candidates who lost their momentum earlier in the season are trying to summon a burst of support in the final days before the caucuses, hoping to leverage a strong showing on Jan. 3 into subsequent primary victories.
Bachmann plans to complete her 99-county Iowa bus tour on Thursday. She told Fox News she's confident that Iowans are beginning to turn back to her campaign.
"We're the hardest working campaign on the ground," she told Fox News. "No other candidate's going to 99 counties in just over 10 days."
Meanwhile, Gingrich is stressing his economic credentials in the campaign's final days.
On Thursday, Gingrich is rolling out the endorsement of Art Laffer, former economic adviser to former President Ronald Reagan. Laffer told Fox News on Thursday that Gingrich's plan follows in the model of "supply-side Reaganomics."
Gingrich also has a new ad in Iowa stressing his tax plan, which includes more than halving corporate taxes and ending capital gains taxes.