Rubio and Warren rip House Zika bill; say more needs to be done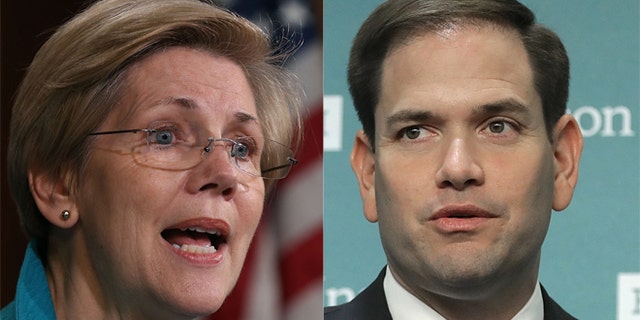 NEWYou can now listen to Fox News articles!
U.S. Senators Marco Rubio, R-Fla, and Elizabeth Warren, D-Mass., have found a common ground.
The two lawmakers, who don't agree on much, are teaming up to push the White House and the House to pour more funding into efforts to combat Zika.
Rubio and Warren ripped the House GOP proposal to provide $622 million to fight Zika, with the Florida senator saying he was "really concerned about the direction of the House funding proposal."
"Quite frankly, that's just not going to cut it," he said, according to the Hill. "I believe the House can and should do better than what is proposed."
The $622 million GOP plan would provide one-third of the resources requested three months ago by President Barack Obama to combat the virus, which can cause severe birth defects and other health problems. It is "paid for" with cuts elsewhere in the budget, including unspent funds from the successful fight against Ebola.
For her part, Warren is upset that the House proposal did not allocate enough resources to Zika and for taking the money from Obama's initiative against Ebola instead of approving new funds.
"As congressional Republicans embrace this irrational anti-spending ideology, this country is put in greater and greater danger," Warren said.
Obama requested the Zika funding in February and has been forced to tap unspent 2015 funds from the successful battle against Ebola to finance almost $600 million in anti-Zika efforts. They include research on the virus and Zika-related birth defects, response teams to limit Zika's spread, and helping other countries fight the virus.
The House is scheduled to vote Wednesday on its bill, which would follow a bipartisan 68-29 Senate procedural tally to advance a $1.1 billion measure to fight Zika through September 2017. It is set to be attached to a pending appropriations bill.
Top Senate Republican Mitch McConnell of Kentucky swung behind the compromise measure, calling it "a targeted approach that focuses on immediate needs while also providing resources for longer-term goals like a vaccine."
Zika is mainly a threat to unborn children and can cause a serious birth defect called microcephaly and other severe birth defects. Zika is commonly spread by mosquitoes, though all of the more than 500 cases in the continental U.S. have been linked to overseas travel.
Republicans say the administration has padded its Zika request and that there is plenty of unspent money in the budget to ameliorate its impact on the budget deficit. Top Republicans such as Appropriations Committee Chairman Harold Rogers of Kentucky have successfully pressured the administration to use unspent Ebola funds to finance almost $600 million in anti-Zika efforts.
"This funding bill is the next step in our response," Rogers said, promising it'll be enough "to fight and prevent the spread of the Zika virus for the rest of this fiscal year" on Sept. 30.
The GOP measure provides funding for vaccine research, controlling the mosquitoes that spread Zika, develop better tests to detect Zika, and money to foreign governments to quell mosquito populations and inform people how to avoid getting the virus.
The Associated Press contributed to this report.
Like us on Facebook
Follow us on Twitter & Instagram