Roy Moore, battling sex assault accusations, says he doesn't know latest accuser
In response to accusations against him from a fifth woman alleging him of sexual misconduct, U.S. Senate candidate Roy Moore said new claims from an Alabama woman saying he groped and attempted to push her head toward his "crotch" when she was 16 are "absolutely false."
Beverly Young Nelson spoke out Monday alongside attorney Gloria Allred, alleging that when she was working as a waitress in Alabama, Moore — then the district attorney for Etowah County — touched her in his car behind the restaurant where she worked.
ROY MOORE BLASTS MCCONNELL, WAPO, AS CALLS TO LEAVE SENATE RACE GROW
Moore, speaking to reporters in Alabama hours after Nelson's statement, said "I don't even know this woman, I don't know anything about her."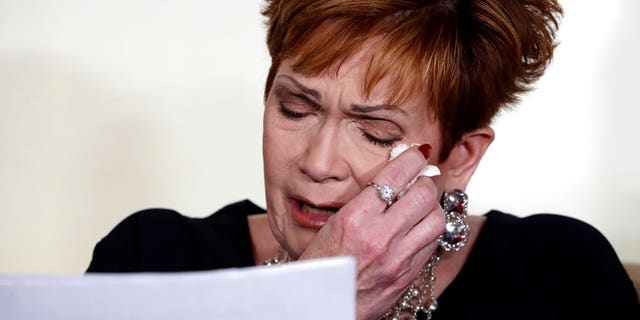 Less than an hour after Nelson spoke, the chairman of the National Republican Senatorial Committee, Sen. Cory Gardner, said he believed those who have spoken out against Moore, "proving he is unfit to serve in the United States Senate and he should not run for office." Gardner added that if Moore wins the election, "the Senate should vote to expel him, because he does not meet the ethical and moral requirements of the United States Senate."
ROY MOORE SEXUAL ASSAULT ALLEGATIONS CONDEMNED BY GROWING NUMBER OF REPUBLICAN LAWMAKERS
Nelson alleged that Moore, under the premise of giving her a ride home from her shift at the Old Hickory House in Gadsden, parked his car behind the restaurant, and allegedly started to put "his hands on my breasts" when she was a teenager.
Nelson said she tried to escape from Moore's car, but he locked the doors and allegedly put his hands on her neck and tried to force her head "on his crotch."
Nelson said she tried to fight Moore off as he tried to remove her shirt. Becoming visibly emotional, Nelson said: "I thought he was going to rape me."
Nelson added that before she got out of the car, Moore gave up his sexual advances, and told her, "You're just a child. I am the district attorney of Etowah County, and if you tell anyone about this — no one will ever believe you."
She also claimed that Moore would frequent the restaurant — and would twirl her waist-length hair when she walked past. Moore said he didn't "even know where the restaurant is or was."
An earlier statement from Moore's campaign called the accusations a "witch hunt against a man who has had an impeccable career for over 30 years and has always been known as a man of high character."
The statement continued, "Let it be understood: the truth will come forward, we will pursue all legal options against these false claims and Judge Moore will be vindicated."
Nelson is the fifth woman to accuse Moore of sexual misconduct. The Washington Post reported Thursday that he initiated sexual contact with a 14-year-old girl in 1979, which Moore said was "completely false."
Moore said the allegations from these women are coming out now ahead of the Dec. 12 vote, that "this is a political maneuver and has nothing to do with reality, it's all about politics."
Nelson told reporters both she and her husband are supporters of President Donald Trump, and that this has nothing to do with Democrats or Republicans, but rather her experiences with Moore from her teenage years.
ALABAMA PASTOR DEFENDS EMBATTLED US SENATE CANDIDATE ROY MOORE
To further prove her connection with Moore, Nelson displayed her high school yearbook signed by Moore: "To a sweeter more beautiful girl I could not say 'Merry Christmas' Christmas 1977 Love, Roy Moore D.A. 12-22-77."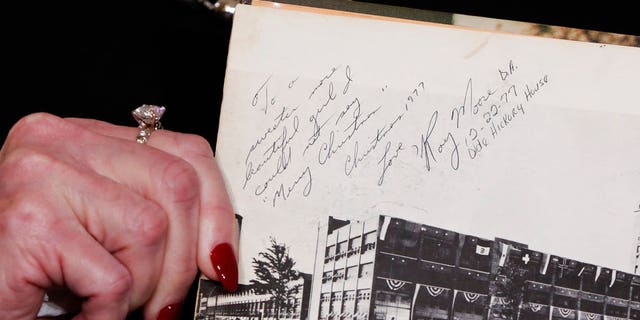 GOP politicians continued to come out against Moore's candidacy following Nelson's accusations, with Senate Majority Leader Mitch McConnell calling for Moore to "step aside" in the Senate race against Democrat Doug Jones, and acknowledged the possibility of a write-in candidate.
Meanwhile, Sen. John McCain, R-Ariz., who had previously tweeted that the candidate "should immediately step aside," said that Moore shouldn't be allowed to sit in the Senate and that he should be expelled or not seated "by any means possible."
Sen. John Cornyn, R-Texas, rescinded his endorsement, and Sen. Lindsey Graham, R-S.C., said that "if you win, you lose," and tweeted that he also thinks Moore should step aside. He added: "If he continues this will not end well for Mr. Moore."
Alabama Senator Richard Shelby, a Republican, said Monday that Moore should seriously consider removing himself from the race, and Sen. Ted Cruz, R-Texas, withdrew his support of Moore, saying: "I can't urge the people of Alabama to support a campaign in the face of these charges" and called the allegations against Moore "criminal conduct."