Romney eyes second straight win in Nevada, rivals look to upcoming contests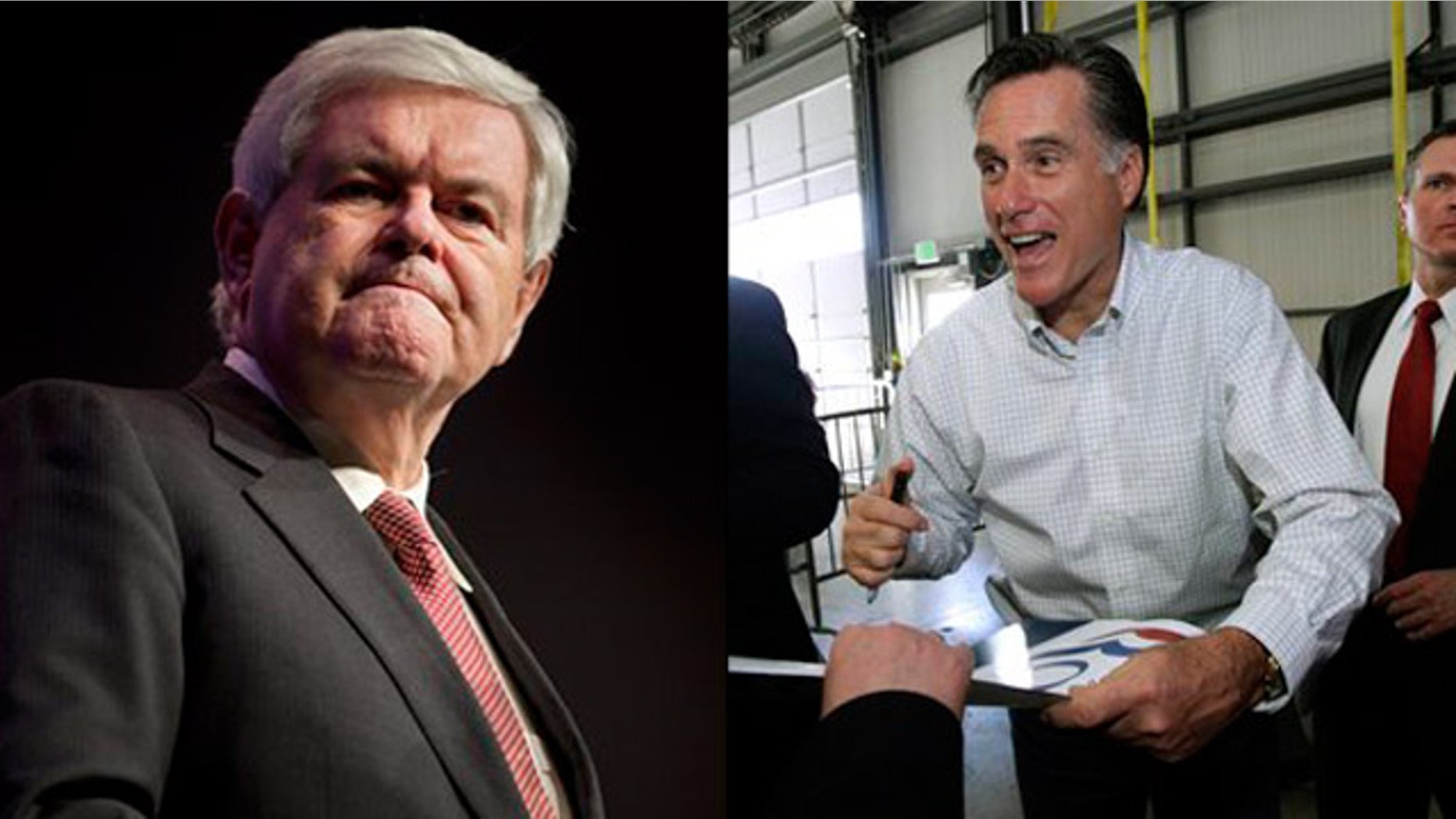 After a string of hard-fought elections, Mitt Romney was looking to sail to a relatively smooth victory Saturday in the Nevada presidential caucuses -- as Newt Gingrich and the rest of the Republican field turned their attention to the contests ahead.
Nevada offers a modest delegate haul, but would provide the first back-to-back win of the Republican nomination battle if Romney's lead in the polls holds through Saturday night. Entrance polls Saturday evening showed Romney crushing the competition in Nevada among those who value beating President Obama in November as the most important quality in a GOP candidate.
The polls also showed Romney leading the field by double digits among evangelical Christian caucus-goers. Romney was backed by 48 percent of evangelicals, compared with 27 percent for Gingrich.
Despite early reports of low turnout in Nevada, state GOP Chairwoman Amy Tarkanian said she thinks turnout will exceed the roughly 44,000 who came out in 2008.
The state is worth 28 convention delegates. Romney so far is leading the field with 87, followed by Gingrich with 26, Rick Santorum with 14 and Ron Paul with four. It takes 1,144 delegates to win.
With Romney holding a double-digit lead in recent surveys, Newt Gingrich told Fox News he's hoping to finish a "solid second" on Saturday.
But he kept his gaze trained on upcoming contests, the next of which will be held in Colorado, Minnesota and Missouri -- and later in Maine, Michigan and Arizona.
"We're going to be competing there," Gingrich said. He said he hopes to be "even with or slightly ahead" of Romney in the delegate count by early April.
For the near term, Romney has a healthy lead in delegates and is poised to build on that advantage Saturday. Nevadans overwhelmingly supported the former Massachusetts governor in the 2008 presidential caucuses, and do not appear to be tiring of his candidacy in 2012.
Romney, who is Mormon, also benefits from the state's Mormon population, which made up a quarter of the GOP electorate in 2008 and almost uniformly supported him in that election.
Leaving nothing to chance, Romney supporters were calling caucus-goers late Friday asking for their vote.
"We are showing that organization and hard work and commitment make a real difference," Romney said, as he visited a Las Vegas office hosting a marathon call session.
Romney won Tuesday's Florida primary, in what was seen as a setback for Gingrich after the former House speaker won South Carolina. If Romney wins Nevada, it will be the first back-to-back win for any Republican presidential candidate in this race.
Romney initially thought he won the leadoff contests in Iowa and New Hampshire, but the Iowa GOP later called that state's race for Santorum.
Santorum has kept a feisty attitude on the campaign trail, targeting both Romney and Gingrich.
During a speech in Missouri Friday, Santorum said: "We need someone who is more multidimensional than Governor Romney and not as multidimensional in every idea in the world as Newt Gingrich."
Santorum has criticized Gingrich for his ambitious, and costly, space exploration plans -- such as his call for a moon base. And he's taken a few shots at Romney for saying earlier in the week he's not concerned about the "very poor" -- a remark Romney has conceded was a mistake.
Santorum is campaigning Saturday in Colorado. Paul, meanwhile, is campaigning in Minnesota, after having put a lot of work into the Nevada caucus contest.
Going into that contest, Gingrich sought to puncture Romney's revived front-runner image, releasing a web video that used a George Soros quote in which the liberal billionaire said there isn't "much difference" between Romney and President Obama.
"I do not believe the Republican Party wants to nominate a George Soros-approved candidate," Gingrich said in Las Vegas. He said the GOP should not nominate "Obama lite."