Republicans fight for party mantle in crowded Georgia Senate primary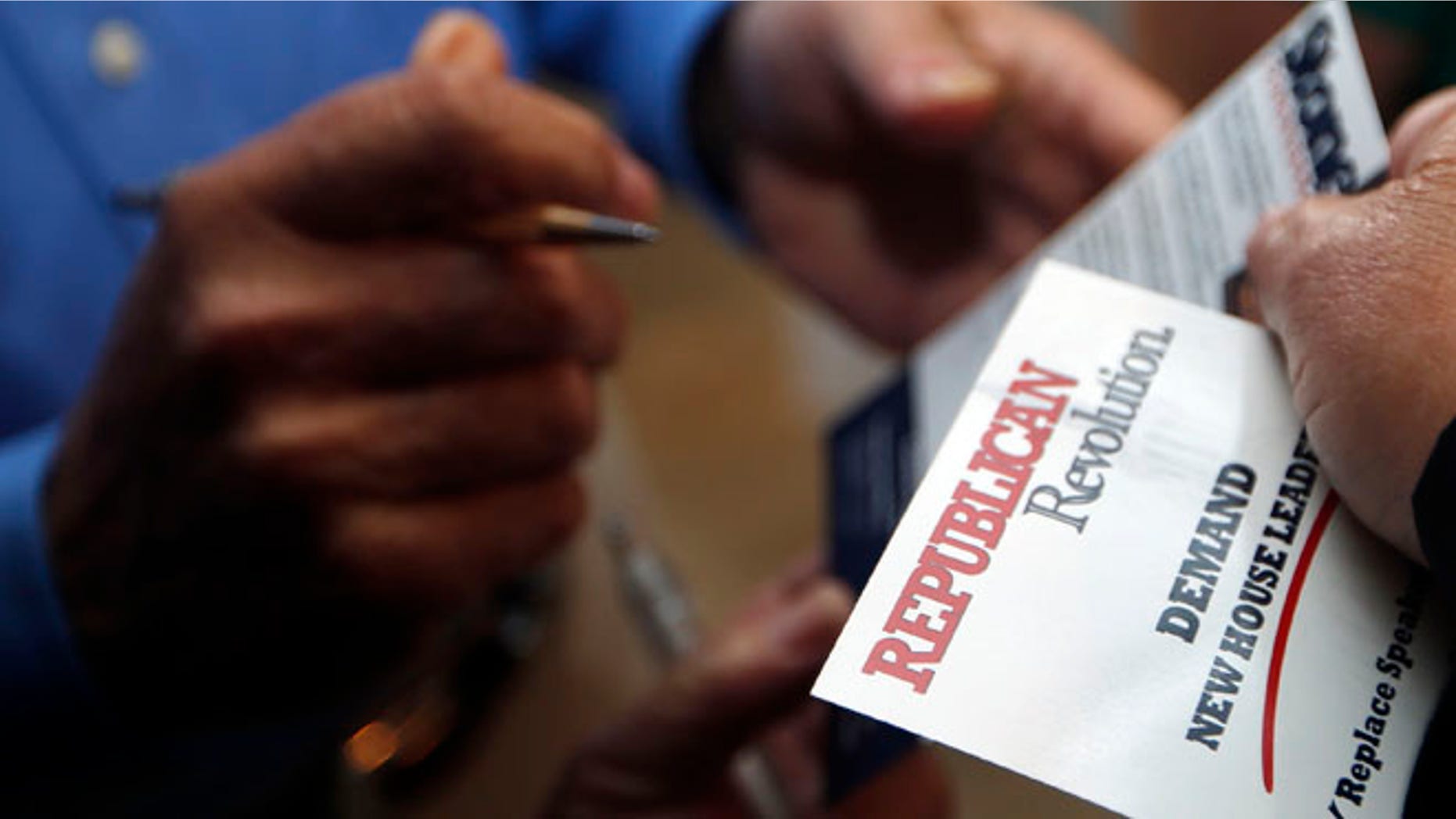 WASHINGTON – Republicans in Georgia are fighting to the finish in one of the most crowded and competitive Senate primaries in the country.
The race – along with primaries in five other states on Tuesday -- will, like many others this election season, test the staying power of the Tea Party movement. And they will set the stage for what is expected to be a grueling midterm fight where Republicans are determined to flip the Senate.
A total of seven candidates are running in the GOP primary for an open seat in Georgia left by retiring Republican Sen. Saxby Chambliss.
Among the candidates is millionaire businessman David Perdue -- the cousin of former Georgia Gov. Sonny Perdue -- and Rep. Jack Kingston, 22-year veteran of Congress.
Kingston and Perdue have been leading the polls, with former secretary of state Karen Handel following close behind.
Others in the packed race include Rep. Phil Gingrey and Rep. Paul Broun – the outspoken physician who nabbed national headlines for calling evolution and the Big Bang Theory "lies straight from the pit of hell."
A runoff is considered likely. If none of the candidates in Tuesday's race receives more than 50 percent of the vote, the top two will head to a July 22 runoff. The winner will then take on the Democratic rival in November's elections.
A May 14 Insider Advantage/Fox 5 Atlanta/Morris News Service poll has Perdue leading the pack with 27 percent of the vote. Kingston comes in at 19 percent, followed by Handel at 17 percent.
Of the top three, Handel is perhaps closest with the Tea Party movement, and has been endorsed by Tea Party Express. Tea Party-backed Ben Sasse won in last week's Nebraska GOP Senate primary, one of the few primary victories the movement has claimed so far this year.
Kingston and Perdue have high-powered support, though, as Republican backers try to keep the Chambliss seat red in the fall. In total, Republicans will need to pick up six Senate seats across the country to take over the Senate.
Perdue said Sunday he's trying to bridge the gap between Tea Party conservatives and more mainstream Republicans.
"My message is forget about what your single issue is or what we disagree on," he told The Associated Press after attending Sunday worship at Woodstock Baptist Church, one of the state's largest congregations.
The CEO is trying to get the party to rally around a common enemy: the debt crisis. "We have the right principles in our party to get the economy going again, reduce the size of government, get the regulators off the backs of small businesses and then watch this economy pop," he said.
In what can only be described as a case of unfortunate timing, Broun also ran into a bit of controversy days before the race. Police arrested Broun's son over the weekend on marijuana possession charges in Georgia. It's unclear if the younger Broun has an attorney, and he declined to comment on the charges.
On the Democratic side, the leading candidate is Michelle Nunn, daughter of former U.S. Sen. Sam Nunn and founder of a non-profit group. Other candidates include Steen Miles, a former state senator and retired TV reporter; psychiatrist Branko "Dr. Rad" Radulovacki; and firefighter Todd Robinson.
Most polls have Nunn easily beating her opponents, setting up a showdown between her and the Republican challenger.
Of the other states holding primaries, Kentucky and Oregon also have closely watched Republican contests for Senate. Pennsylvania and Arkansas have feisty gubernatorial primaries.
And in Idaho, Tea Party-backed lawyer Bryan Smith is trying to oust Republican Rep. Mike Simpson, who's seeking a ninth House term.
Kentucky is likely to garner the most attention, as Senate Minority Leader Mitch McConnell looks to defend his seat against GOP primary challenger, businessman Matt Bevin.
Bevin, though, is trailing badly in virtually every poll, meaning McConnell's biggest battle will likely come in November against Democrat Alison Lundergan Grimes. Both McConnell and Grimes are expected to easily win their primaries.
Campaign adviser Josh Holmes says the McConnell camp is ready.
"Our campaign has been up and running at full speed for six months," Holmes said. "We are able to get through the primary election with an operation that we feel confident about that we are able to test and we're able to carry into the fall that has some success already under its belt."
Both Grimes and McConnell are running on a campaign of change. For McConnell, that means stopping President Obama's health care agenda. For Grimes, it means raising the minimum wage and pushing for gender-based pay equality.
The race has already seen record campaign fundraising.
Grimes and McConnell raised a combined $19 million in the two years leading up to Tuesday's primary elections.
A McConnell win would help Republicans as they try to take control of the Senate. A Grimes win would topple the Senate minority leader, a 30-year incumbent.
A May 17 Courier-Journal/Survey USA poll puts Grimes slightly ahead of McConnell, 43 percent to 42 percent.
The Associated Press contributed to this report.