Republicans blast Dem 'hypocrisy' in light of Filner, Weiner scandals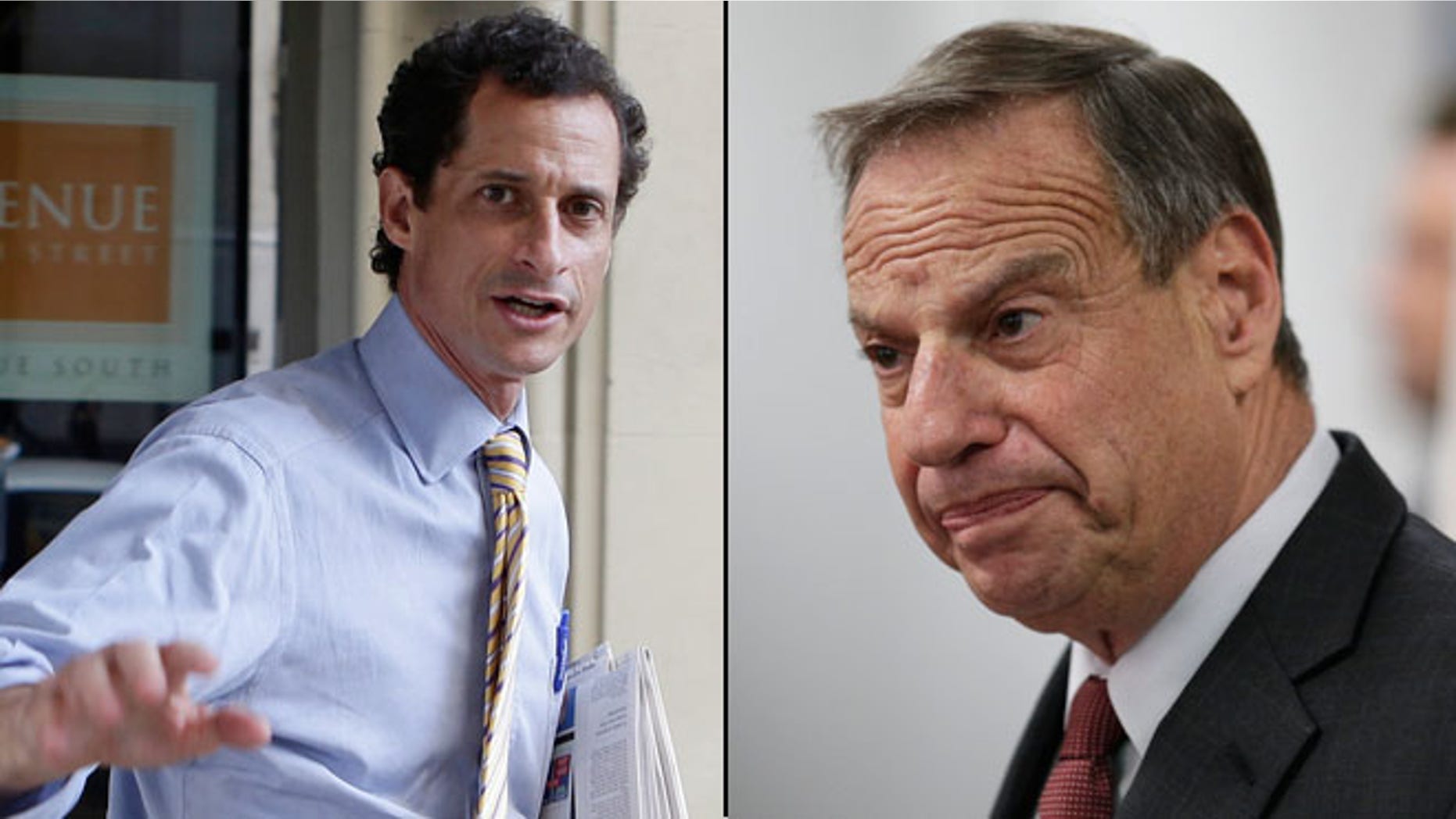 Republicans are trying to flip the script on Democrats who in the last election cycle accused Republicans of waging a "war on women," claiming the narrative has "backfired" in light of recent scandals.
In a joint memo from five distinct Republican Party groups -- addressed to "Republicans Across the Country" -- the groups claimed the behavior of San Diego Mayor Bob Filner and New York mayoral candidate Anthony Weiner has "exposed (Democrats) as the hypocrites that they are."
They cited the series of harassment allegations against Filner, who has so far refused to resign, and Weiner's acknowledgement that he continued to send lurid texts and photos to a young woman last year even after resigning from Congress for similar behavior.
The missive was an attempt to capitalize on the controversies that have roiled the rival party, and shame Democratic leaders for not condemning the behavior in their ranks sooner and more loudly.
"Where's the outrage? Why aren't leading Democrats like President Obama, Vice President Biden, and former Secretary Clinton, standing up for these women?" they wrote, accusing the party of "hypocrisy."
The memo was penned by the communications directors of the National Republican Congressional Committee; Republican Governors Association; Republican State Leadership Committee; Republican National Committee; and National Republican Senatorial Committee.
Democratic leaders have started to speak out on the scandals. House Democratic Leader Nancy Pelosi last week called the behavior of both men "reprehensible."
Democratic Party Chairwoman Debbie Wasserman Schultz last Friday also called on Filner to resign.
But the GOP memo noted it took two weeks for that statement.
"Not until seven women came forward alleging verbal or physical harassment did she come to the defense of women in San Diego. What took so long? Did she not think six harassed women was a concern?" they wrote.
Filner announced last week he was heading for two weeks of therapy, but intends to remain on as mayor despite battling legal action and other harassment claims.
Weiner also has vowed to stay in the race for mayor, even as fresh polls show him falling behind in the campaign.
Both parties were doing a bit of messaging on Friday, as lawmakers left Capitol Hill for a five-week summer recess. On the Democratic side, Democratic Congressional Campaign Committee Chairman Steve Israel put out a statement accusing Republicans of doing little to advance a budget bill ahead of a late September deadline.
"House Republicans just fled the scene of their crime, skipping out on the American people for a five-week vacation without lifting a finger to fix the mess they have created," Israel said.