Republicans Begin Latino Outreach, But Sidestep Immigration Reform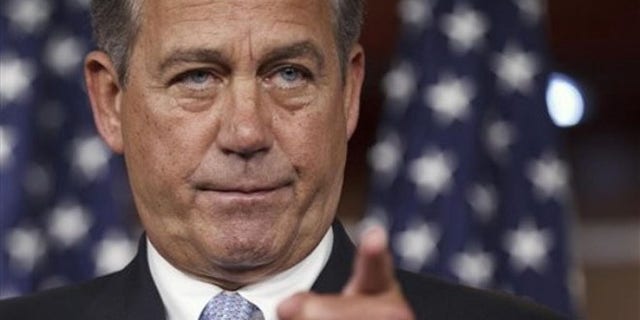 House Republicans are planning to hold a policy discussion Thursday on the hot-button issue of immigration as well as others of interest to Latino voters, the Los Angeles Times reported.
The discussion comes as the GOP has been accused by immigration reform advocates for slowing down the effort in Congress to pass a measure this year.
It is part of a broader Hispanic outreach effort that Republicans, who have a majority in the House, launched earlier this year to try to improve relations with the nation's largest minority group and increasingly influential voting bloc.
"It's an opportunity to discuss the issues facing our nation," said Rep. Cathy McMorris Rodgers, a Republican from the state of Washington who chairs the House Republican Conference. "For example: immigration reform, out-of-control government spending, and an unacceptable unemployment rate – which in the Hispanic community is even higher than the national average."
The discussion comes in the same week as the release of a video by the House Republicans paying tribute to Latinos for Hispanic Heritage Month, which runs from Sept. 15 to Oct. 15.
The video features House Speaker John Boehner, of Ohio, Majority Leader Eric Cantor, of Virginia, as well as Reps. Ileana Ros-Lehtinen and Mario Diaz-Balart, both of Florida, and Raul Labrador, of Idaho, among others.
The video, noted the Times, omitted any mention of immigration reform.
Some immigration advocacy groups criticized the video's failure to mention immigration.
"No words can describe just who exactly the House GOP thinks it's fooling by releasing this new video celebrating Hispanic Heritage Month. . .offering vague platitudes about the contributions of Hispanics," said a statement by America's Voice, a Washington D.C.-based group that advocates for more lenient immigration policies.
"The video is perhaps the latest effort to satisfy this year's Republican National Committee (RNC) directive to make the Party friendlier to immigrants, Latinos, and minorities," the statement said. "But apparently, Republican leaders didn't read the part that says they have to actually 'embrace and champion comprehensive immigration reform,' not just smile for the camera."
On Monday, White House Press Secretary Jay Carney said in the daily briefing that passing an immigration reform bill this year remains on President Barack Obama's radar.
Many on different sides of the immigration debate have become increasingly doubtful that a bill that would both tighten security at the borders and provide a pathway to legal status for many of the country's estimated 11 million undocumented immigrants could still pass, especially now that Syria has commanded so much attention.
"Our absolute focus on getting immigration reform passed by both houses and signed into law has not changed at all," Carney said, according to published reports.
The Senate passed a bipartisan-crafted comprehensive immigration reform bill in June, but work on immigration legislation has stalled in the House, where many Republicans object to giving undocumented immigrants a chance to legalize.
Some Democrats believe Republicans may be trying to let immigration reform die through inaction.
Sen. Chuck Schumer, a New York Democrat who was a member of the bipartisan "Gang of Eight" in the Senate that drafted that chamber's bill, expressed optimism.
"Many traditionally conservative groups including the Catholic church, Evangelicals, business leaders and the Chamber of Commerce, high-tech and agriculture growers have worked very hard over August and during recent weeks, and a significant number of Republicans who had previously been negative or neutral have come out for immigration reform," he said, according to The Hill. "We're cautiously optimistic that we can get something real done this fall."
Other Democrats, and immigration reform supporters, think the House needs more pressure to act, The Hill reported.
"Pro-reform activists did not expect the House to take up legislation this month, but the lack of discussion on its direction does not bode well," said The Hill article. "They worry the House could be trying to run out the clock."
Follow us on twitter.com/foxnewslatino
Like us at facebook.com/foxnewslatino