Republican Debate Sparks Bilingual Cheers and Jeers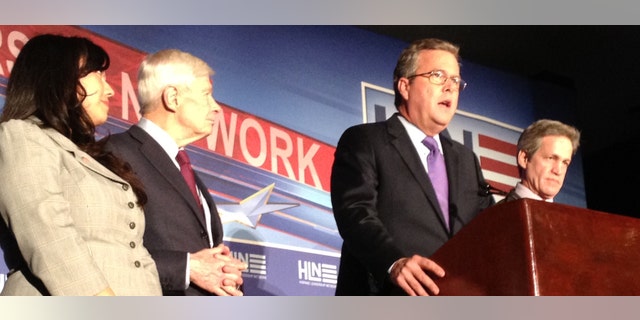 In the back of one resort in Miami, Florida Thursday night – there was no such thing as debate rules.

More than 344 miles away from Jacksonville, the location of the CNN Debate, a few hundred Latino Republicans gathered in the Champions Pavilion at the Doral Resort and Spa for an event sponsored by the Hispanic Leadership Network Conference and to assess the GOP candidates looking to win the state's primary.

There was a bilingual mix of cheers and jeers throughout the room on almost every subject tackled by the GOP candidates. From immigration, healthcare, and taxes to Freddie Mac and moon colonies in space, the momentum shifts were palpable, as the crowd of mostly Puerto Rican and Cuban Americans, reacted to every word from the candidates.

The debate fireworks began quickly with immigration taking center stage from the start.

Both the former House Speaker Newt Gingrich and former Massachusetts Gov. Mitt Romney received thunderous applause in their opening round jabs that seemed more like knockout punches by the reaction of the crowd to their responses.
Latina Candidate Forced to Withdraw over English Proficiency

For some, that was enough to give one of the candidate the upper hand.

"I like what Gingirch has to say. He seems to have an understanding and an empathy for family and the difficulties of the realities that families or individuals are to face when they are asked to leave the country," Teresita Chávez-Pedrosa, a Cuban American Republican of the Hispanic National Bar Association, said to Fox News Latino.

"The other candidates were very hardlined and they didn't seem as compassionate and understanding," she added.

But not all of those in attendance cared much for the immigration part of the debate at all.

Rick Aguilar, Chairman Hispanic Republican Assembly of Minnesota, hasn't endorsed anyone but he said he was disappointed after Thursday night's debate. Born and raised in Minnesota, the Mexican American, is fed up with the media "stereotyping" Latinos as caring only about immigration and thinks debates aren't helping the conversation.

"We are worried about jobs, education, healthcare. I think immigration is overrated. Immigration is a big issue. But is that really the number one issue for Latinos? Of course it's not," Aguilar said.

"I was leaning toward Romney and I still am. We have to…start talking about ideas."

Aguilar wasn't the only one leaning toward Romney after the debate. The general consensus from the Miami watch party was that Romney won after arguably turning in his best debate performance yet and putting rival Gingrich on the defensive from the opening minutes.

"I thought it was a good debate. I thought there was more bickering then we would like to see. I think Romney again looked more presidential. I think he looked like the candidate that can beat Obama," said José Fuentes, former Attorney General of Puerto Rico.

Daniel Espinosa, a Puerto Rican lawyer who has lived in the U.S. for the last 25 years, also believes there is way too much bickering in the debates which has him nervous about the odds of beating President Barack Obama.

"I'm voting for Romney and what I heard tonight just affirmed my conviction," Espinosa said, adding. "I think the candidates are all still losing on attacking one another and I think it's time for them to get in line and to stop giving Barack Obama an opportunity to use all of the attacks for the future contest that is coming along."
Celebrities Who Once Were Undocumented

As for the biggest losers of the night, Espinosa believes it was Ron Paul. The Texas congressman delivered some of the funniest lines of the night including one in which he said that he would send politicians to the moon.

"Having Ron Paul always brings an element of fun and contrast," he said. "But I think he ought to leave the podium after tonight – there is no room."

Alfonso Aguilar, of Latino Partnership for Conservative Principles and a Fox News Latino contributor, is not endorsing a candidate but he thinks Gingrich had the worst night of them all.

"I think Newt Gingrich didn't look as sharp, he seemed tired, and he wasn't able to defend his position," Aguilar said. "I think it may have cost Gingrich the primary tonight."

The festivities of the night were lead by popular former Florida Governor Jeb Bush and Congresswoman Ileana Ros Lehtinen, who both weighed in on their ideas of the conservative approach toward the rhetoric targeted at Latinos in these elections.

Bush reiterated his endorsement stance and spoke about the kind of rhetoric that will unite Latinos and the conservative base.
"I think first of all candidates need to earn it," Bush said. "They'll learn a lot from being down here as they already have."

The former Governor, who recently published an op-ed piece in the Washington Post entitled 'How Republicans Can Win Hispanics Back', reiterated his stances.

"There should be an alliance between conservative candidates and the aspiriational nature of Hispanic communities and if we do it, my guess, our country will grow at a sustained rate that can get us out of the mess we are in," Bush said.

Congresswoman Ileana Ros-Lehitenen had a similar message for Latinos who may be turned off by the immigration rhetoric seen in the last few months by the Republican candidates.

"On issue after issue the majority of Hispanic Americans are solemnly conservative," she said. "Yes, immigration is an important topic there is no doubt. But we care about the family structure and we care about small business and we care about jobs."
Bryan Llenas can be reached at bryan.llenas@foxnewslatino.com. Follow him on Twitter: @Bryan_Llenas.
Follow us on twitter.com/foxnewslatino
Like us at facebook.com/foxnewslatino