Rand Paul flunks the media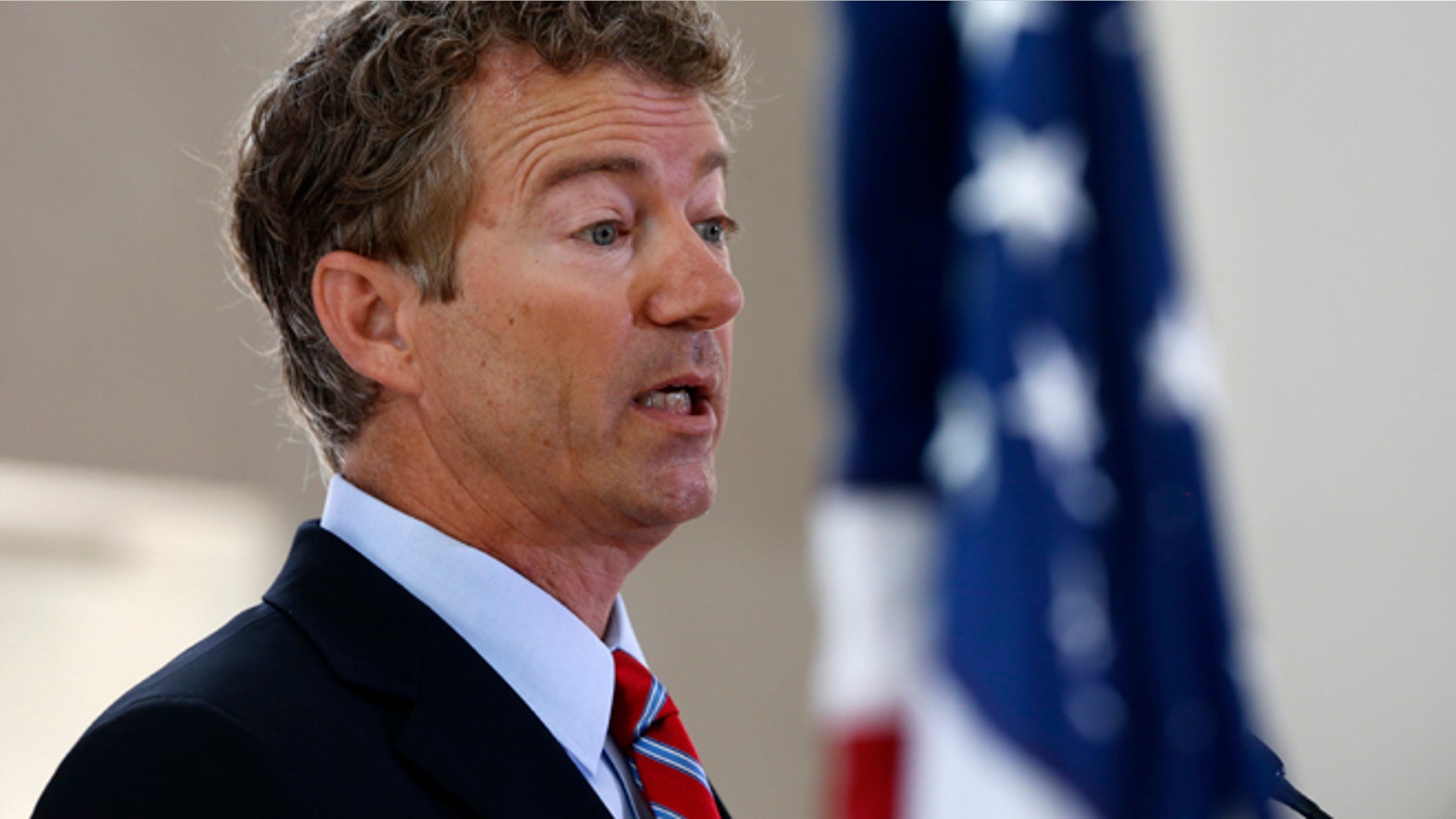 Politicians, operatives, White House officials, members of Congress—along with some snark artists—are debating, attacking, defending and kibitzing around the clock on Twitter. It's a nonstop forum that is helping shape the political conversation.  In this daily feature, @laurenashburn picks some of the best – and worst – political tweets you may have missed.
The best defense, in politics as in sports, is a good offense.
After Rand Paul owned up to inappropriately lifting language from a magazine and Wikipedia for speeches and op-eds, he did what any lawyer worth his salt would do: he turned the tables and attacked the Fourth Estate for pushing the allegations.
"I'm being criticized for not having proper attribution," the senator told National Review's Robert Costa. "And yet they are able to write stuff that if I were their journalism teacher in college, I would fail them."
Earlier in the week he said he'd like to challenge "hacks and haters" to a duel.
Tom Kludt of the liberal site Talking Points Memo caught up with a teacher who wasn't accepting that grade.
"Paul says he'd fail MSNBC and the AP if he were their teacher. A J-school prof at his alma mater says he'd flunk him http://talkingpointsmemo.com/dc/journalism-professor-would-flunk-rand-paul-for-an-unambiguous-case-of-plagiarism/
***
In the race for Virginia governor, Republican Ken Cuccinelli came closer to winning than anyone in the media expected. The conventional wisdom among pundits and pols is that the ObamaCare debacle nearly helped him overtake longtime Clinton friend Terry McAulliffe after some polls showed the Democrat up by double digits.
White House senior adviser Dan Pfeiffer has a different twist.
"Cucinelli's profile was based on defeating O'care; if he cldnt get big bounce out of recent troubles;hard to see GOP strategy working in 14"
White House officials must be relieved they can finally attempt a positive spin that mentions ObamaCare.
***
From the, gee, really files: A bit or irony from Time magazine critic James Poniewozik.
"BREAKING: Several people won elections yesterday for several reasons, some of which bolster your personal worldview."
Isn't that what pundits do for a living?
***
It's 2013. All you pundits and political reporters hear that? 2.0.1.3. Not 2014, not 2016.And as much as the chattering class would like to wish it so, the races can't start today. No one knows this better than National Journal columnist Ron Fournier, a former Washington bureau chief for the AP.
"CW says Tue sets stage for Christie-Clinton in '16. Three years prior to '08, CW predicted Giuliani-Clinton. Obama not on radar."
Ouch! Obviously pundit job security depends on everyone having amnesia.
***
Seems like only yesterday that Chris Christie was just one of 50 governors, but with a better set of lungs. Suddenly, with his landslide reelection, he's being covered as a potential president. Which prompted this amazed reaction from Washington Post political blogger Chris Cillizza:
"Christie people have to be over the moon that cable nets are taking his appearance in Union City straight today."
See what a heavy dose of 2016 speculation can do for a fleece-wearing governor who lives in Trenton?
***
Christie, meanwhile, is a no-nonsense, larger-than-life guy who doesn't take kindly to criticism – especially about his weight.
His girth has been the subject of many an op-ed about the signal that his size sends about obesity, given his status as a public figure.He's gone from eating donuts on the "Late Show with David Letterman" to an elective, once-secret Lap-band surgery to improve his health.
And as the New York Times' Jonathan Martin tweets, the guy claims to be well on his way toward a slimmer figure.
"Christie wouldn't tell me how many lbs he's dropped -- only he&his wife know - but said he's over halfway to goal http://nyti.ms/1b9ImxN"
Ah, the NYT, always concerned with weighty issues.
If you'd like to recommend your favorite political Twitter picks, email Lauren Ashburn laurenashburnFNC@yahoo.com or send her a tweet @laurenashburn with the hashtag #TwitterTalk.