Rahm Emanuel's Campaign Gets a Presidential Boost – From Bill Clinton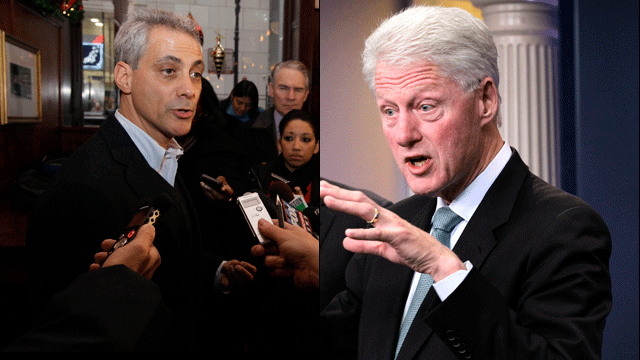 Now that Rahm Emanuel has cleared a residency hurdle in his bid to become the next mayor of Chicago, Bill Clinton has agreed to endorse and campaign with his former aide, Fox News has confirmed.
Clinton will stump for Emanuel at some point next month, marking his first appearance on the campaign trail since his party took a beating in November's midterm elections.
Emanuel, who stepped down as President Obama's chief of staff to launch his campaign, served in the Clinton White House from 1993 to 1998.
Clinton's endorsement further cements Emanuel's frontrunner status in a crowded field of more than a dozen candidates, including former U.S. Sen. Carol Moseley Braun, U.S. Rep. Danny Davis and state Sen. James Meeks, the pastor of a South Side megachurch. The election is February 22.
The Chicago Board of Election Commissioners ruled Thursday that Emanuel can run for mayor after more than two dozen people challenged his candidacy, arguing that he didn't meet a one-year residency requirement.
But an election board hearing officer said the evidence suggested that Emanuel had no intention of terminating his residency in Chicago, left the city only to work for Obama and often told friends he intended to live in Washington for no more than two years.