Race to the Top and Higher Goals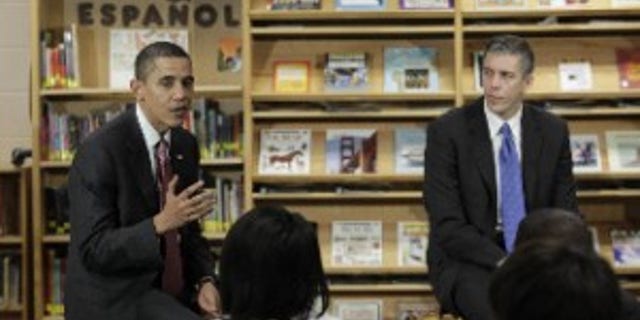 NEWYou can now listen to Fox News articles!
President Obama, who was elected to the Presidency a year ago, took a trip to the Midwest Wednesday, taking time out from talking about economic recovery to focus instead on the future of America's children.
Obama and his Education Secretary, Arne Duncan, traveled to Wright Middle School in Madison, WI. Wright is a charter school with the highest population of minority students in the area. Wisconsin has just announced statewide changes to their education system, with the hopes of receiving a portion of the $4.35 billion the White House will award to various states in their "Race to the Top" competition that will roll out in the next few weeks.
"It's been wonderful to see states moving in the right direction to challenge the status quo, to push toward the kind of dramatic change the President talked about during the campaign, and to see so much movement before we spent a dollar of this money is very, very encouraging," Duncan told reporters on board Air Force One on the way to Madison.
Obama, who has targeted lagging achievements in education as an overall problem in the United States, urged the students and teachers at Wright to aim higher, saying an education is "a prerequisite for success."
"Of course, these problems aren't new. We've heard about them for years. But instead of coming together to solve them, we've let partisanship and petty bickering stand in the way of progress. It's been Democrat versus Republican, vouchers versus better public schools, more resources versus more reform," the President said. "This status quo has held back our children, it has held back our economy, and it has held back our country long enough. It's time to stop just talking about education reform and start actually doing it. It's time to make education America's national mission."
In a meeting with a small group of students in the library at the middle school before addressing a larger group of invitees, the President talked about his and Michelle Obama's education, and how hard the two of them worked, even going to Harvard and Princeton, using his background as an example.
"There's nothing more important than what you're doing here at this school. Every single one of you could be doing what Arne's doing, or what I'm doing. You could be running a company or inventing a product," Obama said. "The only way you can do it is if you're succeeding here in school."
The United States has what Duncan calls a "stubbornly high" dropout rate. At this time, the U.S. has about a 30 percent dropout rate, which equals roughly just over a million students not graduating.
The "Race to the Top" grants will be awarded in January.