President Obama's Renewed Push For Immigration Reform Meets With Mixed Reaction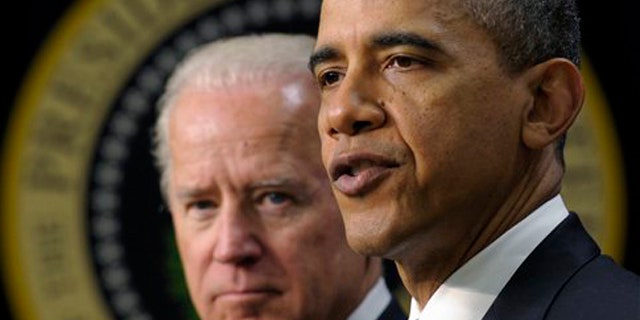 President Barack Obama's plea for passage of an immigration bill by the end of the year met with praise by groups that want a path to legal status for undocumented immigrants, but it came under fire by conservatives and some liberal groups.
Obama on Thursday urged – and at times seemed to challenge – Republicans in the House to work on overhauling the U.S. immigration system by year's end. The president said it was time to bring the years-long debate about the nation's flawed immigration laws to an end and change policies to make improvements. He noted that the Senate had worked in a bipartisan manner on a comprehensive bill that passed in June.
U.S. Sen. Jeff Sessions, an Alabama Republican and senior member of the Senate Judiciary Committee, said that his chamber's bill was problematic. The president, he said, was ignoring the concerns that many Republicans have expressed about the Senate bill, which includes tightening border security, providing a path to legal status and expanding visas for foreign workers.
"The president said he has not heard any good reason to oppose the Senate bill," Sessions said in a statement. "Clearly, he has not listened to the ICE and USCIS officers warning that the bill would permanently undermine enforcement."
"The Senate bill will lower wages, increase unemployment, and reduce per-capita GNP … the Senate bill would double the number of guest workers at a time when a record 90 million Americans are outside the work force," he added.
Sen. Marco Rubio, a Florida Republican who was part of the so-called "Gang of Eight" that drafted the Senate bill, said in an interview with CNN on Friday that lawmakers in the House might be better off considering immigration reform in a piecemeal approach than in one massive measure.
The senator said the main point of contention was the idea of giving people who are living in the country illegally a chance to legalize their status. Some Republicans have said they do not trust the Obama administration to apply the enforcement aspects of a massive bill while also allowing undocumented immigrants to legalize.
"We have to address that issue in a realistic way," Rubio said on CNN's "New Day." "I think it gets easier to address that issue if we deal with some of the other issues first. I think if people have real confidence that the law is being enforced, that we are not going to have this problem again, that there is real border security."
A Los Angeles Times story raised a question about whether the administration might be open to a piecemeal approach to immigration reform.
Some groups that favor more lenient immigration policies praised Obama's remarks.
They blamed House Republicans for the reason why immigration reform efforts have stalled.
"Polls have shown that the majority of Americans favor giving new immigrants the option of applying for citizenship," said United Farm Workers Vice President Giev Kashkooli, "but the House Republican leadership wants to tell these immigrants, 'You can pick our crops, you can take care of our children and elderly, but you can't be one of us.'"
Angelica Salas, executive director The Coalition for Humane Immigrant Rights of Los Angeles (CHIRLA), said: "The House of Representatives, led by dinosaurs who refuse to accept the world around them is changing, have so far held immigration reform hostage, assisted by none other than House Speaker Boehner and Majority Whip McCarthy."
"President Obama is correct to point out that anyone still opposed to a reasonable solution to the immigration system quagmire," she added, "should be dragged to every town's center plaza and compelled to clearly explain his/her reasons."
But some groups that advocate for a path to legal status focused their reaction on their frustration over the record number of deportations – 2 million – that have occurred under Obama.
They said that while disagreements in the House among Republicans have hindered progress on immigration reform, Obama did have control over the deportation rate and the impact on families and communities.
"Absent from the president's speech was the mention of our current deportation crisis," said AFL-CIO President Richard Trumka in a statement. "Every day more than 1,000 aspiring Americans are deported, mothers and fathers separated from children. While we work toward a long term solution, we urge the president to put an end to deportations of people who will soon be eligible for the roadmap to citizenship."
Follow us on twitter.com/foxnewslatino
Like us at facebook.com/foxnewslatino