Pint-sized 'president' collaborates with White House in April Fools' prank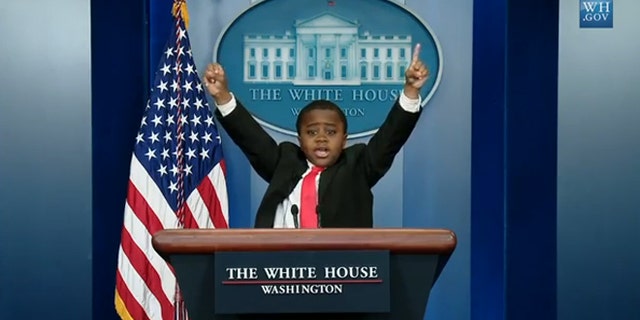 Every April 1, the media brace for the inevitable barrage of attempts to trick them with fake news stories.
This April Fools', the White House got in on the fun.
The White House on Monday morning previewed a "special video message from the President" that would be released on its official website at 10 a.m.
What could it be? A new appeal on gun control? A concession on immigration reform?
Not really. The "special video" was a one-minute clip of a pint-sized "president" hamming it up in the White House briefing room.
"It looks like you were expecting somebody else, but April Fools' on all of y'all," 9-year-old Robby Novak said in the video. "I'm the kid president and I hope everyone has an awesome day."
Novak, who has made a string of viral "kid president" videos, was at the White House Monday as a guest for the Easter Egg Roll.
In the April Fools' video, Novak signed off by doing sort of a Nixon impression and saying "peace" -- he waltzed away making raspberry noises before getting stuck in a wall.
Well played, White House. Well played.
[youtube 5byDhm-E-YE]