Petraeus Stirs Political Chatter With Visit to Key Presidential Primary Town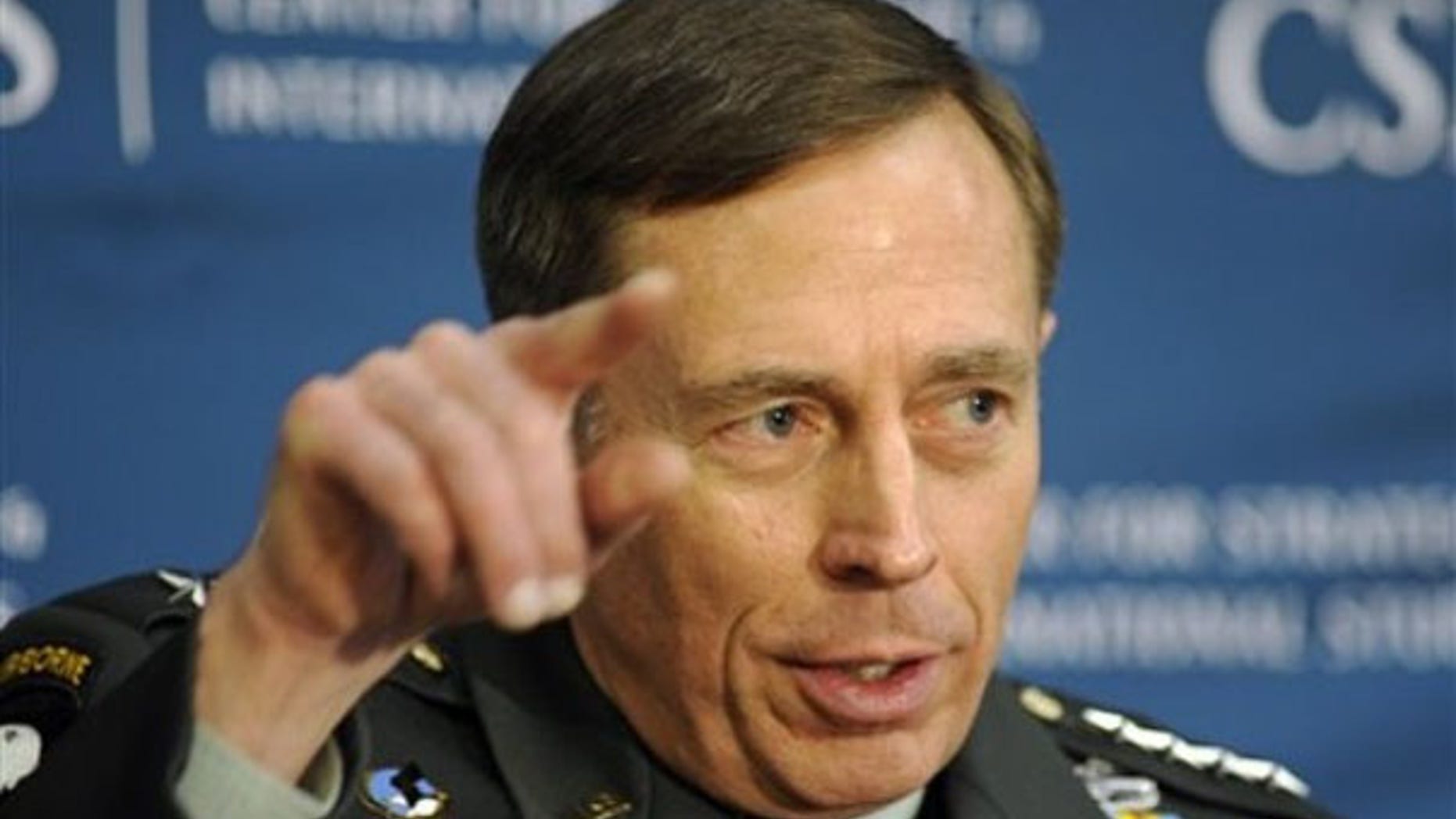 When a rumor spread last March that Gen. David Petraeus would be speaking at the University of Iowa in 2010, speculation that he was exploring presidential politics became so rampant that Central Command had to issue a statement saying the Iowa news was false.
Weekly Standard columnist Michael Goldfarb, whose column was the source of the frenzy, later admitted he was joking about a Petraeus trip, and that the gag went too far.
This time, it's no joke.
Petraeus, commander of U.S. Central Command, gave a talk Wednesday evening at Saint Anselm College in New Hampshire, a must-see campus for presidential candidates in a must-see state that hosts the first-in-the-nation primaries.
He told a group of reporters there he will never run for political office and that he wasn't aware Saint Anselm College has been the site for numerous presidential debates.
"I thought I've said 'no' as many ways as I could," he said. "I will not ever run for political office, I can assure you of that."
During Wednesday evening's talk, he highlighted the wars in Iraq and Afghanistan. Gen. Petraeus says the violence in Iraq has dropped dramatically but Afghanistan's local government remains the biggest obstacle.
"Getting that local governance piece so the government is serving the people and is not preying on them or corrupting them is the long pole in that tent," he said.
Sure, he owns property in New Hampshire and is registered to vote there. But that hasn't stopped a new wave of speculation that the modest, scholarly general credited with leading the "surge" that turned around the Iraq war is, if not positioning himself, at least stirring the pot about his presidential prospects.
"That's what my students are all chattering about now," said Jonathan Acuff, an assistant political professor at Saint Anselm  who works with the Institute of Politics putting on the talk.
Petraeus has been assiduous in shooting down rumors about his political aspirations;  in several interviews with Fox News, he has said he has "no desire" to seek elected office.
He pledged no interest in running during an appearance at the Georgetown Law Center in January and again at the World Affairs Council of Philadelphia last month.
So objective is Petraeus -- a registered Republican -- that he told Fox News in December that he stopped voting in 2002.
But it's impossible to prove a negative -- that Petraeus won't run or isn't interested -- and the fact that most potential candidates deny interest in running this early inevitably leaves that door open.
Saint Anselm College, in Manchester, N.H., is a prominent presidential debate venue; the college hosted debates for both parties in 2007 and 2008.
"I think he would immediately be a force if he decided to run as a Republican," said Republican strategist John Feehery, noting that "tension" between him and President Obama might be the precursor to an epic battle.
"Petraeus turned out to be right on Iraq and Obama turned out to be completely wrong," he said. "I think it would be monumental (if he ran)."
Feehery, though, said a presidential run is probably not what's going through Petraeus' mind at the moment -- while the U.S. military is still waging war in Afghanistan and Iraq -- and that the New Hampshire visit is probably just that.
"The fact that he's from New Hampshire and he's speaking to a college campus as opposed to a local Republican club would lead you to believe sometimes talking to a bunch of college kids is just talking to a bunch of college kids," he said. "If he's got a book out, then we've got something."
The talk was billed as a discussion of the Iraq surge and "the role of American forces overseas." Petraeus was not interviewed by FoxNews.com for this article, but a Central Command official said Petraeus' visit is in no way part of a campaign strategy.
Col. Steve Boylan, a former top aide to Petraeus, also dismissed the speculation.
"What many people don't understand about General Petraeus is ... he is a fervent believer in education. That's why he talks at many colleges and universities," he said. "He has no desires for elected office. ... That's not something he sees for himself."
Acuff said chairman of the Joint Chiefs of Staff might be on Petraeus' mind, but that a bid for president is unlikely.
"He has the structural opportunity if he wanted to run in the Republican Party, because of the general leadership vacuum there," Acuff said. But he noted that Petraeus' sterling national security portfolio might not be enough against a fiscally minded candidate like Mitt Romney.
The American tradition of high-ranking military officers ascending to the presidency has faded in the last half-century, since Dwight Eisenhower was the last general to occupy the White House.
Colin Powell, who had at the time recently finished his tenure as chairman of the Joint Chiefs of Staff, was considered a possible challenger to President Clinton in 1996 but ultimately declined. And Wesley Clark, who led forces in Kosovo as NATO's Supreme Allied Commander in Europe, ran for the Democratic nomination in 2004, but he dropped out to endorse Sen. John Kerry.
Petraeus, a Princeton-educated official, draws a broad audience. Republicans can't figure out what he wants, but many have made clear they consider him a national asset and figure worthy of the country's respect -- and possibly more.
"He's an American hero, a great leader," said New Hampshire GOP spokesman Ryan Williams, who plans to attend the speech Wednesday. "I don't know if he wants a political future, but he did a fantastic job leading America's brave men and women.
"New Hampshire Republicans have a lot of respect for General Petraeus," he said.
FoxNews.com's Judson Berger, Fox News' Jake Gibson and the Associated Press contributed to this report.