Petraeus Leaving Army After 37 Years to Lead CIA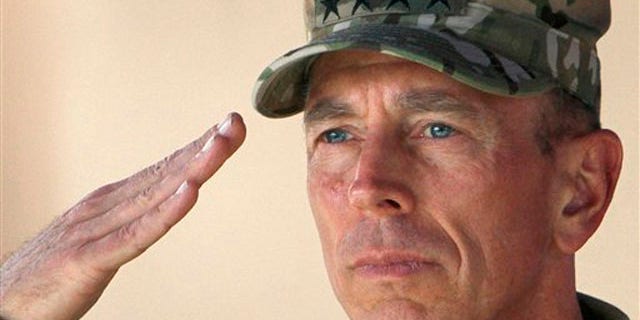 NEWYou can now listen to Fox News articles!
WASHINGTON -- U.S. Army Gen. David Petraeus on Wednesday said supporting the troops and their families must be the nation's "paramount objective" even as defense budgets are reduced.
Spending cuts also must not undercut the versatility and flexibility that the Army and other services have developed in fighting insurgencies in Iraq and Afghanistan, he told his retirement ceremony after 37 years in uniform on a sun-splashed military parade field near Washington.
"As our nation contemplates difficult budget decisions, I know that our leaders will remember that our people, our men and women in uniform, are our military," he said, "and that taking care of them and their families must be our paramount objective. Beyond that it will be imperative to maintain a force that not only capitalizes on the extraordinary experience and expertise in our ranks today but also maintains the versatility and flexibility that have been developed over the past decade."
The Pentagon already is preparing to reduce defense spending by upwards of $400 billion over the next 10 years, and Congress may demand even bigger cuts.
Petraeus looked back over his celebrated career, which began when he was commissioned a second lieutenant after graduating from the U.S. Military Academy in June 1974. He recalled the unease he felt on his first day at the academy and the pride he felt in soldiering for nearly four decades.
He will begin a new chapter next week when he takes over as director of the Central Intelligence Agency, succeeding Leon Panetta, who gave up the spy chief job to become defense secretary last month. Panetta, who is on vacation in California, did not attend the Petraeus ceremony.
Petraeus thanked those he has served with and said he leaves with confidence that the nation will avoid unwise decisions on defense spending cuts. He alluded to the difficulties the military faced at the outset of the Iraq and Afghan conflicts in adjusting to counterinsurgency warfare.
"We have relearned since 9/11 the timeless lesson that we don't always get to fight the wars for which we are most prepared or most inclined," he said, referring to the 2001 terrorist attacks against the United States. "Given that reality, we will need to maintain the full-spectrum capability that we have developed over this last decade of conflict."
The Petraeus ceremony was hosted by Deputy Defense Secretary William Lynn, who presented the general with a Distinguished Service Medal, and Navy Adm. Mike Mullen, who heaped praise on the man who many had expected to succeed Mullen as chairman of the Joint Chiefs of Staff. President Barack Obama instead chose to make Petraeus his next CIA chief.
Petraeus, 58, will take over at the spy agency next week. He has said he chose to serve there as a civilian in order not to blur the distinction between the military and the intelligence worlds.
In his remarks, Mullen called Petraeus a visionary and a "national treasure."
"Dave has, over the last decade, advised two presidents, changed the course of two wars, transformed our military, and perhaps most important of all, reminded Americans once again, that with the right ideas and the right leadership, almost anything is possible," Mullen said.
Petraeus will take over at the CIA less than a week before the 10th anniversary of the terrorist attacks that killed nearly 3,000 people in New York, Washington and Pennsylvania.
Close friends and colleagues of Petraeus say that when he realized the White House would not make him chairman of the Joint Chiefs, the top U.S. military position, he saw the CIA as the best alternative.
"I wanted this job," he told senators at his confirmation hearing, saying he had discussed the CIA post with the Obama administration for months.
Petraeus soared to public acclaim in 2007-08 with his surprising success in reversing an escalation of insurgent violence in Iraq.
He is credited with similarly solidifying gains against the Taliban in Afghanistan, though he himself says progress is "fragile and reversible."