Perry: I Don't Know Any Iowans Willing to Bet $10G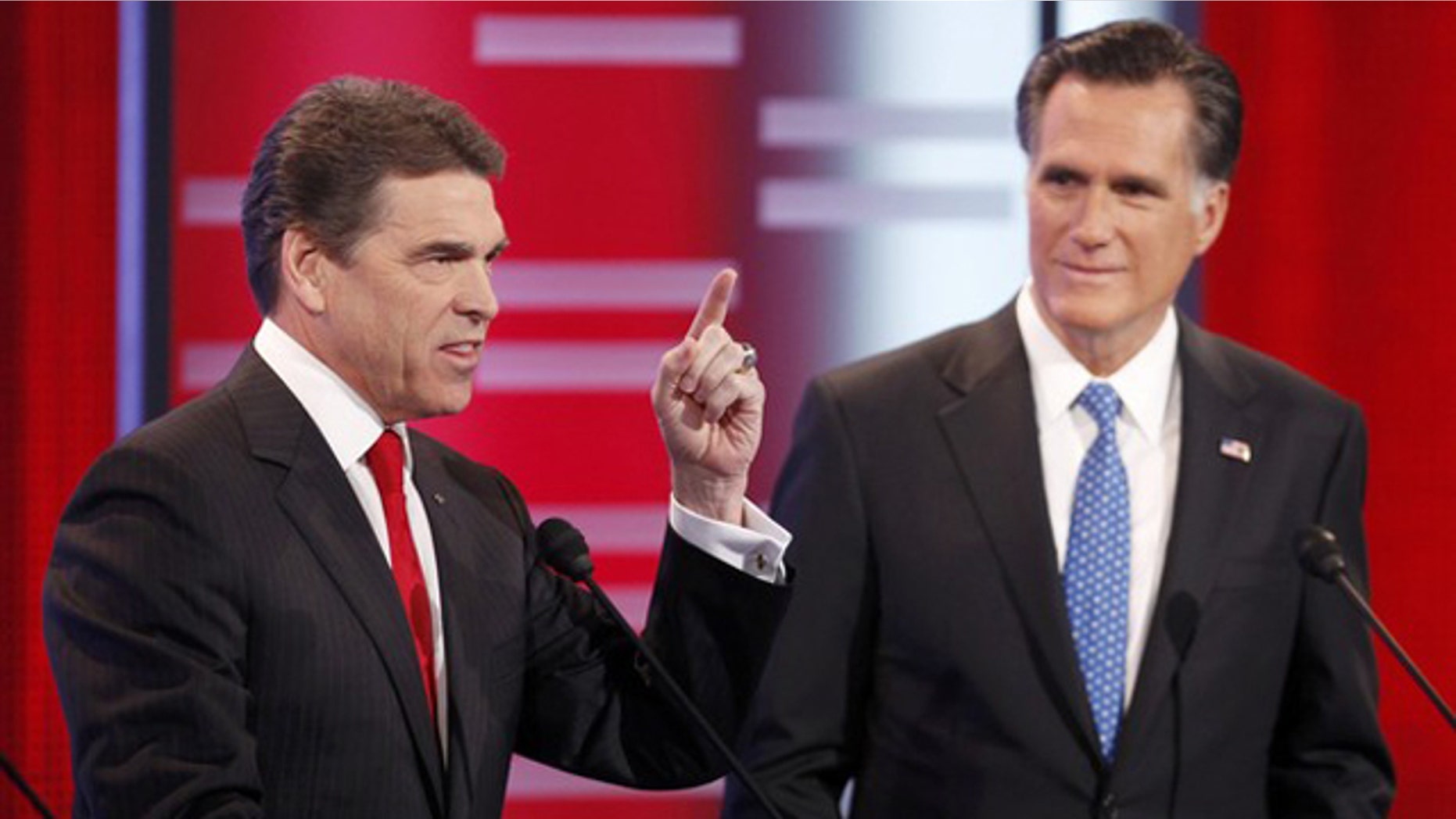 Rick Perry said Sunday he's still not a betting man, but the Texas governor is counting on Mitt Romney losing support among Iowans for offering to wager $10,000 in a dispute over his health care record.
"I was taken a little bit a back," Perry told "Fox News Sunday." "Driving out to the station this morning, I'm pretty sure I didn't drive by a house that anyone in Iowa would even think about that a $10,000 bet possible, so a little out of touch of the normal Iowa citizen."
Romney made the wager on Saturday night at a Republican presidential primary debate in Des Moines, Iowa. The two candidates were arguing over whether Romney ever supported the individual mandate -- the centerpiece of the dispute over President Obama's health care law, which requires every American to purchase insurance. Obama officials say they took their plan from Romney's health care proposals instituted while he was governor of Massachusetts.
Perry accused Romney of supporting the individual mandate before being against it, and including it in an earlier version of his book before removing it. Romney shot back that he'd bet $10,000 that's not true. Perry responded: "I'm not in the betting business."
On Sunday, Perry held firm on his contention.
"The issue of individual mandates is still at the center here, and Mitt can deny this as many times as he wants, but in his first book, hard cover, of "No Apologies," he clearly stated that individual mandate should be the model for this country. And then he took that out of the book, in the paperback, and that's the fact, and even a $10,000 bet is not gonna cover that."
The bet -- not $1 and not $1 million -- made some stand up and wonder aloud if Romney is really a betting man -- and would throw down that kind of cash in a casual challenge.
"I want to know if he has $10,000 in his pocket," the spokesman for new Republican front-runner Newt Gingrich, R.C. Hammond, said after the debate.
In a statement, the Democratic National Committee said $10,000 is almost three times more than what an average family spends on groceries in a year and more than a year's worth of mortgage payments for the typical American home purchased today.
Romney, the son of a former governor who was a self-made millionaire, earned his own fortune leading a venture capital company. Romney disclosed earlier in the year that his personal wealth is estimated at between $190 million and $250 million.
In an era where the wealthy are being targeted for their success, Romney's wealth is being seen as a potential vulnerability even though he has made a point of courting middle-class America.
"I didn't grow up poor. And if somebody is looking for someone who's grown up with that background, I'm not the person," Romney said during the debate, noting that his father was poor at one point in his life. He added that his parents "made sure we had jobs when we were growing up. They made sure we didn't spend money foolishly."
The Associated Press contributed to this report.