Pence: 'No tolerance' for hate from white supremacists, neo-Nazis, KKK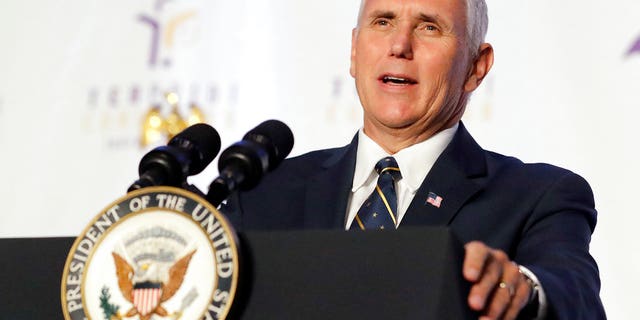 Vice President Mike Pence on Sunday denounced white supremacist groups in the aftermath of the violence in Charlottesville, Va., saying: "We have no tolerance for hate and violence, white supremacists or neo-Nazis or the KKK."
Pence said the "dangerous fringe groups" have no place in American public life. He was speaking during a news conference in Cartagena, Colombia.
Both Republicans and Democrats have criticized President Trump's initial remarks about the events that unfolded in Charlottesville. When Trump addressed the nation on Saturday, he said he condemns "in the strongest possible terms this egregious display of hatred, bigotry and violence on many sides, on many sides."
TRUMP CONDEMNS 'WHITE SUPREMACISTS,' OTHER EXTREMISTS BEHIND DEADLY VIRGINIA RALLIES, OFFICIAL SAYS
Pence said that when President Trump spoke about yesterday's tragedies, his call for unity between both sides "was from the heart." The vice president added that "our hearts go out" to the victims of Saturday's violence.
Trying to explain the president's position, the White House released a statement on Sunday: "The president said very strongly in his statement yesterday that he condemns all forms of violence, bigotry and hatred and of course that includes white Supremacists, KKK, neo-Nazi and all extremist groups."
REPUBLICAN LAWMAKERS ENCOURAGE TRUMP TO SPECIFICALLY CALL OUT WHITE NATIONALISTS
It added: "He called for national unity and bringing all Americans together."
Fox News' Jennifer Bowman and The Associated Press contributed to this report.