Pence, Bannon, Robertson stump in Alabama for Senate candidates
NEWYou can now listen to Fox News articles!
Across Alabama on Monday night, Vice President Mike Pence, Steve Bannon and Phil Robertson, of Duck Dynasty, were all seen on stage stumping for the two candidates running in Alabama's runoff election on Tuesday.
Vice President Pence took the stage in Birmingham supporting incumbent Sen. Luther Strange, while Steve Bannon and Phil Robertson rallied in Fairhope for former Alabama Supreme Court Chief Justice Roy Moore.
After walking on stage, Pence echoed President Trump's sentiments from Friday, saying how much he loved the state of Alabama and how much they needed the peoples' help to send Strange back to the U.S. Senate.
ALABAMA SENATE PRIMARY: TRUMP'S INFLUENCE TESTED AS LUTHER STRANGE, ROY MORE VIE FOR GOP SEAT
He quickly praised the work of Attorney General Jeff Sessions while telling Strange: "You know Luther, you've got big shoes to fill. But I can tell that's never been a serious problem for you."
Strange has filled the Senate seat vacated by Sessions.
Pence highlighted Strange's attributes, saying upon first meeting him he could "sense his faith, his sincerity, his humility and his dedication to public service."
He also made note of the accomplishments the Trump administration has achieved, saying that Strange's support played a strong role in each success.
He also referenced the president's plan to build a wall on the U.S.-Mexico border, saying "President Trump and Big Luther are going to build that wall," which was followed by chants of "build that wall" from the crowd.
ALABAMA RALLY: TRUMP CAMPAIGNS IN LAST-DITCH EFFORT FOR SENATE CANDIDATE LUTHER STRANGE
When Bannon took the stage for Roy Moore, he condemned the current politicians in Washington, saying they are "the most corrupt and incompetent group of individuals in this country," and suggested that Strange could be bought, just like them.
And despite campaigning for the opposing candidate from Trump, Bannon insisted that he was not "defying" the president but instead went there to "praise and honor him."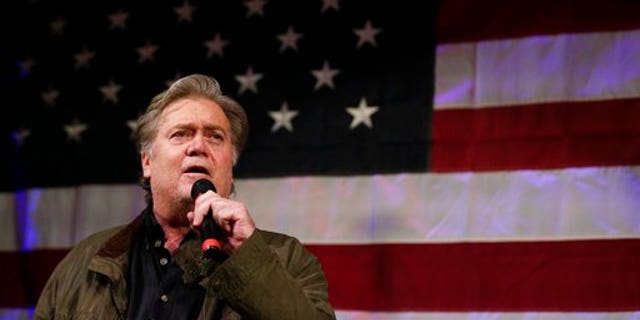 Bannon concluded his speech saying Moore is "a good man, a courageous man, and most importantly, a righteous man" and represented Alabama's values, like Trump.
"A vote for Judge Roy Moore is a vote for Donald J. Trump. And a vote for Donald J. Trump is a vote to make America great again," Bannon said.
After Bannon's speech, he introduced Phil Robertson, who spoke briefly on health care before encouraging everyone in the audience to go out and vote on Tuesday. "Roy Moore is a godly man," Robertson said, "or I wouldn't be here."
Strange and Moore have been campaigning to become the Republican primary candidate for the Senate election later this year. The vote on Tuesday is one of the first tests of Trump's influence, after he gave his support to Strange over the summer.