Pelosi on violent Antifa members: Lock them up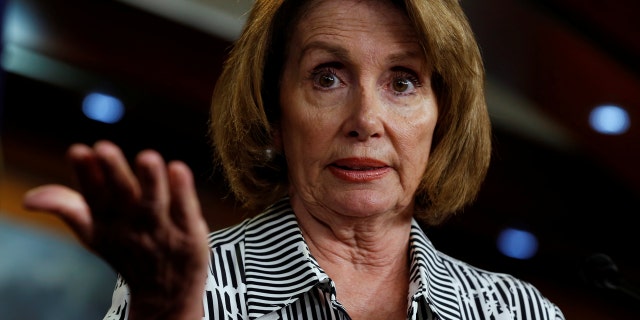 House Minority Leader Nancy Pelosi, D-Calif., says the "violent" members of Antifa — those members of the anti-fascist group who allegedly attacked conservative demonstrators over the weekend in Berkeley, Calif. — should be arrested and prosecuted.
"Our democracy has no room for inciting violence or endangering the public, no matter the ideology of those who commit such acts," Pelosi said in a statement Wednesday, the San Francisco Chronicle reported. "The violent actions of people calling themselves Antifa in Berkeley this weekend deserve unequivocal condemnation."
The article pointed out that the famous California liberal distanced the Democratic Party from the group.
In addition, Pelosi told the Denver Post's editorial board: "You're not talking about the far left of the Democratic Party — they're not even Democrats. A lot of them are socialists or anarchists or whatever."
Thirteen people were arrested and five others were injured Sunday after more than 100 black-clad, hooded protesters with masks and weapons attacked and overwhelmed peaceful demonstrators.
"They came with black masks, they carried weapons, they were pounding people down with their fists and feet," University of California-Berkeley College Republican Ashton Whitty told Fox News' "The Story with Martha MacCallum" Monday night. "I knew I had to get out of there.
"Everything was great until Antifa showed up," Whitty added.
Pelosi, who represents a district in neighboring San Francisco, had been criticized for not condemning the Antifa violence as forcefully as she had warned about the potential for unrest at a Patriot Prayer rally that had been planned for Saturday.
Berkeley's mayor, Jesse Arreguin, had previously spoken out against Antifa, saying the group should be classified "as a gang."
"They come dressed in uniforms," Arreguin said. "They have weapons, almost like a militia, and I think we need to think about that in terms of our law enforcement approach."