Parody video calls for embattled San Diego Mayor Bob Filner to resign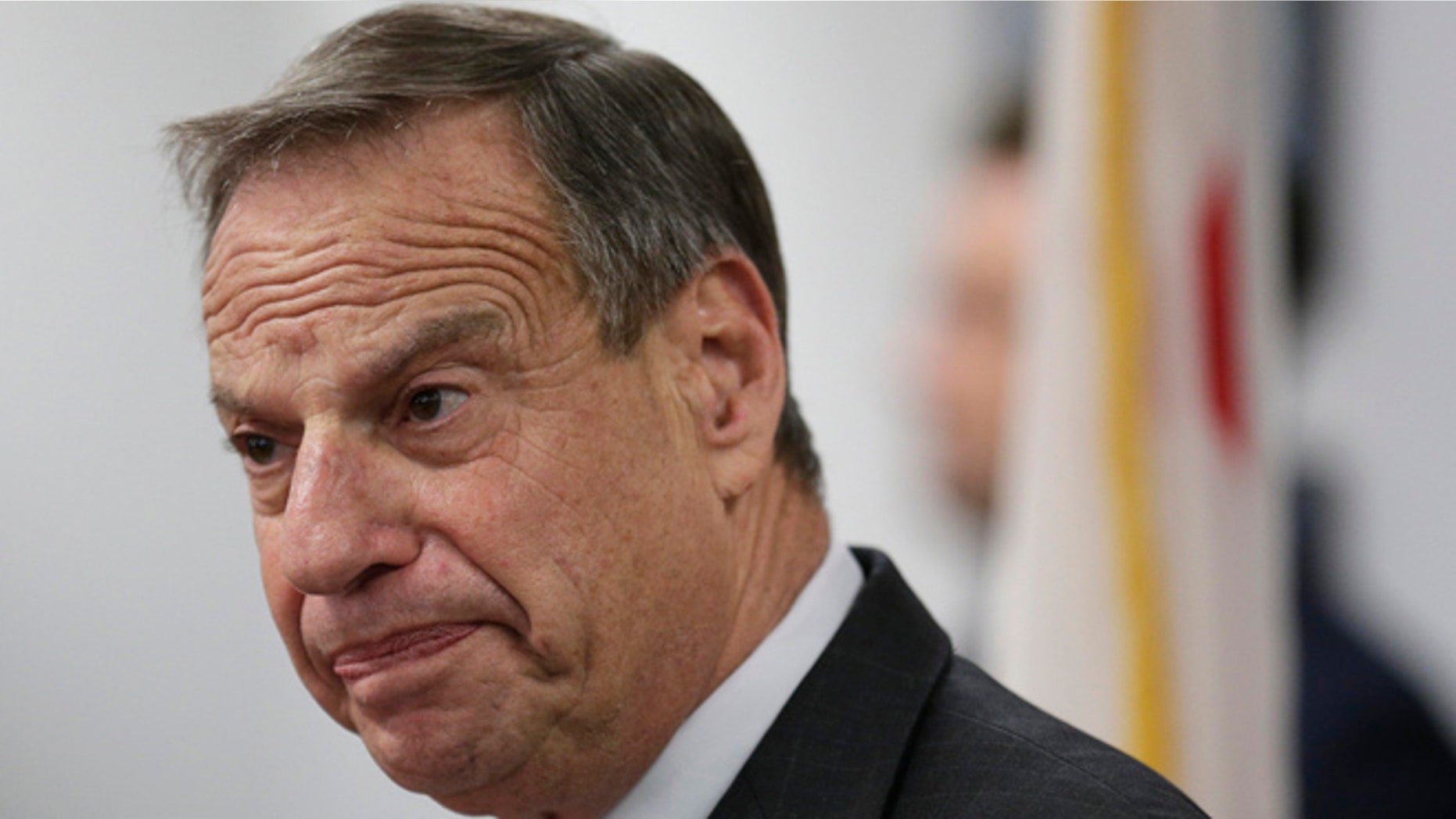 A bizarre parody video starring Bob Filner has gone viral, depicting the embattled San Diego mayor accused by 14 women of sexual harassment as a hip-thrusting cad pursuing three young women.
The two-minute video was produced by U-T TV, the cable television affiliate of the San Diego Union-Tribune, and is a play off Robin Thicke's summer smash hit, "Blurred Lines." It begins with several dancers gyrating as the words "FILNER," "RESIGN" and "CREEPER" appear in large, pink letters.
"He thinks you want it, but you don't want it," the lyrics read. "It makes us vomit. She's a good girl. The man's a bully, he's just a creeper and we would prefer if you resign."
Filner, 70, has not been seen publicly since entering a two-week therapy session. He has apologized for what he characterized as inappropriate behavior and acknowledged disrespecting and intimidating women. But Filner, who is expected to return to work on Aug. 19, has claimed he his not guilty of sexual harassment.
Filner's head is superimposed onto another man's body in the video, and the character makes overt sexual gestures toward a bevy of young women clad in skirts and high heels.
"You don't need that grabber," the video continues. "That man is not our mayor, that's what I'm sayin'."
The managing editor of the Voice of San Diego, a local competitor of the Union Tribune, blasted the spoof as "vapid and embarrassing," while other critics told the Los Angeles Times that it hurts the outlet's credibility.
"The only thing a news organization has is its credibility in reporting the news," Dean Nelson, director of the journalism program at Point Loma Nazarene University, told the newspaper. "This doesn't help."
Nelson said he understood why the Union Tribune tried something new in an attempt to find new sources of revenue as newspapers continue to struggle economically. But the outlet should be careful about sending a mixed message, he said.
"When Stephen Colbert gets up and dances it's funny," Nelson told the newspaper. "When news people try to do it, then the next time they are reporting the straight news, I think the audience is thinking 'What am I supposed to take seriously here?' "
Viewers of the video, meanwhile, appeared to be generally split on the parody, with some characterizing it as "funny" while others said it also, ironically, objectified women.
"Whomever made this video failed completely," one posting on YouTube read. "First, the original music video has nude women prancing around. Second, the song itself, much like the person you guys are parodying, objectifies women. Lyrics doesn't change the fact that this song has baggage that negatively affects your message. Entertaining, yes, but I wouldn't have chosen this song for the parody."